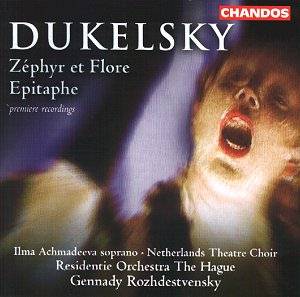 Chandos are to be congratulated for this disc of première recordings. However, Natalya Savkina's booklet notes are inadequate. She omits vital information failing to tell us, for example, that when Dukelsky was in the USA he was known as Vernon Duke and wrote 'pop' songs which have now been taken by Sylvia McNair and Dawn Upshaw.
The ballet, Zéphyr et Flore, appeared in 1925 when the composer was only 22 and was produced by Diaghilev. Poulenc and others remarked on Dukelsky's dependence upon Prokofiev and indeed the older composer promoted his music. The ballet has a few fine moments but most of it is merely pleasant. Savkina refers to the waltz movement as thrilling which my colleagues and I found ordinary. Myaskovsky, the under rated Russian master, said that the theme of the Theme and Variations was 'sweet and reminiscent of youth' which indicates the problem of this work, its immaturity. It has no personal voice and three years later Prokofiev had to help Dukelsky with his Symphony No 1 as the orchestration was poor. This further indicates that he did not work hard under the excellent tutelage of Reinhold Glière.
Epitaphe of 1931 is a better work but still lacks a personal voice or any outstanding music. It sets poems by Osip Mandelstam and would appear to be a memorial to Diaghilev who had died in 1929. It also shows the composer's dislike for the Russian régime and why he eventually became an American citizen. The soprano soloist is excellent as is the choir although one has to say that the material is ordinary, if not poor.
As far as I can tell the performances are good ... the recording certainly is. I think the music is not particularly inspiring but you must make that choice.
Reviewer

David Wright

Performances


Recording

Reviewer
David Wright
Performances


Recording


---
---
Reviews carry sales links but you can also purchase from: