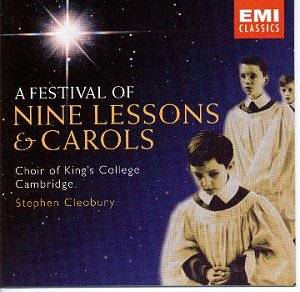 The Carols
Once in Royal David's City (descant Cleobury)
Up! Good Christian folk, and listen
The Truth from Above (arr. Vaughan Williams)
Adam lay ybounden (Boris Ord)
Sussex Carol (arr. Ledger)
In the bleak mid-winter (Harold Darke)
In dulci jubilo (arr. R.L. Pearsall)
God rest you merry, gentlemen (arr. Willcocks)
A Tender Shoot (Otto Goldschmidt)
The Lamb (John Taverner)
Gabriel's Message (arr. Pettman)
Joy's Seven (arr. Cleobury)
Dormi, Jesu (John Rutter)
Riu, riu, chiu (?Mateo Flecha the elder)
The Fayrfax Carol (Thomas Adès)
While shepherd's watched (descant Cleobury)
I saw three ships (arr. Willcocks)
Illuminare, Jerusalem (Judith Weir)
O come, all ye faithful (descant Cleobury)
Hark! The herald angels sing (Mendelssohn, descant Cleobury)
Perhaps, for many, like myself, Christmas really begins at 3:00 pm on Christmas Eve when the annual Festival of Nine Lessons and Carols is broadcast by BBC Radio direct from Kings College Chapel in Cambridge. Many (myself included in my younger days when I lived close-by in Peterborough) will have queued since the early morning (some hardy souls even through the night) to be part of the audience for this unique Christian celebration.
This recording of the Service includes not only the carols I have listed above but the nine lessons (traditionally read by representatives of the Choir, the Church, and the colleges of Cambridge) prefaced by a Bidding Prayer and rounded off with an organ voluntary - In dulce jubilo (J.S. Bach).
There are many favourite carols included. It is good, for instance, to see Boris Ord represented by his lovely 'Adam lay ybounden' based on a 15th century source. Many of us will remember not only one of the first recordings of excerpts from the Festival, made by Ord, and released on the old Argo label, but also Boris in the first televised carol programme from Kings back in 1954 (there is a photograph of him reading the lesson in the booklet). Another popular Kings figure, David Willcocks, is remembered, too, and he is represented by two of his carol arrangements: 'God rest you merry, gentlemen' and 'I saw three ships.' That other fine Kings' organist, Philip Ledger, is represented by his beautiful arrangement of the Sussex Carol. One must not forget Harold Darke either. His gorgeous 'In the bleak mid-winter' (based on a text of Christina Rossetti) has long since been a special favourite of mine.
It has become a tradition to include new carols each year. Judith Weir and Thomas Adès were both former students of King's College. Both have works in this programme. The Adès 'Fayrfax Carol' has bell-like tollings and skirts along the edges of tonality/atonality. I was very attracted to the purity of John Taverner's 'The Lamb' and to John Rutter's lovely 'Dormi, Jesu.'
The booklet notes are by Stephen Cleobury who gives a fascinating history of the Festival and all the texts of the carols and the readings are included.
Clearly, no recording could replace the immediacy of the real event but this recording might be regarded as an introduction in the days preceding Christmas or as an alternative if for some reason one has to miss hearing it on the radio or seeing it later on TV. Hearing that wonderful descant on the middle verse of 'O come, all ye faithful' we know, indeed , that Christmas has arrived.
Reviewer
Ian Lace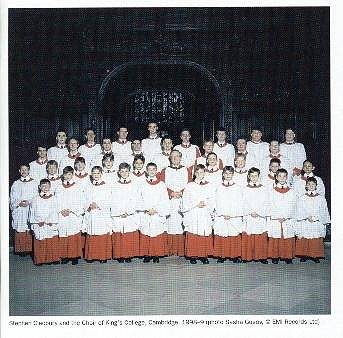 Reviewer
Ian Lace


---
Reviews carry sales links but you can also purchase from: