Collection: Rudolf Kempe - Vienna Philharmonic on Holiday

TESTAMENT SBT -1127 (This album was released in 1997)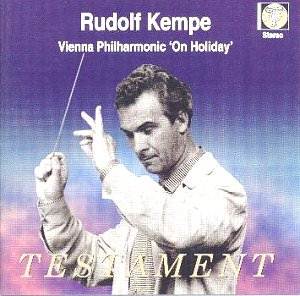 Record includes: SCHUBERT's Incidental Music to Rosamunde
Plus:-
Mascagni - Intermezzo from L'Amico Fritz, Act III
Ponchielli - Dance of the Hours from La Gioconda
Franz Schmidt - Intermezzo from Notre Dame
Gounod - Waltz from Faust Act II
Josef Bayer - Ballet Music Die Puppenfee
Offenbach - Overture Orpheus in the Underworld
Jakov Gotovac Kolo (Dance) from Ero, der Schelm
Gluck - Dance of the Blessed Spirits from Ballet Suite
I chose to use this particular recording in my pre-concert talk because it is one of the few that has so much of the Rosamunde music and because of the stylish conducting of Rudolf Kempe. As principal oboist in Leipzig's Gewandhaus Orchestra he earned great praise from conductors like Strauss, Furtwängler, Beecham and Klemperer. He was also an excellent pianist, accompanist and repetiteur. His deft, immaculate conducting had an appealing lightness and transparency. He was as much concerned with the fidelity of performance of lighter items as he was with the most profound works in the repertoire.
This collection of tuneful ensemble pieces has been assembled and digitally refurbished by Testament from three EMI records: HMV ASD 478 issued in September 1962; HMV ASD 494 issued December 1962; and HMV ASD 525 issued in August 1963.
The most substantial item on the CD is the Incidental music to Rosamunde discovered, incidentally by Sir Arthur Sullivan and George Grove when they went to Vienna in 1867 specially to hunt the score down. Recorded here are the Overture, Entr'acte No. 3 in B flat major and Ballet No. 2. Kempe delivers a relaxed performance full of graceful lilt and charm. As in everything he conducted, Kempe draws perfectly judged, polished playing from the Vienna Philharmonic with clarity of detail and luscious phrasing allied to virtuosic technique right across the orchestra
The other items in the programme. Mascagni's Intermezzo from L'Amico Fritz has fire and passionate gypsy rhythms. That old favourite Ponchielli's Dance of the Hours has refinement, grace and delicacy in abundance. Schmidt's Notre Dame music has the Vienna Philharmonic showing their gypsy blood in this thrilling and romantic Hungarian Czardas. Kempe's reading of Gounod's Faust Waltz is simply radiant; while Bayer's lovely Puppenfee waltzes are quite enchanting just hear those delicious little string quivers at 4:10 with every minute detail 'as sharp as a gnat's kneecap.' In Offenbach's Orpheus in the Underworld the Vienna players let their hair down and enjoy to the full this witty romp. Beginning rather sternly and pompously, Gotovac's Kolo (Dance) from Ero, Der Schelm soon fizzes up and sparkles brightly. The concert ends serenely and affectingly with Gluck's Dance of the Blessed Spirits from Ballet Suite.
A glorious light-hearted collection
Reviewer
Ian Lace