THE HYPERION SCHUBERT EDITION - Vol 9 Songs - Schubert and the Theatre

Arleen Auger (soprano) and Graham Johnson (piano)

HYPERION CDJ33009 [73:54]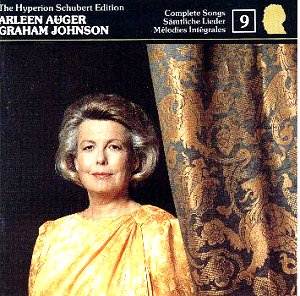 This CD is one of the jewels in Hyperion's celebrated Schubert Edition. Arleen Auger has a most pleasing youthful sounding voice. That overworked word 'pure' very definitely applies here. Allied to a prodigious technique she colours her voice most subtly to convey delicate shifts of mood and emphasis bringing these songs, of theatrical origin, sharply to life.
In my talk I was most concerned with Schubert's song, Der Vollmond Strahlt. Written in, 1823, it borrows from Rosamunde, with words beginning, 'The full moon beams on the mountain tops: How I have missed you.' It is a gentle love song part nocturne, part lullaby. Augur captures its engaging innocence and naïvety with Graham Johnson heightening the mood by gently realising its rocking rhythms and creating an essential pastoral evocation.
This is a most engaging recital of 21 beautiful Schubert songs. I will mention just a few.
The opening song, Misero Pargoletto was composed around 1813 when Schubert was studying with Salieri who insisted on a re-write after Schubert had sailed too close to Mozart. In this second version only the slightest hint of Pamina remains in the lovely flowing lyrical vocal line even if the piano introduction remains a close variation on Mozart's celebrated aria for the misera of Pamina. It is in the form of a da capo aria with a dramatic tessitura middle section that demands an orchestral effect from the piano.
Gott Höre Meine Stimme (Hear My Voice, O God) comes from a rather silly opera Der vierjährige Posten that has its hero sentry, Duval, left behind when his comrades leave the village. Four years later they return and Duval, who by now has married Kätchen, is worried that he will be charged with desertion. He pretends that he is still on sentry duty while Kätchen prays in this aria. It was originally written for Therese Grob a high soprano with whom Schubert was desperately in love at the time. The orchestrated version of this song places almost impossible demands on a soprano who must have a throat of steel. Auger sings it a tone lower than written yet it is still in a dizzily virtuosic tessitura. The piano part is a model of clarity and economy. The expressive gear changes heighten the effect of Lambertine as the lovesick singer is tossed on a sea of conflicting emotions plunging from the heights of happiness to the depths of inconsolable despair. Auger succeeds with aplomb in Delphine, another despairing love song that has been considered 'impossible' and has tended to be consigned to the Brünnhildes of the lieder circuit as Graham Johnson wittily observes. It falls between two stools: too high (but only at the end) for many a lyric voice and too delicate and curvaceous of line for the barnstormers.
Thea King adds a beguiling clarinet line to the lovely yearning melancholy of Ich Schleiche Bang und Still Herum ('I creep around, anxious and silent') from the opera Der häusliche Krieg, a Lysistrata-type of story. This aria is sung by Helene who is missing her husband, away at the Crusades.
Thea King contributes the vital clarinet line in Schubert's glorious last work, Der Hirt Auf Dem Felsen ('The Shepherd on the Rock'). This famous extended 12-minute song successfully mixes what in lesser hands could be an impossible blend, an Italian vocal display with a German-speaking mountain setting - the Alpine yodel and the clichéd Italian cantilena here shorn of their more clumsy attributes. The clarinet is used to suggest an alphorn. Its entry at the start is breathtaking; seemingly to rise and pierce the mountain mists to reveal the shepherd standing on his high precipice. The song takes in the wonder of the high vistas and marvels at the echoes before the shepherd mourns his loneliness and the absence of his sweetheart, and ends with him looking forward to the delights of Spring. Auger rises to the challenges of this song that demands stringent breath control. Auger, Thea King and Graham Johnson (in a relatively quiet sublimated yet essential role) all contribute to a superb performance. I just had to listen to it again and again.
As usual, Hyperion include a sumptuous 32-page booklet with very full and absorbing notes from Graham Johnson that are frequently very witty. Of one lady singing a 'trouser' role in a lieder setting, away from the operatic stage, he remarks, "her amplitude was spared the indignity of trousers." Unhesitatingly recommended.
Reviewer
Ian Lace