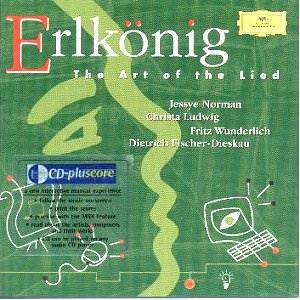 Franz SCHUBERT (1797-1828)
Erlkönig D.328 ("The Erl-King"); Ständchen D. 889 (Serenade); Geheimes D 719 ("A Secret");Wandrers Nachtleid II D 768 (Wayfarer's Night Song II)


Dietrich Fischer-Dieskau (baritone); Gerald Moore (piano); Jörg Demus (piano).
Heidenröslein D 257 ("Little Wild Rose"); An die Musik D 547 ("To Music"); Die schöne Müllerin (The Fair Maid of the Mill) D 795: Das Wandern ("Walking") and Ungeduld ("Impatience"). Die Forelle D550 ("The Trout").

Fritz Wunderlich (tenor); Hubert Geisen (piano)
Gretchen am Spinnrade D 118 ("Gretchen at the Spinning Wheel"); Der Tod und das Mädchen D 531 ("Death and the Maiden"); Lachen und Weinen D 777 ("Laughter and Tears"); Frühlingsglaube D686b ("Springtime Credo")

Christa Ludwig (mezzo-soprano); Irwin Gage (piano)
Robert SCHUMANN (1810-1856)
Liederalbum für die Jugend - Marienwürmchen (Song Album for the Young - Ladybird) from Des Knaben Wunderhorn; From Myrten: Der Nussbaum ("The Nut Tree"); Die Lotosblume ("The Lotus Flower") Du Bist wie eine Blume ("You are like a flower"). From Liederkreis: Mondnacht ("Moonlight Night"); Frühlingsnacht ("Spring Night")

Dietrich Fischer-Dieskau (baritone) Christoph Eschenbach (piano)
From Dichterliebe (A poet's Love): Im wunderschönen Monat Mai ("In the marvellous month of May"); Aus meinen Tränen speissen ("From my tears there spring"); Ich grolle nicht (I do not complain)

Fritz Wunderlich (tenor); Hubert Giesen (paino).
Johannes BRAHMS (1833-1997)
Liebestreu ("True Love"); Der Schmied ("The Blacksmith); Des Liebsten Schwur ("The Lover's Vow); Sapphische Ode ("Sapphic Ode); Therese; Vergebliches Ständchen ("Profitless Serenade").

Jessye Norman (soprano); Daniel Barenboim (piano)
Treasure-trove indeed! A glance at the contents of this album shows that this is a collection of some of the best-known, best-loved lieder of the genre. And the generous complement of Schubert songs fittingly rounds off our Schubert survey.
Furthermore, the CD-pluscore element contains scores of all the songs with a moving curser (running vertically down through all the parts) so that each song can be followed as it is performed. Details of the composers and the songs as well as the artists are also included. A MIDI feature allows students and players to practise the works: a different MIDI instrument can be allotted to the piano part; or any one of the parts can be turned off enabling players to practise it while pluscore accompanies.
Such celebrated performances on this album are self-selecting of a maximum star rating and really comment from me borders on the superfluous so I will restrict brief myself to brief comments on only a few of the 28 songs.
Schubert: The dark melodramatic Erlkönig opens the programme. Fischer-Dieskau, such a towering figure amongst lieder singers, invests terror and urgency and colours his voice according to the three characters: the horseman father, strong, confident, oblivious of danger; his terrified little child carried in his arms looking backwards at Death in hot pursuit and the Grim Reaper himself. Fischer Dieskau's father's dread as he reaches home and realises "the child is dead" is bleak indeed. In contrast there is the gentle, pliant and hushed love song Geheimes (A Secret). Fritz Wunderlich had one of the most beautiful lyric tenor voices of the 20th century. How tragic then that he died when he was only 36. In the lower register of his voice, he brings passion and authority to An Die Musik (To Music); while his Ungeduld (Impatience) from Die Schöne Müllerin, declaims his misplaced ardour in high ringing tones. In Die Forelle (The Trout) with a sparkling piano part, he sings joyfully of the trout's cavortings in the stream but then angrily admonishes the fisherman's unsporting pranks. Crista Ludwig brought intelligence and imagination to her lieder singing and this performance of another Schubert masterpiece, Gretchen am Spinnrade (Gretchen at the Sinning Wheel) shows all the hapless girl's obsessive passion and longing for Faust. There is fear and dread - and resignation in the girl's voice with an answering cold hollow comfort in Der Tod und das Mädchen. (Death and the Maiden)
Schumann: From Myrten (Myrtles), Dietrich-Dieskau tenderly caresses the words of Der Nussbaum (The Nut Tree) while Christoph Eschenbach's reading of Schumann's quietly rippling accompaniment is sheer magic. This rapt mood is carried over into the gorgeous Die Lotosblume. Wunderlich on the other hand grinds out a vehement stream of invective against his faithless lover in Ich grolle nicht (I do not complain).
Brahms: Jessye Norman impresses strongly too with her expressive singing of the six Brahms lieder that close the programme. Her amusing and rousing Der Schmied (The Blacksmith) finds her boasting about her blacksmith boyfriend. The delightful Die Liebsten Schwur (The Lover's Vow) allows her to disarmingly confide how she will outwit her father to win her boyfriend.
Excellent
Reviewer
Ian Lace