Other Links
Editorial Board
UK

Editor

s

- Roger Jones and John Quinn

Editors for The Americas - Bruce Hodges and Jonathan Spencer Jones

European Editors - Bettina Mara and Jens F Laurson

Consulting Editor - Bill Kenny

Assistant Webmaster -Stan Metzger

Founder - Len Mullenger
Google Site Search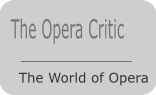 Vasily Petrenko at Preston: The RLPO's Chief Conductor talks to Michael Cookson.7.12.2010 (MC)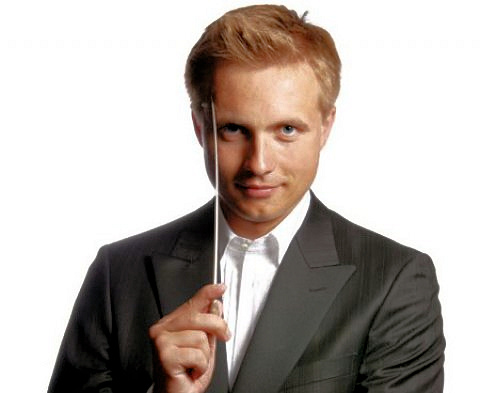 Vasily Petrenko - Picture © Mark McNulty


Vasily Petrenko, the Saint Petersburg born Chief Conductor of the Royal Liverpool Philharmonic Orchestra has been creating quite a stir with a succession of marvellous performances. The partnership's ongoing cycle of the complete Shostakovich symphonies on Naxos has been receiving considerable critical acclaim. Widely acknowledged as one of the foremost conductors of his generation in 2009 it was agreed that Vasily Petrenko's contract with the rejuvenated Liverpool Phil would be extended until 2015. In addition to his post with the Liverpool Phil the Russian maestro is also the Principal Conductor of the National Youth Orchestra of Great Britain and has associations with a number of other orchestras worldwide. Earlier this year Vasily Petrenko was named Male Artist of the Year at the 2010 Classical Brit Awards. I met up with Vasily prior to his December 2010 concert with the Liverpool Phil at Preston Guild Hall.

Programme:
Ravel: Mother Goose, Suite (1908/12)
Prokofiev: Cinderella, Suite No. 1, Op. 107 (1944)
Tchaikovsky: The Nutcracker, Act 2 (1891/92)
Michael Cookson: It is generally acknowledged that the Liverpool Philharmonic has been undergoing a splendid revitalization with you at their helm.

Vasily Petrenko: Well we try to do our best. I'm really enjoying my time here with the orchestra.
MC: I would like to ask you about your Shostakovich cycle of the complete symphonies with the Liverpool Phil. The Naxos series has been creating a great deal of interest. Have you completed the cycle yet?

VP: No, not yet. We have quite a few symphonies to record yet.

MC: I want to ask you about the challenging and rarely heard Shostakovich Symphonies No.2 and No.3.

VP: We have done a recording of the Symphony No.3 but not the No.2 as yet. The No.3 proved very tough for the orchestra. First of all because they didn't know it. Secondly because it's written in a very difficult way for the players. It reveals that the young Shostakovich hadn't yet discovered everything about the instruments of the orchestra. It's contemporary in style and hard for musicians to play and it's very loud in places. I must say we did the Symphony No.12 as well which is relatively less known than many of the others. It wasn't that difficult but it is larger than the third Symphony and also very loud in places. At the time of writing the twelfth Symphony Shostakovich was a master of orchestration and knew exactly what he wanted.

MC: I love the Symphony No.1 the work of a teenage music student; his graduation piece.

VP: The first Symphony contains a number of influences. It's not yet clear Shostakovich in the way that the first Symphony of Tchaikovsky and early Stravinsky before the ballets contain influences of Rimsky-Korsakov.
MC: The brilliant orchestrator that he was, Rimsky-Korsakov influenced so many composers.

VP: Yes, we have also recorded the first Symphony of Shostakovich. I agree it's a fantastic piece for a student. It's so very different from his other symphonies because his Symphonies No.2 and No.3 are so exploratory in many ways. He actually said with these symphonies he was trying to find his style. Then there is the fourth Symphony which has links to almost all his symphonies that came later. Yes, the fourth is a great piece of music but we still need to record that.

MC: Which of the Shostakovich symphonies do you particularly like?

VP: Well I would say that in all of them I see a progression even though we don't record them in date order. With all of them we can follow the history of his biography and the history of Russia in the twentieth century because they are all closely related to the events of the years that they were written. They are evocative of the events of the political and cultural life of the time in Russia.

MC: Staying on the subject of Russian born composers. I greatly love the music of Stravinsky.

VP: Oh yes, me too, I conduct Stravinsky a great deal. A couple of weeks ago I conducted the Rite of Spring and then the Scherzo fantastique. So I'm doing quite a lot of Stravinsky also The Firebird and Petrushka too.

MC: Tonight you're conducting the second act of Tchaikovsky's The Nutcracker. In the notes to his recording Simon Rattle talks about hearing the clear influence of Stravinsky in Tchaikovsky's music to The Nutcracker.

VP: There are lots of things. Yes, the harmony and The Nutcracker is quite close to Petrushka in spirit too. Not only musically but dramatically and conceptually; it's the same. You see this bright picture but there is also something more underneath and behind the picture is real drama.

MC: The Nutcracker is certainly an ideal choice for performance in the time around Christmas.

VP: Well yes, it's played the most in November; December and January.

MC: A truly wonderful work. I've been playing the new Simon Rattle recording with the Berlin Philharmonic. I also like the version from the same orchestra under your fellow countryman Semyon Bychkov; recorded some years earlier.

VP: The story of The Nutcracker like most of the ballets before the twentieth century it leads two lives. The first one pertains to the Rattle and Bychkov recordings which are more or less conducted in tempi which are similar to the tempi which Tchaikovsky had originally indicated. Secondly are recordings from conductors who performed it in ballet. I have also done the ballet as well in Russia. The ballet music is an entirely different tempi and has different scenarios. The music is the same but the pacing is different and the logic of the music is different. You see when I am on stage conducting Nutcracker in an orchestral concert then I am the owner of the music. But when I am conducting Nutcracker in an actual ballet you need to follow so many things that are different. Usually there are many things that are taken slower such as for a double pirouette with a triple jump or other technical complications.

MC: Tchaikovsky would have been given detailed timings to work to by the choreographer?

VP: Yes, it was Marius Petipa who Tchaikovsky collaborated with. Actually The Nutcracker is not that bad. There are certain differences between the concert version and the actual ballet but it is not extremely different. Now Swan Lake that's very different, the original score is very different. There is even a swop over of the acts. If you get the original printed score of Swan Lake you cannot conduct the ballet from it. I've done the Swan Lake ballet about a hundred times now and the tempi of the original intentions are very different. There are even two tiny fragments which I believe were written by choreographer Petipa rather than Tchaikovsky. That is simply because of the rules of the game. So the composer wrote the material and then the ballet master looks through the music and he has been thinking what he needs to do. Then according to the ballet master's plan the composer usually has been given an indication of certain things he needs to do. The ballet master may have said, 'I need a little extension on this number, can you write it?' Or, 'on this number we need to play it quicker, shorter, so can you cut it down?' And they would swop over the music some time; just change the order.

MC: Is this the same for twentieth century ballet music?

VP: Twentieth century composers such as Prokofiev and Stravinsky were more the rulers of their own ballet music. Yes, they have been given orders. Say this piece should last forty minutes on the Russian theme or something like that and that's the story, so write the music for that. So once the music has been written it's not changeable in the main, the odd detail maybe but pretty much the same.

MC: Ballet music and its history are clearly great loves of yours.

VP: I think of how the ballet was originated, created for entertaining. Originally the ballet wasn't that far from cabaret. In fact, cabaret grew out of the ballet. That is why, for instance, if you go to the Imperial Mariinsky Theatre in Saint Petersburg, a theatre that has been built for the ballet, and if you sit there on the ground floor you will see a number of loges (boxes). Every loge has four or five seats and then there is a door into another room. Quite a few of them even now have a tiny bed there. So originally these were prime seats and they belonged to the high class; the aristocracy. They were able to go into the room with women for sex both at the beginning and at the end of the performance. In Swan Lake they would just choose this ballerina or that ballerina and take her back into the room behind the door.

MC: That to an extent would also happen in Paris in the days of French Grand Opera and Ballet in the late 1700s and early 1800s.

VP: Yeah, this behaviour happened everywhere that ballet was staged. You see originally the ballet was created to entertain. The music was made to sound nice but not to tax the brain too much because you needed to be occupied with what was happening on the stage and not with the sound effects.

MC: So the ballet was a complete entertainment?

VP: Absolutely. Then later in the twentieth century it lost this function and that led in turn to a more complicated musical language. So that is why twentieth century ballets, I would say, are maybe less easy listening. But then the music contains brighter pictures.

MC: I notice that some of the music from Prokofiev's ballets is often used as theme music in television and radio adverts. I've heard the Dance of the Knights from Prokofiev's Romeo and Juliet used to welcome a football team onto the pitch.

VP: This has always been the case. Not only with Prokofiev of course but for instance the wonderful Shostakovich songs from the 1940s and 50s became during his time more famous in Russia than his symphonies or operas.

MC: I would imagine few British singers are proficient in the Russian language. I've heard soprano Joan Rogers sing Shostakovich songs but they are rarely heard here.

VP: It's unlikely that audiences have heard any Shostakovich songs. But there are many great songs.

MC: Which of the Russian composers that you admire do you feel deserve more opportunities in the concert hall?

VP: Well there are plenty to choose from. It's always a voyage of discovery for me. Just over a month ago I accidentally discovered a composer whose name is Gyorgy Catoire or Georges Catoire in French as he had French origins. Catoire was born in Moscow and lived there much of the time in the nineteenth and early years of the twentieth century. This was in the time of Rimsky-Korsakov; Glazunov and Rachmaninov etc. A member of the Wagner society he had been a visitor at Bayreuth travelling for many summers to the festival. Catoire was an enthusiast of many different styles of music. But he is unknown and why is Catoire unknown I think because he never finished the Moscow Conservatoire as a composer. He finished it as a musicologist. But by the end of his life in the 1920s Catoire had written a renowned book, a treatise about harmony systems, on which the Moscow school based their lessons.

MC: Yes, Catoire is a new name to me.

VP: Catoire didn't write much music because it simply hadn't been appreciated. It sounds somewhat like Rachmaninov with some Wagner harmonies in it. Plus a little influence of Scriabin; depending on the piece of course. There are a number of sets of Morceaux for piano. His string quartet sounds exactly like early Schoenberg. I've just discovered Catoire's Piano Concerto which is great. It's about half an hour to thirty-five minutes and is comparable to Rachmaninov in regard to the grandeur of the concerto. It's been performed once in the West and never ever recorded.

MC: So Catoire's a composer that you would like to include in programmes?
VP: Yes, certainly. Funnily enough the music has been published by Jurgenson for many years. I'm not sure how many scores are obtainable but it is available in theory. Catoire is just one of several examples as there are plenty of others. I think Sergei Taneyev is another excellent Russian composer who springs to mind.
MC: Taneyev is a fine composer who is starting to become better known. I know that a number of Taneyev's works have been recorded on the Chandos label.
VP: If you want more contemporary Russian composers there is Gyorgy Sviridov he died in 1998. The music looks contemporary but the style is backwards looking with a very deep Orthodox Russian style, a lot of Orthodox Church music in this. There is a lot of music for chorus and quite a few symphonic pieces. There is also Isaak Dunayevsky who is best known for his score to the movie 'The Children of Captain Grant'. There is always Vissarion Shebalin who is not to be confused with Rodion Shchedrin; we have just premièred his Oboe Concerto. Shebalin was a contemporary of Shostakovich, they were close friends, but wrote in different styles. Shebalin was a victim of Stalin's purges and he died early after a long period of poor health. There is Nikolai Myaskovsky too. This season Vladimir Jurowski has been conducting Myaskovsky's Symphony No.6 with the London Philharmonic Orchestra and Choir. So those are the Russians but then there are also other composers that amaze me. I recall a couple of years ago in Milwaukee conducting the Britten Violin Concerto; a work that was completely new to them.

MC: It's a masterwork and I agree much underrated one too. In the main it was written by Britten when he was in staying in Canada; if memory serves. Amazingly when the Berlin Philharmonic played the Britten Violin Concerto last year with soloist Janine Jansen they hadn't played it for fifty years.
VP: The Britten is an incredible work also the Elgar Concerto too and it's rarely heard in so many places. I remember the San Francisco Symphony, this big American orchestra, performing the Elgar Cockaigne Overture and they had never played it.

MC: It's so hard to believe they don't play works as fine as that.
VP: There are plenty of Spanish composers as well; particularly Xavier Montsalvatge. He's a great composer. Last year I conducted the Russian première of his Sinfonia de Requiem in Saint Petersburg. From 1985 I guess it was one of his later works to be written. I found the Requiem, although different, in a way close to John Tavener in its musical language. For me Montsalvatge's Requiem is particularly interesting because there is no chorus only a soprano soloist for a small section. The music doesn't look really powerful at first sight but then when you go into it, like John Tavener, you realise that this music has real impact and then you soon begin to adore it.
MC: So it looks nothing on the actual score?
VP: It doesn't, but when you play it is has a great impact.
MC: It would be good if you could record it?
VP: I may record it. You see Montsalvatge is a Catalonian composer and the Catalans are generally encouraging of their native composers.
MC: Do you have links with a Spanish orchestra?
VP: Yeah, yeah, I do. I have a good relationship with the Cadaqués Orchestra from Catalonia who are quite supportive. So we will see.
MC: How much difference do you feel there is between the acknowledged élite orchestras and those not so well regarded?
VP: In my view it depends on the night. Every orchestra has their ups and downs. I think the actual level of the orchestra depends on how far down they can go in a poor performance. From their peak the lesser regarded orchestras have further to drop at their worst.
MC: Is it fair to say that with the lower ranked orchestras you will be usually given more rehearsal time.
VP: I found when conducting more established orchestras you have to get their respect and they will follow you. Of course having fame helps you a lot. Like when maestro Gergiev conducts.
MC: I can't imagine orchestras taking liberties with Gergiev.
VP: They wouldn't… Sometimes I find that when conducting a very well established orchestra you see all these extremely proud musicians. Then you start to play something quite famous and then you immediately feel they have an attitude of say, 'Hey, come on we played this under Karajan. What can this young conductor tell us?' I think their manner depends very much on the week they have had. If they have just had a heavy week with their chief conductor and you come in the next week they expect with a well known piece that it might be an easy week for them with one little rehearsal. Then you start the rehearsal and then they think… Well you can guess their reaction!
MC: That must be very hard?
VP: Yes, it can be very hard. You always need the players respect and sometimes I agree that with the well established orchestras whose concerts are used to having huge success the orchestra may think so what's the point this is just another concert for them. Then you come into a concert situation with an orchestra that is on slightly lower level then you can clearly see that they want to achieve something. Some orchestras can be quite arrogant. For example just how they meet and greet you at the very beginning. This can be very hard particularly for a young conductor. You are coming in as an unknown conductor. In effect you're a nobody to them and you have to gain their respect. Actually the first ten minutes or so is a crucial time. If you have not gained their respect by this time then you feel that the next two or three days of rehearsals could be another two or three days of possible problems.
MC: I'm really looking forward to a splendid evening's concert. Your orchestra here tonight the Liverpool Phil has really flourished under your time as their chief conductor.
VP: Well we will be trying to do our best; as always. This concert of Ravel's Mother Goose; Prokofiev's Cinderella and act two from Tchaikovsky's Nutcracker will be tricky for the orchestra to play. Particularly the Prokofiev as the orchestra has never played it before. With regard to the Tchaikovsky Nutcracker some players will know the Suite and the famous excerpts but there are quite a few sections of music that they will be playing for the first time.
MC: Thank you so much Vasily, for this interview.

Michael Cookson