Other Links
Editorial Board
UK

Editor

s

- Roger Jones and John Quinn

Editors for The Americas - Bruce Hodges and Jonathan Spencer Jones

European Editors - Bettina Mara and Jens F Laurson

Consulting Editor - Bill Kenny

Assistant Webmaster -Stan Metzger

Founder - Len Mullenger
Google Site Search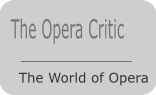 Iain Paterson – English National Opera's Mr. Mephistopheles: interviewed by Jim Pritchard (JPr)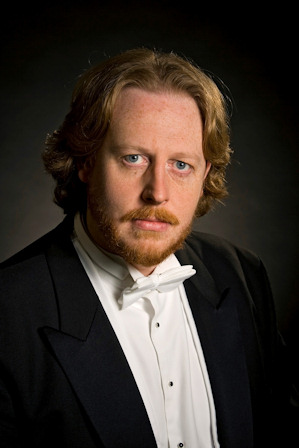 Iain Paterson - Picture © Clive Barda
Glasgow-born Iain Paterson is making giant strides towards becoming one of Europe's leading young bass-baritones since he made a highly acclaimed debut at the 2007 Salzburg Easter Festival as Fasolt in Das Rheingold under Sir Simon Rattle. Already becoming well-known to audiences at the London Coliseum and Covent Garden, he recently made his debut at the Metropolitan Opera singing Gunther in Götterdämmerung for James Levine and he will return to Salzburg and New York and sing major roles in Paris, Munich and Houston. He is currently appearing as Mephistopheles in Des McAnuff's new Faust production for ENO (see review) and Rupert Christiansen (The Daily Telegraph) wrote that he 'grows in stature by the minute as Mephistopheles. The technical ease and stylistic authority of his singing, as well as his imposing stage presence, suggest that international stardom is on the cards'. At the London Coliseum this season Iain Paterson is not only singing Mephistopheles but will soon take the title role in Rufus Norris's new production of Don Giovanni and then follow this with another role debut as Amfortas in Parsifal. I spoke to Iain Paterson a few days before the first night of Faust about how he became a singer, his current success and his hopes for the future.

I began by asking about the season ahead and asked how much Iain was looking forward to it and what could he say about the new Faust.

Well, it's quite an exciting year and a good one from the point of view of spending so much time at home and not being on the road so much.

As for Faust, the main hook of it is the exploration of Faust as a scientist. Des McAnuff has looked at the twentieth century to find what can resonate with that and has come up with the world of the Atom Bomb and the scientists that created it. It is fascinating because he also got the idea that rather than simply make Faust young again, we move back in time and take him to the actual time when he was young and so we see the soldiers heading off to the trenches in World War I.

With regard to my role as Mephistopheles, I'm playing him pretty straight but if anything comes across as funny that's good and I can live with that – I remember the director, David McVicar, saying 'Don't play the comedy, pay the truth' meaning, if it's meant to be funny it will be. I love the role and actually it is an unusual one to sing because it starts quite low and then climbs steadily throughout the evening and the last two Acts are bass-baritone territory. I'm enjoying it a great deal and while the production is not a traditional setting it is a very good concept that Des has come up with and I hope people will enjoy it.

I wondered how it had been, working with Des McAnuff since he is a theatre director relatively new to opera.

I think the only essential difference for a theatre director is what they are used to. Des is used to a Broadway or West End show and gets more rehearsal time than can be scheduled for in opera. It is a challenge for him to get his vision up on stage in that reduced time but I think he has adapted admirably to that. In terms of what he brings to us from his theatre background, it is that he is seeking a much more naturalistic style of performance. We have had many discussions about playing the Devil and his idea is to play him as a human being and a normal person. He wants you when you are just required to sit and watch not to telegraph what it is you are thinking, just think it and it will come across to the audience. This is quite a leap in a big theatre like the London Coliseum where you are used to amplifying some of the actions and gestures you have to make. Des has insisted that it works much better that way and such is his experience that we have to trust him in that. It certainly does seem to be the right way and people are very happy with everything so far

How was he enjoying working with his conductor, Edward Gardner, again?

What is so exciting is that everyone including Edward is new to Faust; nobody as far as I am aware has done it before apart from members of the orchestra and chorus. It's been very interesting working with Edward over the last six weeks, he's been finding out what he likes and dislikes about the piece and we have had lots of conversations about trying it different ways or switching things around to find something that fits the singers or fits the production. He is a fantastic conductor to work with because he is a singer's conductor, so if you have a strong feeling that you want to sing a phrase in a set way he will absolutely take that on board and somehow – that is the magic great conductors do – he will manage to weave it into the overall pattern for the work.

I reminded Iain how much I had enjoyed seeing John Tomlinson singing Mephistopheles the last time Faust was staged by ENO and more recently in the production by David McVicar for the Royal Opera.

I would have loved to have seen John Tomlinson do it here but I did see him at Covent Garden. He is such a good role model as he is game for anything and can make it work. David McVicar has him in a dress at one point though really it's not right seeing John in a dress [laughs]. I've admired him for many years and fortunately got to work with him last year in Götterdämmerung at the Met for my debut there and he was a fantastic colleague.

Had he enjoyed singing at the Met?

Of course, it was a great experience and every so often in this job you have moments where you are standing on stage and have to pinch yourself. I remember particularly John Tomlinson getting stuck into a ferocious passage that Hagen has to sing with the Vassals and then I come on with Brünnhilde for the wedding and I sang my bit. It suddenly hit me as I looked around that there is Sir John Tomlinson on stage with me – and I'd better not look at him or that will phase me … so I look towards the pit and there is James Levine and think I'd better not look there either, so I look up and there is the cavernous Met theatre in front of me. It was a bizarre out-of-body experience but then you quickly recover and carry on singing. I feel very fortunate that they have invited me back again for the new Ring cycle and that's going to be very interesting.

How had the opportunity to sing Gunther at the Met and his earlier Fasolt in Salzburg come about?

At the Salzburg Easter Festival they were doing the Ring from the Aix en Provence Festival and I was in London doing Figaro at the time, as well as, Schaunard in Bohème. Eva Wagner-Pasquier was looking for someone to sing Fasolt at very short because the singer they had went home to look after his sick mother. I had a dress rehearsal for Bohème in the morning, the final performance of Figaro that evening and we did the audition in the afternoon. A couple of days later I sang to Simon Rattle and I did the job - another great experience for me. It was Eva Wagner-Pasquier who recommended me to the Met and that peaked their interest and now she is at Bayreuth I hope she still likes me.

I asked Iain what his thoughts were on his other forthcoming roles for ENO - Don Giovanni and Amfortas.

I spoke with the director, Rufus Norris, about Don Giovanni as early as two years ago; he played his cards close to his chest and wasn't giving anything away. I understand from friends on the stage crew here that it is a wonderful set but they are telling me no more than that so I'll have to wait and see. We will have begun rehearsing this on the Monday after the Faust first night and it is in a new translation by Jeremy Sams so I think there will be a lot of musical toing and froing on this for the first few days and then we'll see what Rufus has in store for us.

I've only seen some of the Nikolaus Lehnhoff Parsifal on TV but Philip Turner, the ENO's senior stage manager, tells me it was one of the best productions he was ever involved with and he loved working with Lehnhoff. I am too, though I gather he is rather meticulous and precise so that will bring its own challenges and rewards. As for the role, Amfortas is not something that comes around very often and is an ideal part for someone at the beginning of their Wagner career because you have about three chunks of ten minutes with big rests in between. Nevertheless when you are on stage it is all about what you are singing and it needs real commitment if you are to bring out all the pain of this man living with a wound that will not heal. However as a singer you realise you can commit totally to it because at the same time do not have to flog yourself to death for the long stretches as Gurnemanz has to.

Don Giovanni is a role Iain has already sung in the original language and I asked what he thought about singing this and his other roles in English for ENO.

I've always believed that the composers themselves, in the days before surtitles, wanted their operas – first and foremost – to be understood. Wagner, himself, was a great proponent of his operas being performed in the language of the country they were being performed in. I think it gives immediacy to the works and with many operas it is not such a stretch to translate them into English. German is probably the easiest but I think the Italian repertoire is much harder to translate and it might be because of the number of soft endings that you have in Italian that we do not have quite so many of in English. The Faust translation we are working on from the French original is by Christopher Cowell and is very good.

For anybody seeing a Mozart opera such as Don Giovanni for the first time I would advise them to see it in English and find out what it is all about. There is so much going on and if you do not speak Italian you have to be glued to the surtitles or really have to have done your homework to get the most out of your experience. If you come to the ENO you can relax and take all of it in the first time you see the opera.

In the past singers seemed not to want to sing roles in English as it might harm their prospects of an international career, it is clear this is not the case now with singers such as Iain singing their signature roles in the original language and English. What were his thoughts on this?

I think it is probably that there is a lot less work than there used to be and there is possibly not such a difference in quality of singers now either. There are certainly just as many singers, if not more, vying for the work and it means that you must be selfish, think about your career and attempt to stay in work – as that can be a problem for many these days. Also I'm biased towards the ENO as I did the Young Singers Programme here, did my training here and this is my opera home and I will always come back to it because I enjoy being here.

People may point out that we are not singing in the original language but that is only one aspect of the experience. Here we have the biggest theatre in London and if you like singing on big stages, in big sets, in big productions, this is the place to be. All opera houses have this great financial commitment to produce new productions and ENO have this wonderful relationship with the Met to share a lot of their new ones. In fact this Faust is going to New York soon though I won't be able to do it because I am singing in Götterdämmerung there at exactly the same time.

I asked Iain how he prepares for his performances.

It very much depends on whether is it an original language performance or not, if it is then you must start much earlier unless you are a fluent speaker. You must sit down and do your homework and go through the score and not just translate the words but transliterate them and find out the nuance of every single phrase and find out what every word means. If I am learning something in German that is what I tend to do so that if you open one of my scores you would think it was all gibberish but I need to know the meaning of each word as I sing it. In English it's more just a case of learning the notes as the words go in much faster. So in the case of Don Giovanni - and as I come to it now in English from the Italian - it is just a matter of learning the translation. The recitative will obviously need a little bit of restructuring because you cannot always get the same stresses as in the original. You must look at forming the cadences so they make musical and dramatic sense and that is what will take a few days as we starts rehearsing.

How had Iain become a singer?

I was actually a violinist and auditioned for the Royal Scottish Academy of Music and Drama with violin as my first study and voice as my second one. It just so happened that on the panel was someone who became my singing teacher and he convinced them to offer me a place, so he must have heard something he liked. Thankfully I haven't looked back since then. I was very young when I came out of college and obviously as 21-year-old bass no one takes you seriously so I went and auditioned for the chorus with Opera North and they took me on. My professional debut was when I was covering Clive Bayley's Biterolf in Tannhäuser and he found out his wife was in labour when he was halfway to Leeds for the performance. When he got the call he turned round and went home so I got to go on. Opera North were very good to me and gave me lots of small roles and I sang anything I was given just to learn my craft. It was in those early days I first met John Tomlinson and he had told me it was best to get on stage for the experience and not just cover other singers.

I sang as a bass for ten years and only had an occasional dalliance into higher repertoire. Now as a bass-baritone I can say what I really am is a baritone with no top and a bass with no bottom. [laughs] The highest I can possibly manage is Amonasro that I sang here recently, though I try not to think about Zandra Rhodes's costume for me. I didn't about it much at all until I was told I looked like Sideshow Bob from The Simpsons and that has ruined it for me ever since. [laughs again]

Does Iain see Wagner featuring even more prominently in his career in the future and what are his future plans?

I suppose it is just fortuitous that coming up in 2013 is the big Wagner anniversary – 200 years since his birth and 130 years since his death and it seems everybody is planning a Ring cycle. Fortunately I began singing Fasolt and Gunther just about the same time as people were casting these cycles. The Ring is proving fantastic for me and I am so grateful to Phyllida Lloyd for casting me in it here at ENO and it was such a pity the finances never became available to put on the complete cycle.

The great thing about singing Wagner is that there are relatively few people who do it and the opera houses tend to book you up a long time in advance. I have dates in my diary for many years ahead that are all Wagner but my agent and I are very much working towards trying to keep my roles like Don Giovanni and Mephistopheles now I have started to sing it. I'd like to keep the Mozart Figaro in my repertoire and there are a few other things out there I would like to try. I'd like to do the Rimski-Korsakov version of Boris Godunov which used to be the warhorse of bass-baritones but is not often done now, it has the aria in a higher key but now the preference is for the Mussorgsky original version. I would like to do the Tales of Hoffmann villains and Pizzaro in Fidelio. Therefore, I am aiming not be exclusively a Wagner singer: I again think this is why John Tomlinson is such an inspiration to singers of my generation as he became the Wotan of our time and one of the world's most respected Wagnerians and yet, he managed to keep other repertoire alive alongside this – so that is what I am keen to emulate.

With our time coming to a close I asked Iain what future Wagner roles he was most hoping to sing in the future.

In the Wagnerian repertoire there is ultimately only one role I am aiming at but I'll have to wait and see if my voice will take me that way and I will get the opportunity to sing Wotan. I think this is the pinnacle for any bass-baritone. Then is also Hans Sachs of course and maybe I'll get a chance to do that one day. I shouldn't forget the Dutchman, if I could bring myself to do it. I'm always worried about that part because I remember Norman Bailey telling me that he could sing Hans Sachs twice in a day but he would sing Dutchman and want to go to bed for three days.

© Jim Pritchard

To book for ENO's remaining performance of Faust and future performances of Don Giovanni and Parsifal please go to the ENO website.