Other Links
Editorial Board
UK

Editor

s

- Roger Jones and John Quinn

Editors for The Americas - Bruce Hodges and Jonathan Spencer Jones

European Editors - Bettina Mara and Jens F Laurson

Consulting Editor - Bill Kenny

Assistant Webmaster -Stan Metzger

Founder - Len Mullenger
Google Site Search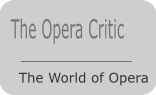 Maestro Eliahu Inbal in Berlin, September 2010: An interview with Michael Cookson (MC)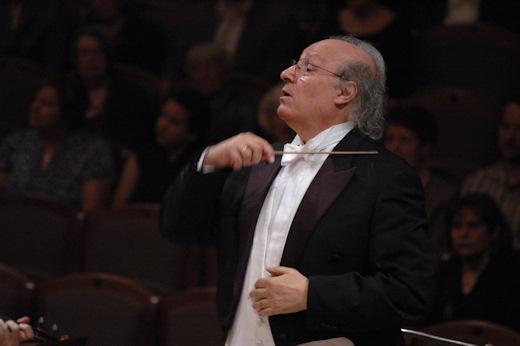 Maestro Inbal

Maestro Eliahu Inbal has a long association with the city of Berlin both as past principle conductor of the Konzerthausorchester and as a guest conductor of the Berlin Philharmonic Orchestra. It was at maestro Inbal's Berlin hotel, a stone's throw away from the picturesque Gendarmenmarkt Square, that I met this eminent conductor. Holding a central position in the Gendarmenmarkt is the beautiful Konzerthaus where that evening maestro Inbal was to conduct the Konzerthausorchester in a fascinating and rewarding performance of Oskar Fried's Die Auswanderer (The Emigrants) and Shostakovich's Symphony No. 4 in C minor. (see review) I was struck by the maestro's intellect, undoubted passion for music and readiness to talk frankly and freely about his extensive and successful career and various aspects of the classical music world.

Israeli born conductor Eliahu Inbal has considerable experience of working with huge orchestral forces as demonstrated by his celebrated recorded cycles of Mahler, Bruckner, Schumann and Berlioz with the Frankfurt RSO and Shostakovich with the Vienna Symphony Orchestra both in the 1980s/90s for the DenonA; Teldec and Philips labels. Maestro Inbal is currently the chief conductor of both the Tokyo Metropolitan Symphony Orchestra and the Czech Philharmonic Orchestra.

Michael Cookson: Maestro you have been conducting a series of concerts of Oskar Fried and Shostakovich in Berlin with the Konzerthausorchester. The score that commences the programme is by Oskar Fried. Fried is a name that up to recently I knew only as a conductor and friend of Mahler.

Eliahu Inbal: Yes, that's right. Oskar Fried is a forgotten composer. Die Auswanderer (The Emigrants)A is a melodrama for speaker and large orchestra; Fried composed it in 1912. After the time of the First World War he stopped composing to concentrate on his conducting. Fried was very famous as a conductor; much respected. Not only in Germany but throughout Europe. But when the Nazis rose to power he emigrated to Russia. You see Fried was a Communist and he stayed in the Soviet Union until his death in 1941. Fried had an opera house at Tbilisi in Soviet Georgia but didn't compose anymore he just conducted.

MC: What has been the audience reaction to Die Auswanderer (The Emigrants) a score that was forgotten for so long?

EI: The audience liked it. No one will have known it but they liked it. Fried writes in a very Romantic style. He was highly influenced by his friend Mahler of course and I also hear Debussy at times in the score. Fried was a favourite conductor of Mahler making the first recording of a Mahler symphony in 1924. Of course we are also playing Shostakovich's Symphony No. 4 in C minor a work that I recorded as part of a cycle with the Vienna Symphony Orchestra.

MC: I wanted to ask you about your series of orchestral cycles that you recorded in the 1980/09s mainly for Denon and also for Teldec and Philips, if think. It seems like it was a golden period for recordings.

EI: Yes, I recorded cycles of Mahler; Bruckner; Berlioz; Schumann and the second Viennese School. I did all those in Frankfurt [Note: With the Frankfurt Radio Symphony Orchestra]. They were extremely good years for me because at that time the record industry was booming which is contrary to today. When I was in Frankfurt I was so ambitious for the orchestra and I really liked to record complete cycles with them.

MC: Why specifically did you prefer cycles?

EI: Because I think it is different if you say record all Mahler cycles with different orchestras, in different cities with a different public. I believe there is something missing when doing a cycle with different orchestras. You see something happens when using one orchestra, something special develops. The sound and their playing environment remains the same which is important but there is a kind of depth which is distinctly created by using the same symphony orchestra, the same public the same hall, the same sound engineers and producers. That's why I'm a big fan of cycles. I conducted the Mahler; Berlioz and Bruckner cycles always in the Alte Oper, Frankfurt. This of course allows a very good sense of style to develop from the orchestra into the depths of the composer.

MC: Clearly this method of recording works for you.

EI: If I was to do a cycle today I would opt for a single orchestra, one hall, one public and production team. You see I always prefer to record at live performances.

MC: These days it's common for the top orchestras such as the Berlin Philharmonic and London Symphony Orchestras, to name but two, to record live performances. The cost savings are a big factor in the decision I expect too.

EI: We [Note: with the Frankfurt RSO] were the first to make our cycles with live recordings. Yes, it's like we created a 'school of recordings' and everyone is doing it now.

MC: How was it done?

EI: Well, we do edit the concerts. We would normally record three concerts or occasionally two. Let's say we did three concerts. We would have a dress rehearsal; which is recorded and the concerts. Now if we did a correction it would be only because of noise from the public such as someone coughing or something else that disturbs the sound. So it is really a live recording. All these cycles I did in Frankfurt; the Brahms; Schumann; Berlioz; Bruckner and Mahler and the Second Viennese School were all recorded live. I did the same with Richard Strauss with the Suisse Romande Orchestra and Shostakovich with the Vienna Symphony Orchestra. All those were cycles and they were recorded live in the same way.

MC: You were trailblazers, in fact.

EI: Yes, we were the first to do it; we invented it. We did the recordings with the Denon label. We started with the Mahler cycle and then the Bruckner cycle. We found it was the best way because there is definitely something more in a live recording, something else going on I think.

MC: I noticed in your résumé that you had lessons with the celebrated conductor Sergiu Celibidache.

EI: Yes, I worked with him for a while when I was in my mid-twenties. There were summer courses at the Siena Accademia Musicale Chigiana in Italy. I did several of these summer courses as a student there. I was able to conduct twice a day with his coaching of course and that was very, very useful to me. I also followed him in the concerts that he did with the Israel Philharmonic and some concerts that he did in Italy at that time and I had lessons with him in-between. The best thing for a student to study is in rehearsal. I have studied rehearsals with conductors such as Karajan and Giulini, and rehearsal of also Mitropoulos. That is where a student can really learn much more than in a concert; it is a very good school. I rehearsed not only as a student conductor but as a player. I played the violin and I was concertmaster of several orchestras in Israel at that time. There of course you have also rehearsals with all types of conductors and I learned so many things. When I was playing, I was also listening and watching to all that was happening, what was going on, what was right, what was not right, everything. Did the conductor do it right? If not, why not? Did he do something good, if so why? And so on.

MC: Celibidache had a reputation for demanding many rehearsals.

EI: That's true. He was very demanding. Celibidache would ask for six or seven rehearsals. Usually conductors would be allowed less than half that number.

MC: Please tell me your process of learning to conduct?

EI: Of course the young conductor cannot just learn from looking and observing. The student has to be able to conduct himself with an actual orchestra. The Paris Conservatoire National Supérieur de Musique had fantastic orchestras for us students in the 'French' class. You see they had a 'French' class and a 'Foreigner' class. The 'Foreigner' class' had lesser orchestras and was not as good. The 'French' class was the big thing. There were only two positions available for non-French students in the 'French' class. When I entered the Paris Conservatoire I was one of sixty-one student candidates fighting for one place. I got it! I was very happy to get it. The big thing was that my teacher was Louis Fourestier who was conducting at the Paris Opera at that time. Fourestier was a very good conductor and very intelligent. Both Fourestier and Celibidache complemented each other. I had another teacher Franco Ferrara, a genius conductor, who could not conduct because he had this illness. Maybe it was psychological, as he kept falling down whilst conducting in concert. What would happen was that in quiet sections, in Adagio places, he would collapse. He would be conducting the first movement marvellously, let's say it was a Brahms symphony, then during an extended lyrical passage, that would be when he would fall down and he would be unconscious. This happened many times to Ferrara so he had to stop conducting in public. Up to then he was having a wonderful career, like Karajan he was a very fine conductor, but he had to stop because of this problem. Once during a conducting class in Hilversum, Holland as a demonstration Ferrara was conducting the overture to Bellini's Norma and during the quiet passage he collapsed before our eyes unconscious.

MC: So if that illness had not happened to him you think Ferrara would have achieved significant success?

EI: Undoubtedly, he would have been a great conductor. I believe he would have achieved exactly the same standing as Karajan and Victor de Sabata. Yes, he was a really great conductor.

MC: Franco Ferrara is certainly a fascinating story. Maestro will you tell me about your association with Leonard Bernstein?

EI: Bernstein was never my teacher. But I have to thank Bernstein greatly for my career. You see I was in Israel during my two and a half years military service. I was serving as a concertmaster and assistant conductor of the military symphony orchestra. This was a very high level symphony orchestra. It contained players who would later progress to the Israel Philharmonic Orchestra or the Radio Orchestra through this military orchestra. Because otherwise they would stop practising and lose their proficiency. So this way they could do their military service and still stay connected to music. It was wonderful that I could do that. I was assistant conductor as well as concertmaster and I got to conduct some concerts for young people who were also doing their military service. Word spread around and the Israel Philharmonic got to know about me. People were saying "There is this young conductor who is very talented" and Bernstein was there to hear this. For a competition the Israel Philharmonic invited some established Israeli conductors who were there at that time, many were career conductors, some of whom were known internationally, and they invited me too. I got to conduct the Israel Philharmonic Orchestra for Bernstein in Beethoven's Coriolanus Overture. He took me aside afterwards and said "You are a great talent. You are the one that I am choosing from all these other conductors." With this he gave me a recommendation for a stipend for a scholarship abroad.

MC: A most valuable award and your big break.

EI: Certainly, it was extremely valuable and important in my career. So now I could travel abroad and study at the Conservatoire with Ferrara and Celibidache. Yes it was Bernstein who gave me this big chance. Of course later when I conducted the Israel Philharmonic Orchestra, I conducted more than 200 concerts at that period, sometimes Bernstein would come and conduct. I was conducting the actual concert and Bernstein would come and rehearse in the morning for his coming series of concerts. So I had the opportunity to be in a large number of his rehearsals. I became quite close to Bernstein and I learned a lot from him; although he was never officially my teacher. Bernstein gave me my big break and I was able to watch him work on many occasions.

MC: So if you had not met the legendary Leonard Bernstein things could have worked out very differently for you?

EI: Who knows? Who knows? I don't know. Leonard Bernstein gave me my big break and that was the big thing. But I had many important mentors, I would say, with Celibidache; Ferrara; Fourestier and Bernstein.

MC: That's quite an impressive list.

EI: Still I could learn a lot from watching rehearsals of Karajan, of Giulini, of Markevitch. They all came to Israel to conduct at that time. Dmitri Mitropoulos was also another conductor who came to Israel. I did my military service in Tel Aviv and there we had free time from our symphony orchestra and free time also from our rehearsals. Always during my free time I would go and listen to the rehearsals of the Israel Philharmonic Orchestra.

MC: Constantly learning, soaking it all up.

EI: Yes, that's why I went to those rehearsals to watch conductors such as Celibidache; Markevitch; Fricsay and Kubelík. All those well known and wonderful conductors as well as Bernstein and Mitropoulos. The musical tradition there in Israel was outstanding. In the Israel Philharmonic and the Radio Orchestra there was the crème de la crème of European musicians who went to Israel to establish a new orchestra. So you had really the best European tradition in that orchestra. When you have Eliyahu Thorner playing the oboe you have the amalgamation of all middle European music life. It was fantastic, the way of phrasing, the colour that he obtained. When you hear the flutist Uri Toeplitz the same applies. The bassoon player Mordechai Rechtman was also a revelation. There were some marvellous musicians playing there. Yona Ettlinger the clarinettist and the concertmaster was a big name also. Then I went to Paris and listened to the French orchestras. My God, it was not pleasant; the standard was on a very different level. I had wonderful teachers at the Jerusalem Conservatoire. In particular, I recall Josef Tal a musical elitist and a great composer. I think I was extremely lucky.

MC: I guess this is what made you decide to concentrate on conducting?

EI: Exactly. Yes, I decided to concentrate on conducting the first time I heard those symphony concerts live. At that time the war was on and we were based in Jerusalem. Often we had to hide in cellars for safety to avoid the bombing from the air raid [Note: This would be 1948]. When all that was finished I had the opportunity to go to live concerts. The first time I attended a live concert I decided to pursue an ambition to be a conductor. At that time I was about twelve or thirteen years of age, I was leading the Conservatoire orchestra as concertmaster and the conductor could not make one of the rehearsals. He said to me "You take the rehearsal." So I took the baton and climbed on the podium and I conducted the orchestra. Conducting came very natural to me. It made me sure that I had made the correct decision, absolutely. I was quite successful as a violinist, had several pupils, I had several positions in orchestras and began receiving many invitations from orchestras.

MC: I see parallels between yourself and Lorin Maazel.

EI: Yes, in that sense. He was a violinist also and has obtained many prestigious posts. I think in Italy you have more of this kind of progression towards conducting as a career. Giulini was viola player; Toscanini a cellist and de Sabata played violin also. You see they came from a tradition of string playing. Whilst in Germany the tradition is more of the Kapellmeister who is working with church choirs and singers as well as working with orchestral players. Often the Kapellmeister would direct from a keyboard; maybe an organ.

MC: I am reminded of Eugen Jochum; Karajan; and Karl Richter were keyboard players.

EI: That is true, yes. Little by little the ambitious string player would begin to conduct. So I came more from the Italian tradition of conducting.

MC: Here we are in Berlin overlooking the magnificent Konzerthaus. Tell me about your connections with the city.

EI: Yes, I lived in Berlin mainly for around seven years. This is when I was chief conductor of the Konzerthausorchester here. Where I was living for five of those years was so close to the Konzerthaus itself overlooking the magnificent Gendarmenmarkt Square with its two Cathedrals. We tried to buy an apartment right here but it wasn't possible at time. We had a wonderful time during my tenure in Berlin and I love to come back here and conduct. I have also conducted the Berlin Philharmonic on several occasions over the years.

MC: Maestro you have conducted virtually all of the world's top orchestras. How do you define which are the finest orchestras?

EI: I think you will be surprised by my answer. I have conducted practically all of the world renowned orchestras, the Berlin Philharmonic; Vienna Philharmonic; the Concertgebouw and the top London orchestras; the Chicago Symphony and others in the United States and the Montreal Orchestra in Canada. Of course these are all wonderful orchestras; no doubt about it. But when I conduct orchestras such as the Konzerthausorchester or the Tokyo Metropolitan Symphony Orchestra or the Frankfurt RSO I can do much more intense work with them. Going deeper into the music as we tend to have more rehearsal time. You see, these elite orchestras that I mention, such as the Berlin Philharmonic, the Vienna Philharmonics and the Concertgebouw if you get three rehearsals with them that is considered very good. For my Mahler cycle with the Frankfurt RSO I would be able to take an additional one or maybe two rehearsals more. So sometimes the performance satisfaction and results can be improved with this standard of orchestra, which are high level but not considered to be the best. The playing was of a marvellously high standard and the recording would have more atmosphere and more depth. So it's not fair for me to say that this or that particular orchestra is the best. Of course I like the kind of musicality from orchestras such as the Concertgebouw or the Berlin and Vienna Philharmonics; who are considered to be the greatest. You can see their ranking from the remuneration that the players receive. Let's say that the Berlin Philharmonic followed by the Vienna Philharmonic are the best as they can earn the most money. This is a general classification of orchestras that the orchestras that pay the most money are the best as they can attract the finest players. Why? Let's use for example the best flute players; they will all try to join these elite orchestras first. If they are successful in getting the job that means that they are really excellent. I compare it to the 100 metres race in the Olympic Games. There is generally only a fraction of a second between the world's top sprinters. So by comparison there are twenty or so excellent flute players. One will go the Berlin Philharmonic; another to the Vienna Philharmonic, another to the Concertgebouw and others will go to the Chicago and New York orchestras and they are all very well paid. Yet there are still fifteen excellent flute players left; sometimes they may even be better as they may have unique talents that you like. So you see that the notion that certain orchestras are the best is erroneous. You see that there is still so much quality in these lesser regarded orchestras that I have mentioned. You can make such wonderful music and have more rehearsal time with them. This means you can do even more and get even more satisfaction from working with orchestras that are not regarded as being in the elite group. Probably those players in the orchestras regarded as the finest are simply quicker, faster at learning, at picking things up. With the elite orchestras you can make do with only two or three rehearsals that would need five with the other orchestras. So if the players are fast you need less rehearsal time. For me that is the main difference.

MC: Have you a specific example maestro?

EI: Well in February this year I conducted the Philharmonia, a top orchestra. We did Mahler's 'Resurrection' Symphony in London. I did three rehearsals which are considered a lot for them. Incidentally the Philharmonia have a quite excellent chorus which was augmented and in the Royal Festival Hall the acoustical effect of the symphony was amazing. It was a really wonderful concert. But if I do the Mahler 'Resurrection' Symphony with say the Konzerthausorchester and I have four or five rehearsals then I will obtain the same results. But when I do the same thing in Tokyo with the Metropolitan Symphony Orchestra in the Suntory Hall it is also marvellous. I cannot say it is less good because we can achieve a great musical intensity of high technical ability. Going back to the analogy of the 100 metres in the Olympics; these players haven't won medals but they are only a fraction of a second behind.

MC: I love that comparison with the 100 metres sprint.

EI: You know, that half of the musicians seated in these orchestras can stand up and play like soloists. The standard of the playing is so very high and maybe the other half will play chamber music to a good standard. The public may think that the differences between orchestras are huge. It is an easy trap to fall into. They may hear the names of the Frankfurt, or Dresden, or Stuttgart or Leipzig orchestras and compare them unfavourably with say the Berlin Philharmonic. But this is not how it is in reality provided there is adequate rehearsal time for the conductor. Sometimes when people listen to concerts that I conduct with lesser known orchestras such as La Fenice in Venice they remark on hearing the sheer musicality in the playing. Maybe you could say that technically there are some minor differences but the musicality of the Italians is so high. You see they have been brought up on opera and singing; you can hear it in the playing. So the question of the best and less good orchestras doesn't hold.

MC: As an Israeli born in Jerusalem have you ever had any concerns about conducting the music of Richard Wagner?

EI: None at all. You know the music of Wagner and even in his texts I have looked and I cannot find anything anti-Semitic. You can look and try to read between the lines but it's not there. But what he did in his private life was a totally different matter. Wagner's wife Cosima too was terribly anti-Semitic. Cosima was constantly harassing the conductor Hermann Levi, who conducted the première of Parsifal at Bayreuth. She was repeatedly saying that as a Jew he should convert to Christianity. She was haranguing him, pressurising him all the time. It was terrible.

MC: So you are able to separate the music from the person?

EI: Of course. Because you can easily find any number of great artistes who were terrible people in their private lives. To be a great artist you don't have to be what we consider to be a good person. Sometimes even it is not recommendable in a great artist. For a great artist often needs to have a fire inside of him, often something very nasty, something very idealistic. If you look hard enough you can usually find something that is not pleasant in the character of many of the great composers; great painters and great writers. So I have no problem with the music of Wagner.

MC: It wasn't that long ago that Wagner's music was unofficially banned from being performed in public in Israel. I remember the controversy in 2001, if memory serves, when Barenboim conducted Wagner in Jerusalem.

EI: Well that's a different story. It was not the musicians who were against the playing of Wagner. Those vehemently against were primarily people who were not necessarily interested in music. Maybe they were holocaust survivors who were principled against anything that the Nazis had used as a vehicle for their ideology. They could be against the playing of Wagner's music or it could be music by Richard Strauss. Even the music of Franz Liszt could apply because the Nazis used sections from his symphonic poem Les Préludes as theme music for their propaganda radio announcements. The Nazis used the music of these composers but at that time it was part of the German culture to be anti-Semitic. If you take Mahler's wife Alma who was later married to Franz Werfel. These two husbands of Alma's were Jewish. She did not dare to say anything against Jews in front of Mahler. Mahler was her master; she did not dare. She gave him a lot of trouble on other fronts, complaining that Mahler did not allow her to write music and that Mahler did not rate her compositions. Then she had this lover Walter Gropius; which came as a shock to Mahler. With Mahler she never uttered an anti-Semitic word. But with all her other associates; a large number of which were Jewish, she would say the nastiest things about Jews and also to Werfel; and Zemlinsky too, who was raised as a Jew. So Alma reflected the culture that had evolved in Germany at that time and found it quite acceptable, normal in fact, to make anti-Semitic remarks even though she was living with many Jews as friends.

MC: I wish we could continue maestro but time has caught up with us. I'm conscious that you have to prepare for tonight's concert. Thank you.

Michael Cookson

Footnotes:
A) All of the Denon discs and those on other labels can still tracked down in the catalogues. Many of the original Denon recordings have been reissued. Some have been reissued on the Teldec Classics label. Other reissues can be found on Warner Classics Apex series and also on Brilliant Classics.

B) There is a 2009 recording of Die Auswanderer narrated by Sabine Kammer with the Berlin RSO conducted by Matthias Foremny on Capriccio C5043.