Other Links
Editorial Board
Editor - Bill Kenny
Assistant Webmaster - Stan Metzger

Founder - Len Mullenger
Google Site Search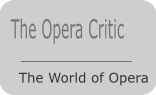 SEEN AND HEARD INTERVIEW

An Interview with Lawrence Brownlee :  The American tenor talks by email to Margarida Mota-Bull (MMB)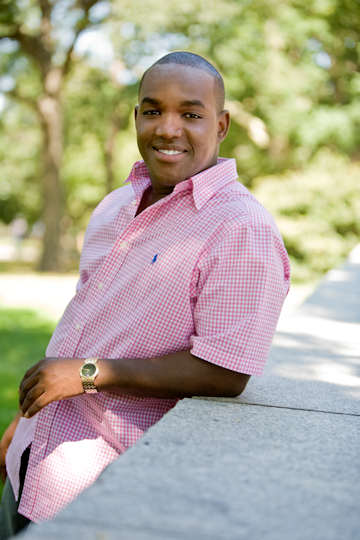 Lawrence Brownlee - Picture © Dario Acosta


In spite of his heavy schedule, American tenor, Lawrence (Larry) Brownlee, kindly agreed to an interview via e-mail for "Seen and Heard". It was carried out during late March 2010.

MMB: How did you become interested in music and opera? And why did you decide to become an opera singer? Any influences in your family? 

LB: I sang as a child in Church, although I did not like to, but was urged to do so by my parents. Even at an early age, people would respond to my voice in a very positive way. I became involved in Choir and Show-Choir in High School; then I was invited into a program at Youngstown State University for gifted music students when I was about to complete High School. Someone heard me there and told me that I had the voice for opera. At first, I was not convinced but I decided to give it a try. I come from a family with many singers; so, music was always around me and played an important part in my early years.

MMB: Your repertoire is firmly within the bel canto of the first half of the 19th century (I am referring to the operas of Rossini, Bellini and Donizetti), which of course suits your voice. Why do you think that we have seen a revival of such repertoire in the last six or seven years.

LB: I believe that a new group of singers, like Cecilia Bartoli, Gregory Kunde, Juan Diego Flórez and others, have all helped to rediscover this wonderful repertoire.

MMB: Do you think that you have contributed to the current bel canto revival in general and Rossini's operas in particular?

LB: I have been fortunate enough to have had the opportunity to sing some important roles; and also works are being programmed because singers, such as myself, are capable of performing this exceptional music.

MMB: You have sung many Rossini operas and, in an article I read about you in an issue of Opera News from September 2008, they stated that your near-flawless technique has placed you in the rarefied Land of Top Rossini tenors, population two (the other being Juan Diego Flórez). I liked the comment because it has humour but to my mind is also true. Do you actually agree with this statement? And please explain why whether you answer yes or no.

LB: I am a big fan of Juan Diego and I know he has a great deal of respect for me. It is nice to have one's own name mentioned in the same arena as someone who has contributed to the world of opera in this very specific category. The statement is very heart warming to me, but there are some other singers in the business who also sing this repertoire very well and have made names for themselves.

MMB: What is your favourite Rossini role (if you have one)? Why?

LB: Count Almaviva in Il Barbiere di Siviglia. To me it is the most complete of Rossini's roles and it has demands, as far as the acting is concerned, in addition to the singing of the final aria. I receive a great deal of satisfaction when singing this role.

MMB: Why do you think that the aria "Cessa di più resistere" is often taken out of the opera?

LB: It is a virtuosic aria that not many tenors perform well; additionally, it comes at the end of the opera after a great amount of other singing. Many people think that it stops the action, but I feel that it helps portray the character of the Count. Everyone else enters with an aria that describes their character, but the Count arrives disguised from the very start. He then plays several different people and never has the opportunity to establish himself. This aria provides that.

MMB: Bellini and I Puritani: You made headlines on YouTube when you sang the high F in "Credeasi, misera!" Though the quality of the sound is not very good on YouTube, it appeared to me that you sang it in your natural voice rather than falsetto. Am I correct? And if yes, is it your top note?  

LB: It's true, the quality is not that great on YouTube but yes, it was in natural voice and not falsetto. I can sing maybe a 1/2 step or a whole step higher, but I don't usually go above a high D except a few times a year. There is no need for it actually.

MMB: Donizetti and La fille du régiment: The famous aria "Ah! Mes amis..." how difficult is it for you to sing the nine consecutive high Cs?

LB: I am not saying that it is easy but it is not the most difficult aria that I sing. If one has a secure high C, then the aria is not too difficult. In my opinion, the second act aria is more difficult.

MMB: I read that recently (I believe in February) you were approached at extremely short notice to fill in for Flórez in La fille du régiment. In fact you were asked in the early afternoon if you would replace him that same evening. How difficult was it? And how did you manage to perform with great success a role that you had not sung for nearly two years? 

LB:  La Fille du régiment is one of the operas that I know best. When I was asked to step in, I thought that I could do a good job or else I would not have said "yes" to the offer. I was happy that it went far better than I could have even imagined. I had to learn the choreography, the French dialogue, the staging, and I had never seen the production, nor been on that set...All in a few hours! I did not get too overwhelmed; I just took it one bit at a time and stayed calm. I also had a good group of Metropolitan Opera staff members there to help me. It went very well.

MMB: How do you prepare for a new opera, meaning for a brand new role that you have not sung before? 

LB: I read the story (libretto) and buy a recording of the work so that I can hear the style and tempos. I take the score to the piano to thoroughly learn it. I usually hire a pianist and coach to work on it with me after I have a good grip on the role.

MMB: Do you think that you have reached full maturity as an artist or are there still areas where you feel that you could improve even more? Please detail whatever your answer. 

LB: I am most inspired by Plácido Domingo who keeps learning new things...and he has been in the business for more than forty years. We can all continue to improve in many areas of performing.

MMB: Do you write ornamentations to some of the arias you sing? And if yes, do you compose them yourself and if you do, how do you go about it? [I ask because I write fiction and so, I know and understand the creative process for writing a novel, for example, but I am always curious about the creative process in relation to music]. 

LB: I do write ornamentations for myself at times but it is as a result of understanding the style and rules. Sometimes my ornaments are just mixing and matching some of what I've learned before.

MMB: I have read that you have been second cast to Flórez, a considerable number of times. Did this fact have any impact on your career or on how you perceive yourself as a singer? 

LB: I am very happy to have had those opportunities. Juan Diego and I are the exact same age. I am two months older, I believe, but he made his debut almost ten years earlier than I did. Therefore, he has enjoyed a great deal of success working in important theatres and with well-known conductors. He is very knowledgeable and seasoned. It gave me the opportunity to learn by watching him. I have never considered myself a second to him though. We are very different and we are not competing at all. Many compare us but I think that there is room for both of us. I believe that I can have a very nice career and not be in the shadow of anyone. I will do what I feel is right for me.

MMB: I hope that you don't mind me touching on the subject of race but, as the world of opera is mostly "white" even when the character is not, like Otello, I was interested in knowing what you think. I read that you felt your race has sometimes held you back in your operatic career. Is this true? Have you had negative experiences because of it? And if yes, could you please elaborate and comment on them? 

LB: I am sure that race has been the reason for my not being hired sometimes. A long time ago my Father told me: "Worry about the things that you can control". I cannot change who I am. I am a very proud African-American man who is not tall. Others have had weight, or other things that kept them from getting jobs. I think the social climate towards race has improved significantly though. Everyday, we see much more diversity in society, so people are more accepting now of seeing African-Americans on TV and in the movies, playing leading romantic roles opposite people who are not the same race. The fact that I have been fortunate to sing many roles and in many theatres, I believe shows that it is much less of an issue now. I am very happy to see how it will develop...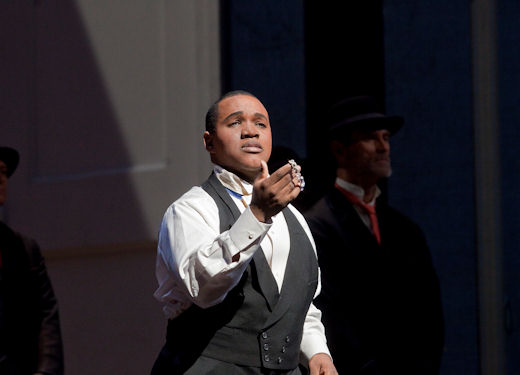 Lawrence Brownlee as Don Ramiro in La Cenerentola
Picture © Ken Howard


MMB: I have watched you on DVD with Elina Garanča in the Met production of Rossini's La Cenerentola. I loved your performance as Don Ramiro and thought that you were very convincing as the Prince Charming. I had the feeling throughout that you were having fun. Is this a role you particularly enjoy?

LB: I had a great deal of fun performing with my good friends in the production of La Cenerentola. Prince Ramiro is one of my favourite roles and I am very comfortable with it.  Also, I consider everyone in the cast my friends as I had performed with all of them before, so I think people were very aware of the great chemistry between us.

MMB: In the same DVD that I mention above, I thought that your rendition of "Si, retrovarla, io giuro" was superbly sung and one of the best I have heard. You appeared to deliver it effortlessly. Is it really easy for you or is it the result of very hard work?

LB: I have worked a great deal on that aria and I feel great with where it is now. I had not always been that comfortable with it, but over the years it has become something I feel very good about.

MMB: I thought that there was great chemistry on stage between you and Ms Garanča. I also know that you have often sung with Joyce DiDonato and you made a lovely appearance in her latest CD Colbran, the Muse. Do you have a preference for a leading lady; somebody that you think you partner particularly well in artistic terms? 

LB: Every colleague is different for me. I try to look for a level of comfort in all situations with my counterparts. I never want anyone to feel uncomfortable with me, so I try to build the trust; then, we can be comfortable afterwards. I must say that Joyce is like a sister to me, so it is always the best time sharing the stage with her. We always want the best for the other...

MMB: Thinking about other male opera singers (in particular tenors) is there anybody you look up to; that you find inspiring (either past or present)?

LB: I consider George Shirley a hero and mentor of mine and Plácido Domingo is someone I have a great deal of admiration and respect for. I am a fan of good singing in general so there are a lot of singers I admire and am inspired by: Pavarotti, Del Monaco, Carreras, Wunderlich, Kraus, Bjoerling, etc...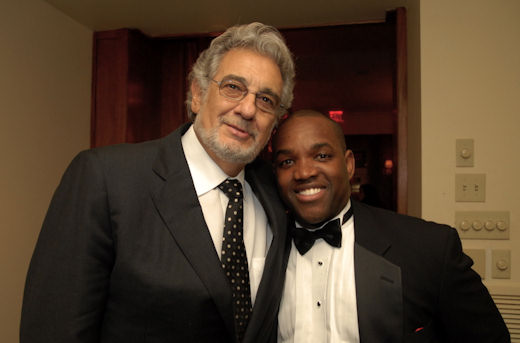 Lawrence Brownlee with Placido Domingo
Picture © Thomas Grosscup/New Orleans Opera


MMB: Your CD of Italian Love Songs is to my mind an excellent display of what you can do with your voice. I liked it very much. Your technique is superb and accurate, you sing with apparent easiness and your interpretation is beautiful and charming. Were you happy with it? Why or why not?

LB: I learned a lot in the process of making that recording, i.e. on how to prepare for one in general; it is different from anything else. I wish I could do it over because I would really challenge myself to go farther with dynamics, vocal colours, diction and perhaps a few other things...

MMB: In the same CD of Italian Love Songs, besides the bel canto composers, you also sing Schubert and Verdi. First, why Schubert? And would you consider singing any of his Lieder? Why or why not?  
LB: Schubert composed those beautiful songs in Italian and they are rarely performed. I wanted to introduce them to people; they are lovely, I think. I took two months of private German lessons. I would like to learn the language very well and do "Dichterliebe" or "Schwanengesang" a little later in my career. I think one must have a thorough knowledge of the language before undertaking either.

MMB: Second, following up from the previous question, do you see yourself as singing operatic works from these composers (meaning Verdi and even Schubert) at some stage in your career? And why or why not?

LB: I am not very familiar with the operatic works of Schubert but I know that I don't have the voice for most Verdi roles; perhaps the only one I might take on would be Fenton in Falstaff. One never knows though... 

MMB: What about Mozart? Have you performed any of his operas on stage or, if not, would you consider doing so? What challenges do you think you would face in Mozart as opposed to bel canto?

LB: I have not performed any Mozart roles professionally, but I did sing Ferrando, Tamino, and Don Ottavio in college. I would love to sing Belmonte and Ferrando and I believe I have both the voice and temperament for them. I think the challenges would be to think legato, legato, legato and not the fireworks that coloratura singing sometimes is.

MMB: Are there any composers that you think you cannot or do not wish to sing? Why? 

LB: I don't have a huge voice, so there are many composers whose works I may never sing (Puccini, Wagner, Strauss). I don't have the desire to sing the Slavic language operas though I do like the music. However, I think that there are other voices that would perform them better.

MMB: Are you interested in singing other lighter repertoires or just operatic? Why or why not?

LB: Perhaps, at some point, I will cross over to some lighter things or cross over ideas. I think it is a fun way to challenge yourself, or introduce your voice to others outside of opera.

MMB: I read that one of your hobbies is dancing salsa. Why salsa? What does attract you to it? And do you have any other hobbies?

LB: I fell in love with salsa about ten years ago. The music moves me in a certain way (percussion) and I can dance it for hours without stopping. I have many hobbies, but DJ-ing salsa is another in addition to dancing. One other big hobby is fantasy football but that is only four months a year.

MMB: What else do you do to relax? For example, at the end of a day's work I like to listen to a CD while reading. Music is your work hence the question.  

LB: I like to play board games or card games or watch TV or just surf the internet.

MMB: Do you have any plans for the near future in terms of recordings or new roles? And if yes, could you please detail? 

LB: I am singing Rinaldo in Armida now. Elvino, in La Sonnambula, will be added later this year. I will record Rossini's "Stabat Mater" this summer, and an aria CD is being discussed now... nothing definite though...

MMB: Finally, I know you have sung at La Scala in Milan and you sing regularly at the Met in New York and other American Opera Houses. When will you give London the pleasure of your presence at the Royal Opera House?

LB: I would love to return to the Royal Opera House. I sang there in the world premiere of Lorin Maazel's 1984 but since then I have not been invited back. I hope that changes soon, as I enjoyed myself very much at Covent Garden as well as in London. It is such a nice theatre and I hope they can find something for me there.

Margarida Mota-Bull

Margarida Mota-Bull's operatic e-novel, Canto de Tenore is available Here