Other Links
Editorial Board
Editor - Bill Kenny

Founder - Len Mullenger
Google Site Search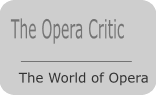 SEEN AND HEARD INTERVIEW

Born to Sing: The Italian Soprano Maria Luigia Borsi in conversation with Bob Briggs (BBr)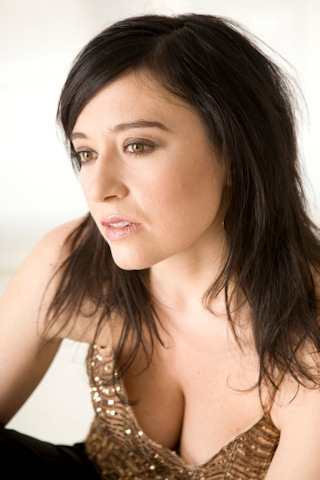 Maria Luigia Borsi - Picture © Benjamin Ealovega
José Carreras has described her as "a real Italian voice " and Susan Nickalls, writing in The Scotsman about her UK debut with the Scottish Chamber Orchestra, said of her performance of Respighi's Il Tramonto, "Her sultry voice, beautifully controlled, was a perfect match for the broody viola and cello lines which provide the bedrock for this touching tale of love and loss." Such encomia seem to accompany Maria Luigia Borsi wherever she sings, and this month she makes her London debut with a recital of songs by Italian operatic composers at the Wigmore Hall on 17 January. This is closely followed by the release, on February 23rd, of a performance on DVD of the Beethoven 9th Symphony given in the Vatican City with Birgit Remmert, Vale Rideout and Rafal Siwek, conducted by Lorin Maazel (Kultur Video). So who is Maria Luigia Borsi? To start with, she is quite certain that she wants to be called Maria Luigia rather than Ms Borsi and she is one of the most delightful conversation companions I have had in some time. She has much to say about the art of singing, interpretation, directors, conductors, all derived from first hand experience of working in the opera house. Her talk is filled with laughter, and being a born singer, she cannot help but pepper the chat with a sung musical phrase, just to illustrate a point.

The words "born singer" gave me the lead-in to our conversation. Did Maria Luigia discover singing or did singing discover her?

I was born singing. My grandfather told me, "when you were born you sang the Grand March from Aida!" And that's quite funny because my daughter now tells me that I sing in my sleep! So sometimes when I think about singing I now realise that music chose me, like a drug. I feel that I have been given this to explain my feelings to other people. And to share what I feel. I don't know but I think that I always start [to prepare a performance] in this way.

You never wanted to be a pianist, or a violinist?

Never ever. Just a singer. An opera singer. When I was three years old I watched Maria Callas on TV and she sang Tosca. And I remember very well the moment when Tosca kills Scarpia and I was so impressed! I wanted to live in an operatic way! I imagined the situation, always dramatic situations.

When did you first sing in public? As a soloist, rather than in a choir……

When I was six years old I started singing in a choir and also doing small phrases as a soloist from within the choir. Then I began to study in the conservatory when I was 15. I remember my first audition when I was 13 years old, for the choir, when I sang Caro Mio Ben [Come Once Again, a song written, probably, in the 1780s by G. Giordano (1748–1798)] and the maestro told me "what do you sing normally?" I said, "just a little aria like tu mi dici [from Act 2 of Puccini's La Rondine], or something like that" and he said, "do it!" and I sang it without any conscience! Without any worries! And they chose me!

That's the marvellous thing about youth, you're never scared and singing something like Vissi d'arte seems to be the easiest thing in the world! After this I started to study in the conservatory and I began to sing like a soloist. My first appearance [as a soloist] was when I was 23 years old, but not in Italy because in Italy it is impossible for young people to grow and to learn. For this, I have to thank the Netherlands. I have to thank Australia, Austria and Germany. Romania. I have to thank these countries for helping me build my career.

But isn't Italy supposed to be the land of song?

I know. But it is also the land of the Mafia! It is quite difficult because I come from a very simple family and there are no musicians in it. My father drove a train and he is tone deaf! We also don't have the knowledge, the right connections. There is a very big problem in Italy today because Italy doesn't invest in young talent. It's strange because in every small town there is a beautiful theatre and they are closing because there is no culture. For me it is very hard to understand how a country like Italy, where opera was born, can do this. I don't feel so proud about Italy for that reason. I am proud to be an Italian but sometimes I think that they [the people in charge] are too ignorant. And I think that's one of the reasons why good Italian singers are unknown. Barbara Frittoli is a wonderful singer, she is beautiful, she has a good technique and a beautiful voice. She's not as well known as other singers and in my opinion she is sophisticated, not just a voice without interpretation. That's very important for a singer I think.

It's strange but I feel better with myself when I sing, because when I sing I feel closer to God. And I would like to sing because I am very comfortable with my voice. And when I sing I feel like elevated. It's spiritual.

Which brings me to something which might seem odd but I have to ask. Are you happy with your voice? Are you comfortable with it? I ask this because when she was interviewed on our BBC's radio programme Desert Island Discs, Elizabeth Schwarzkopf said that if she were to come back to life she would like to be a man because the male speaking voice is so close to the male singing voice.

I would like to sing like a tenor – a heroic tenor! I want to be a tenor not because my speaking and singing voices will be closer but because you want to sing the arias!!

I studied voice at college and I was taught by a woman who trained at the Royal College in the 1920s and sang at Glyndebourne before the war, so my training was quite old fashioned in many ways. She taught me that vibrato was a very special thing, and you didn't employ it very much. One used it purely for colouristic effect. What I find today, and this annoys me about many singers, is that they don't use a vibrato, they wobble, and you don't know what note they are trying to sing.

You have to have a special control to use vibrato. In baroque music you have to sing a pure line. In opera, Puccini or Verdi, there is a different vibrato. But the way to sing is always changing. When we hear singers of the past they have another way to sing, they use a very fast vibrato. The problem is that now the orchestras are too loud and the singers have to push too much.

You're about to sing Liù. That's difficult as you're singing against a huge orchestra.

Sometimes the hall is too big, and sometimes the director sends the singer to the back of the stage instead of keeping him near the front. When I sang in Salzburg, in the Grossefestspeilhaus, the orchestra was placed too high, and the hall is too big, and the Vienna Philharmonic is too big! Six or seven basses! Then you have to sing louder and I like to sing piano. I've been criticized a lot by people saying that they cannot hear me and I tell them that it's not my problem it's your problem. When you are on a stage and when you sing piano you can feel the tension, and I feel that I have the full attention of the whole audience.

Having mentioned Callas, who was a great actor with the voice, I wonder if you see yourself going the same way.

For me Callas is a point of reference, and I think I was impressed by Callas for that reason. She was absolutely the actress through music. And I would like to live the music in this way. It's not so easy, and maybe it's not a choice. It's just a way to live the music. Everything I do I do naturally. I try to live my life in an intense way then when I sing I like to feel more of what I am living and thinking. It's quite natural for me. I am seeking a more realistic approach to performance.

I sang Bohème for the first time eight years ago then I sang Traviata six years ago. And six years ago too, my mother died. And every time I sing this role I think of my mother but yet every time that I interpret the same role I feel something different. Two years ago I sang in Ravenna. When I sang there I remember the last kiss my father gave to my mother when she died. It's strange no? I don't think about normal life except when I sing! It helps me to conjure up the emotion. At that time [Traviata] everyone was crying because of what I had put into my singing.

And when I sang Otello last year with Muti – the Ave Maria – for me it was the memory of the moment and at that time I thought that the orchestra played that this for my mum. Muti doesn't like applause during a performance but the audience applauded there. They exploded. But he let them do it. In this case he was satisfied Normally he's very tough on that.

If you're putting everything you've got from personal experience into professional technique, how do you deal with producers who do everything they can against the opera? To make it look like something it's not.

It's not easy for many reasons! If you are talking about Puccini, then he wrote everything. He didn't leave anything to chance. But Muti teaches me that it's important to be modern. In the way you interpret. I'm me and not Maria Callas. Nor Renata Tebaldi, nor Mirella Freni. I live my life and I have to put my feelings, my soul, my experience, into my performance. I have to be modern, original, I have to reinvent the interpretation and for that reason the music is very special. When you sing you renew the music in different ways. In my opinion if the stage direction finds a way to represent the truth that is good. But if it chooses just to be different I'm not interested.

It's not difficult to work in such a production. I remember a very strange production of Peter von Winter's (1754 – 1825) Maometto (a recording is available on Marco Polo 8.225279-80). The opinion of the stage director was crazy. But my voice, I am lyric soprano, was always very sweet and pure. But sometimes it is interesting to find another way to find the truth. So if a stage director convinces me, and I am happy, with his vision I follow it. It's so important to find a truth.

What are your favourite roles?

My favourite role is always the one hat I am currently singing, and there are some roles which I feel immediately, whereas other roles need more time. I need to live these roles on the stage. When you are on the stage you can find a lot of little details, and you can understand the reasons for your character's motivation. Why is important in my opinion. Why does Desdemona say this thing now? Why is she on the stage now and what is she looking for? Why is very important. It's what Hollywood calls the back story – what is happening before we see her. It is not just what the audience sees in the stage, they must know that there is something behind that.

So what's next?

Lorin Maazel asked me to do a concert of a commissioned work by Dov Seltzer. I have to work very hard to do that. Then there's my London debut, which will take place at the Wigmore Hall on 17 January. It's a recital of songs, but with operatic connections. I thought about this programme and decided on a recital of songs by Tuscan composers, and they're all famous – Puccini, Mascagni and Catalani. These are very nice songs, quite unknown here, and also unknown in Italy, but yet at the same time known because I choose songs like Sole e amore in which there is the same theme of the quartet in the 3rd act of Bohème. There is one very funny song, which is not in the recital, but maybe I do it as an encore, Casa mia, it's very nice. And there's another Sogna d'or, which is a lullaby. In this song there is the famous theme of the 2nd Act of La Rondine. In Catalani's Chanson groënlandaise there is the famous theme from La Wally and Mascagni's Ave Maria might remind people of the Intermezzo from his most famous opera. This is a programme of the known yet unknown at the same time. I think a programme of songs by operatic composers is a nice idea. I am first of all an opera singer but I like giving recitals because I like the intimacy of the music making. And this is a nice programme too because it brings some sunshine to London! It is easy to share because you are so close to the audience and it's so different from opera.

I love opera because I love acting with the voice it's my recital and I can share my emotions with the audience. It's very direct.

Bob Briggs

At the Wigmore Hall London, on 17 January 2010 Maria Luigia Borsi with John Novacek will perform Songs of Tuscany's Maestri.