Other Links
Editorial Board
Editor - Bill Kenny
Assistant Webmaster - Stan Metzger

Founder - Len Mullenger
Google Site Search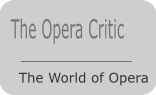 ''It's a lot of work but it looks like a lot of fun': an interview with Helene Schneiderman (GDn)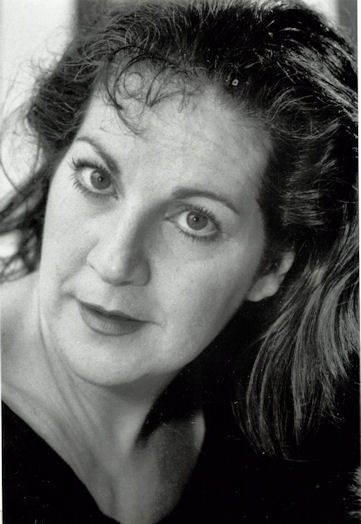 Helen Schneiderman – Picture by courtesy of Robert Gilder & Co

The American mezzo-soprano Helene Schneiderman is in London for the upcoming revival of Jonathan Miller's Così fan tutte at Covent Garden, in which she sings the part of the mischievous maid, Despina. Although relatively new to the role, Helene is already closely associated with the production, having previously appeared in it in the part of Dorabella. As far as the story goes, switching roles means switching sides, and going from the victim of Don Alfonso's deceptions to the key conspirator. So what drives Despina? Is she just in it for Alfonso's money?

She's having a good time. I think she likes Alfonso very much. In this staging she is not poor. In other stagings she comes from a very poor house and she will do anything for money. But in this, the way I dress and the way I look, it's clear that Despina has a very good job. She doesn't need to make 20 scudi - whatever that is. I think Despina is a very normal kind of a person. She's very honest, she doesn't fool around. She's been through a lot of the things that the girls are going through. She is not a prostitute or anything, but I think she has had experience with men. I like Despina. I like what she's got to say, she's not quite as stupid as Dorabella.

Moving from a role with which she is thoroughly familiar to another role in the same production has been a mixed blessing, and Helene still feels a strong attachment the part of Dorabella.

I pay more attention to what Dorabella is doing now because I am not singing her. I've done a lot of Dorabellas in my life and almost no Despinas, so it is very hard to forget Dorabella and get on with Despina. But I enjoy it a lot. The Despinas who have taken the role before me were both very different; one was an English girl and the other Italian. So here is the American Despina! I think that Jonathan Miller had a kind of Woody Allen New York feeling for Despina anyway, so he has been giving me a lot of freedom with it.

The revival is being directed by Daniel Dooner, but Jonathan Miller has been on-hand for many of the rehearsals.

We never expected to see him this much because he is heavily involved with preparations for his new Elixir of Love at English National Opera. But one of the singers at ENO fell ill, and some of their rehearsals have been rescheduled, which has allowed him to come over to watch our rehearsals. He has been enjoying it a lot, and it is really nice to get those little details from him. Although I have to say Dan is doing an amazing job, and he gives Dan complete freedom.

The opera is very much an ensemble piece, so close interaction between the singers matters as much in rehearsal as it does in performance.

It is a great cast. There are no divas, and everybody is really in it for the piece. We are getting on really well. In fact today we went out for lunch as a cast. That's very unusual, it doesn't happen all the time. Sometimes after the premiere, they have a cast party. But normally people are happy to go and have their own lives.

Jonathan Miller's production was first staged at Covent Garden in 1995. It is a modern dress staging, but he has allowed plenty of scope for the piece to evolve.

It's modern and it's light, and Jonathan has always been able to bring it up to date. The costumes are always clothes that you could buy in stores around town. It's really moved with the times. When I first began there were no laptops or cell phones, I mean there were, but they weren't in the production yet. In fact the set is fairly neutral, it is not linked to any specific period. He has made the staging timeless. And the piece really is timeless. I mean woman are stupid, men are stupid, we all do stupid things.

Unlike Dorabella, Despina regularly makes herself the centre of attention by appearing in disguise. Don Alfonso's plan requires a doctor and a lawyer, and his conspirator obliges on both occasions.

Anyone going into disguise is going to attract attention. It's like putting an animal on the stage. Give me a doctor's uniform, a moustache, big glasses, a stethoscope, and have me say I'm the doctor, its already written into the part. It's how you do it of course. You can make it or break it. Despina is not on the stage as much as Dorabella. She has the same number of arias, but none of the duets or ensembles, so what she sings is usually quite important. In many ways it is a more thankful role, and it's all beautiful music. Singing Mozart really puts you at the best you can be.

Helene first sang Dorabella in a production of Così fan tutte in her adopted home town of Stuttgart in 1995.

It was a fairly classical production. It became very successful because it had a very good cast. The sisters were sung by myself and Soile Isokoski, and we were later contracted to the same roles in the Covent Garden production on the strength of that staging. It was one of those where it starts out in baroque costume and gets progressively more modern, until the final scene where the wedding gowns are very up-to-date.

Helene first played Despina in the same production.

That was much later, in fact it was only two and a half years ago. It's funny how, when you learn things in your younger years, they stay with you longer than when you learn something after 40 or whatever. So Dorabella still comes to my lips sooner than Despina, just as Cherubino comes to my lips sooner than Marcellina. Those are roles from when I started out as a singer.

Following this production of Così fan tutte, Helene is planning a number of other role changes in operas she has sung many times before.

You get to a certain age...I mean, I don't think I would do a Donna Elvira now. It is quite high and I have already turned it down a few times. Now I'm finding I am doing a lot of Richard Strauss, because there are a lot of those in-between roles. For instance, I used to do Octavian but now I'm doing a lot or Anninas. That will be my La Scala debut, my San Diego debut and my Madrid debut. There are a lot of nice cameo roles, not big roles, but big small roles. I could still sing Cherubino, but I think you should be believable; you shouldn't have to dress down. I'd rather be a young mother. I'd rather people say 'Oh you're too young for Marcellina' and I'd say 'thankyou'.

Before leaving, I ask Helene what other publicity commitments she has ahead of opening night.

I'm doing an interview for a ladies' magazine. I love to bake and cook and I think they are interested in my brownie recipe. It's wonderful, and I give it to anybody who wants it. But most people just prefer that I bake them some.

So there is time for some serious cooking, even in the schedule of an international opera singer?

There's always time for serious cooking. I like Italian kitchens. I do a lot of pasta, not many meat dishes, nothing heavy. I like a lot of fresh vegetables, maybe a lean piece of veal or something, but yes I love to cook and bake.

Sounds a long way from traditional German food.

Some German food is wonderful. I have no problem with kraut, or with schweinshaxn, but we are talking once a year. We have to watch ourselves as singers, we have to keep in shape. I mean that story with the little black dress, didn't that start here?

The story of Deborah Voigt's troubled, if ultimately reconciled, relationship with her slender costume for Christof Loy's production of Ariadne auf Naxos clearly still resonates.

I just worked with Christof Loy and was really worried because I was wearing a little black dress the whole time. Thank God I could get into it.


© Gavin Dixon 2010
Così fan tutte opens at the Royal Opera House, Covent Garden on Friday 29th January and runs until 17th February.