Other Links
Editorial Board
Editor - Bill Kenny
Assistant Webmaster - Stan Metzger

Founder - Len Mullenger
Google Site Search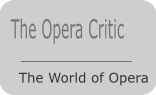 'If a reviewer doesn't like the work I did, I just have to accept that': Conductor Andrew Manze talks to Michael Cookson in Munich (MC)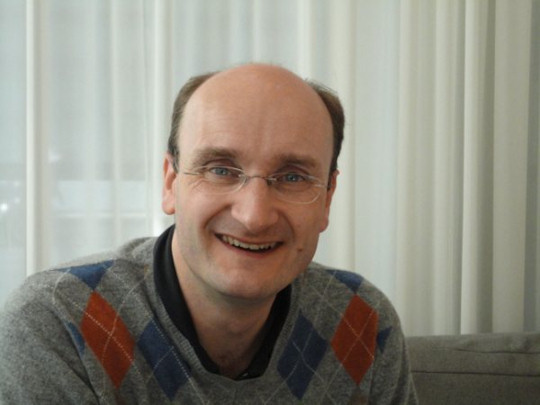 Andrew Manze – Picture © Michael Cookson
I arranged to meet Andrew Manze on Sunday at his hotel close to the fashionable Gasteig cultural centre in Munich. There in the Philharmonie, the previous evening he had completed a series of three concerts with the Munich Philharmonic Orchestra, conducting a fascinating programme of Britten and Purcell. I don't suppose that too many of this musically sophisticated Munich audience had heard more than a few of these Purcell and Britten scores. Manze and his orchestra had been in competition with another major event that evening which saw the home team Bayern Munich playing Inter Milan in the UEFA Champions League final. Although there had clearly been some effect on the numbers in attendance, given the circumstances, the Saturday evening audience at the Philharmonie was still an impressive size. A splendid atmosphere surrounded the evening which concluded with Manze resplendent in tail coat and black tie and Konstantin Wecker the popular Munich born narrator of Britten's Young Person's Guide to the Orchestra, marking the spirit of the occasion by taking their encores wearing Bayern Munich scarves to the delight of an enthusiastic audience: most of whom would have had time to get to a television to watch the second half of the crucial game.
That afternoon Manze, who since 2006 has been Principal Conductor of the Helsingborg Symphony Orchestra, was flying back to his home in Sweden. We made our introductions in the hotel lobby and a relaxed and casually dressed Manze brought me up to speed with the latest developments at the Munich Philharmonic. As a guest conductor Manze is working with the prestigious orchestra which is still reeling from the acrimony surrounding Christian Thielemann stepping down as its music director in 2011/12 to join the Staatskapelle Dresden. Octogenarian Lorin Maazel is for many a surprising and controversial choice to succeed Christian Thielemann as the Munich Philharmonic's chief conductor from 2012. If memory serves me though, I seem to recall that Sergiu Celibidache was still conducting the Munich Philharmonic in his eighties.
Andrew Manze's Programme with Munich Philharmonic Orchestra 20th, 21st & 22nd May 2010
Purcell:
Orchestrations of 5 Works for Instrumental Ensembles
1) March from 'Funeral Music for Queen Mary', Z 860 (arranged for brass and percussion by Andrew Manze)
2) 'In nomine à 7' in G minor, Z 747 (arranged for string orchestra by Andrew Manze)
3) 'Fantasia à 5 upon One Note' in F major Z 745 (arranged for woodwind and brass by Andrew Manze)
4) Rondeau from 'Abdelazar', Z 570 (in the original scoring for string orchestra)
5) 'Chacony à 4' in G minor, Z 730 (arranged for string orchestra by Benjamin Britten)
6) Repeat of March from 'Funeral Music for Queen Mary', Z 860 (arranged for large orchestra by Andrew Manze)

Britten:
'Four Sea Interludes' Op. 33a from the opera 'Peter Grimes'
Britten:
Sinfonia da Requiem, Op. 20
Britten:
'The Young Person's Guide to the Orchestra', Op. 34, (Variations and Fugue on a Theme by Henry Purcell) Speaker: Konstantin Wecker
Michael Cookson: Looking through the programme of last night's concert, Britten and Purcell would seem rather rare visitors to Munich.
Andrew Manze: Very rare, yes. I was talking to some of the members of the orchestra who had been there a long time and one of the Britten pieces they knew…

(MC: That would be the 'Peter Grimes - Sea Interludes', I guess?)…..

Yes it was. That had been on their programme years ago. And actually the Sinfonia da Requiem, Celibidache did that; one of the first conductors in Europe to do it, in about 1946 or 47 but he never did it with this orchestra, although he was here for a long time. As far as I can find out he did it with the Berlin Philharmonic just after the war.
MC: I know of that recording. [Note: there is a recording of Celibidache performing the Sinfonia da Requiem with the Berlin Philharmonic on the 11/10/46 on a 4 disc set titled 'Celibidache In Berlin - The Early Years, 1945 - 1948' on Music & Arts CD-1079]
AM: Celibidache's is a live recording not a studio thing as we know it. But you can hear the live Celibidache performance which is, I must say, both thrilling and catastrophic simultaneously. It certainly manages to be a most interesting performance. [MC Note: What I hadn't realised at the time was that Celibidache had been playing Purcell so early in his career. He recorded Purcell's King Arthur Suite with the Berlin RSO in 1945 available on Audiophile Classics APL 101.522]
MC: I believe conductors these days will not have had the benefit of as many rehearsals as Celibidache would have undoubtedly demanded from the same orchestra back then.
AM: Oh, no. It's not like that now anymore. There is the aspect though, that because Celibidache was with this orchestra for so long, as time went on they maybe didn't need as many rehearsals, because they knew what he wanted and how he worked. Some of the younger players were telling me that, although they joined the orchestra long after Celibidache died, they experienced the traditions surrounding him that were still there. They felt them straight away. And that large number of rehearsals that you described, the result of that goes on and on and on.
MC: Celibidache certainly wanted as many rehearsals as he could get. He was renowned for providing distinctive performances as well, wasn't he?
AM: He was an unusual man. But he was by no means the only conductor who would ask for a lot of rehearsals even from orchestras which could play well. You would think that conductors would want more rehearsal from those orchestras that don't play as well, but the interesting thing about some of the great maestros is that they were asking for a lot of rehearsals from every orchestra. So that all the musicians could be really equally into the music. I've had a great week working with the orchestra this week but next week they do another programme with another conductor. The turnover of repertoire is very fast.
MC: That's modern orchestras today, I guess. Undoubtedly they have to be versatile.
AM: Yes, they certainly have to be nowadays.
MC: I've seen a list of the most played composers in percentage terms. [Note: List from 1945-2000 contained in Annemarie Kleinert's book 'Music at its Best - The Berlin Philharmonic'] It's headed by Beethoven followed by Mozart then Brahms etc. All the standard repertoire that one would expect from an orchestra. But that's clearly changing now. I notice this coming season in Berlin especially, they are programming lots of Berio and Boulez. But it hasn't always been like this has it?
AM: No, that's right. Simon Rattle goes to Berlin and brings in perhaps a more varied section of contemporary music. Which was probably a bit strange but very exciting. for some audience members and even some players.
MC: Yes, it's good to have more variety in programming. I understand the connection between Purcell and Britten in your programme. [Note: Britten admired Purcell's music and 'The Young Person's Guide to the Orchestra is based on a theme from the incidental music to the play Abdelazar.] This will be music that I reckon is rarely heard in Germany.
AM: No, it's not heard. Actually though., I have found when I suggest English music to German orchestras, to German musicians, the reaction is always very positive: of 'Yeah, let's do that.' I've never faced an attitude of, 'this is rubbish; we should be playing German or Austrian music ' and I've never once had the sort of atmosphere of, 'Oh no, not English music' that I find in this country. I don't know how you have found it here? They just love music, love music in a very deep way. Let's face it, the audience numbers last night, on a weekend that includes a long national holiday and with Munich being in the Champions League final and you know still…

(MC: It was a good audience number)….

It was a good number. And the previous two nights too, with the same programme were pretty full, of mostly young people too…

(MC: That's pleasing to see)…

Yes fantastic. 2000 people under the age of 18.
MC: I know that some chamber musicians worry about the high average age of their audiences, consisting of retired people mainly… (AM: Yes.) …and the lack of young people to replace them…(AM: They do worry) Maybe orchestral music is different.
AM: Maybe a bit different. There is that trend for sure and I'm not sure we should be too worried. I mean, I was unusual as a teenager in that I liked classical music. You don't sort of expect your average teenager to be into it. There are other things to experience. So maybe classical music is something that you come to later in life.
MC: Possibly it's too conventional for a rebellious teenager?
AM: It could be that it appears too conventional. And that the setting of it in a concert hall where you sit still and don't talk may be off-putting. That you have to clap in the right places…Maybe there's something too restrictive about it.
MC: Someone recently asked me if people still wore tails to the opera. I said, "Undoubtedly, to go with their silver topped cane and white silk opera scarf!" They were being serious too.
AM: I understand completely.
MC: I noticed that you had arranged four out of the five Purcell works, for orchestra. They went down very well indeed with this Munich audience. I was aware that the Britten Sinfonia da Requiem was a harder nut to crack for some, but wonderfully rewarding nevertheless.
AM: Yeah, maybe one or two thought, I'm off to the football. You know, the last time that I was with this orchestra it coincided with the European Championship where I think Germany were in the semi-finals. You could tell that the audience were being pulled between supporting their home team but wanted to hear the concert as well. And I was thinking that in England that just wouldn't happen. The audience would be full of people who hate football; using the concert as an escape.
MC: The Munich audience is to me a very sophisticated audience. They love their music here.
AM: They really do. And Munich is not badly off for concert venues as you will know travelling here often. There is lots of music going on here…(MC: There certainly is) It's a very impressive musical life here for sure.
MC: Yesterday, I was in the Ludwig Beck department store in the Marienplatz. It has a whole floor given up to music; mainly classical music. The room was buzzing with music lovers buying discs. They still have rows of listening stations where you can listen and audition CDs using headphones. Something quite rare in Britain now I guess…(AM: I would agree) I was struck by how many CDs there were on display in the racks, of you playing baroque violin or directing early music on period instruments. Most recently your time directing the Academy of Ancient Music and the English Concert springs to mind. How have made the transition from playing early music with small ensembles to conducting large Mahlerian sized symphony orchestras?
AM: Well, I have spent so much of my time working with baroque music. And most of the CDs I have recorded have been baroque music, so it's not surprising that I get pigeon-holed…

(MC: Maybe, I've just done that myself.)….

Well it's maybe no-one's fault. It's quite understandable. It wasn't me that deliberately put myself in that pigeon-hole. I found myself doing a lot of baroque music and enjoyed it. And for some composers, I felt I was doing it well. But when I started as a musician I was interested in the whole range. As a university student at Cambridge I was going to more contemporary concerts really. At that time I thought that if you want to be considered as a serious musician you have to be interested in and connected with what's going on now. In fact getting into early music was a direct spin off from that. Because if you do early music properly, which I have to say, I still think it is not done… (MC: Even by the 'authentic' performance school?) What I mean is that a huge part of baroque music was the performer bringing their input into the feast. That could be in the way of ornamenting, improvising, picking a character appropriate for the moment or the situation. These things just don't happen now…

(MC: No, it's too planned out in advance.)

Yes, yes…

(MC: Insufficient spontaneity)...

I miss that. No exactly. That's what attracted me to baroque music. It was friends of mine at university who persuaded me. I wasn't thinking of doing this at all. They asked me, come play some music with us; we need a violinist come and play. I knew some Bach and some Handel and that was it. They put in front of me earlier baroque music. Some of the earlier Italian Composers…..

(MC: Like Pandolfi, Geminiani; Locatelli; Tartini)..

They played me records. One of these people is Richard Egarr who I played with for 25 years…

(MC: Jaap ter Linden too on the Bach CD of violin sonatas on Harmonia Mundi)…

That's right but to a lesser degree. But seeing this music you realise when you look at the page - I mean when you look at a page of Beethoven he's telling you basically what to do. Everything is there. The only thing is, how do I do it? How much of my own instinct do I use, or how much do I rein that in and follow his speed, that's what it's about.

But you look at a page of early baroque music and there are so few notes on the page and the composer is just saying, OK now I've done my bit, you can finish this for me. This was incredibly liberating. And I realised this was as close as I would get to being a composer actually. So it was from my interest in contemporary music that the early music appealed to me.
MC: So the contemporary music was there to start off with?
AM: Yeah, and I was lucky that I had a school teacher who would take me to contemporary music concerts because he was involved in running concerts himself. So he would bring some of us along...

(MC: That would be the late 70s)….. Yes, this is the late 70s early 80s.
MC: So Maxwell Davies, Harrison Birtwistle, Henze, Boulez would have been around. Lots of experimental music?
AM: There were certainly some weird things going on then. I remember sitting in the Wigmore Hall in London listening to a piece written for electronic egg-whisk. I mean some weird stuff but wow, how it broadened my mind. At the age of 17, I was well aware of people like Stockhausen and Ferneyhough - some of the big names in contemporary music.
MC: They are rarely played now; almost discredited it seems.
AM: Really only by specialists for specialist audiences.
MC: For me, highly trendy fashionable music seems to become obsolete more quickly. I mean no disrespect to his music, but Michael Tippett for example with the language that he often used in his operas, very trendy 'street talk' and including break dancing scenes. This very quickly becomes old fashioned.
AM: You're right. And as a consequence contemporary music has shattered into a million different pieces and different styles. Actually some now are very accessible to the general listener. I'm thinking in particular of minimalism from composers like Steve Reich and John Adams…

(MC: And Philip Glass too)…. Yes. The music of the American contemporary composers, if I can generalise, and I know it's not really fair to generalise so strongly, is far more accessible. And the days of the scary modern music; there is scary modern music going on but it's not reaching the general audience. I must say that one of the problems is that to rehearse one of those difficult modern pieces just drinks up rehearsal time. As you mentioned earlier, rehearsal time is so limited and if you drink up half of it on a 10 minutes piece you are really going to struggle with the rest of the programme. So therefore it doesn't get done. Or if it does get done it's not done with conviction and not done so well and the audience isn't convinced. So it's a difficult one. Then you have to admire people like Simon Rattle and others who believe in this; they do it very well. They manage to make it work and you have to say this is fantastic that they can do this.
MC: Yes, I have seen Simon Rattle conducting the Berlin Philharmonic recently and they play all styles of music so exceptionally well. I see that Rattle and Barenboim have programmed Berio and Boulez in their own concert programmes this September… I want to ask you what are your future plans, Andrew? Now you are conducting large symphony orchestras, does this mean you have left baroque music behind?
AM: What I've been doing is… I've been involved in baroque music for a long time and I sort of naturally stepped into classical music. I did a lot of Mozart and Haydn and I went forwards into repertoire… at that time I was both playing the violin and directing the orchestras….

(MC: With the English Concert)…..

Exactly. But there comes a point with the repertoire when you cannot do that anymore. For me the point came with Beethoven and so to go any further meant I had to put the violin down and conduct. I was always interested in a wide repertoire, not everything, but a wide repertoire. Such as Britten and Tippett too whose music some of it I love and some of it still puzzles me. Tippett's music style changed so much through his life. If you listen to early Tippett and late Tippett you wouldn't recognise it ….

(MC: He destroyed much of his earlier works)….
0
Yes, and with some of his late music, it may be another generation or two before it is reassessed. As you say some of it sounds dated especially the text. So then we will be able to look back and evaluate it. Just like it was with the late works of Beethoven when his friends and contemporaries thought he had gone mad.
MC: I'm thinking of Beethoven's late String Quartets, works that still prove challenging for many audiences today.
AM: Yes, they are still not easy listening. And there were people like Louis Spohr…..

(MC: Who was a massive star in his day)…..

Yes, a composer and a very fine violinist who played for Beethoven. Spohr played in the orchestra when they first played Beethoven's 7th Symphony. Spohr basically said of Beethoven, "there are eight great symphonies and after that it all goes wrong. His deafness has sent him mad." Now that is a comment from a greatly skilled musician who is too close to the music to be able to see it and so it takes distance.
MC: And time can provide a different perspective from the dynamic in which the music was written.
AM: Exactly. You know for me, one of the areas of music which deserves more thoughtful attention is the Romantic era. That is what I spend a lot of time on now. I mean Brahms and Bruckner and people like this, where I feel that musicians in their performances have always been very musical, all the time, always musical and not very thoughtful. In making their musical decisions and their passion for the music it is driving them further and further from the music itself. What I mean is for example you can deliver a Brahms piece in an emphatic way with great confidence and give it such emphasis like a political speech maker hammering away. You can hammer away and in the end no one's listening to the music, to what you are saying. They are just listening, the hammering going on. I am worried that with Romantic music in particular people are just sort of posturing. The traditions, I imagine the traditions as though there is a piece of music and a layer builds on that as time goes on, a layer of tradition. As the generations pass, more and more layers are added until the thing itself is unrecognisable.
MC: I see conductor Philippe Herreweghe has released recordings with a period performance approach to Bruckner symphonies. He started with the seventh. I rather like his take on them.
AM: Yes he does, yes he's been doing a lot of them.
MC: It makes a refreshing change from the established versions from the great maestros Jochum, Wand, Karajan etc. Many others seem to emulate their style of performances.
AM: Yes, because some of these great musicians such as Jochum and Karajan. Actually Karajan is someone that I admire hugely. The danger is that followers imitate as it were, the superficial characteristics of the great musicians rather than admiring their motivations. Where their inspirations came from. People admire the finished product without admiring all the work that went in to get to that performance.
MC: I'm sure many people do not appreciate all the preparation that goes in to these great performances… On another point I realise that critics can be cruel to musicians, I've seen reviews recently where performers were absolutely slated by reviewers.
AM: I was asked the other day by a writer/critic what my reaction is to a good or a bad review or something written like that. There might be a concert that you both like and dislike for your own reasons. There might be a writer that I like for my own reasons. But we just have to have faith that we are all doing our best in the work that we do. So if a reviewer doesn't like the work that I did, I just have to accept that. But I cannot accept it if the person has an agenda and the reason that he doesn't like it is because I didn't fit his agenda. Yes, it can happen and that's the writing that I don't like. I enjoy reading most reviews. You can even enjoy a bad review in a way if it says something intelligent and makes sense. But there are some writers that I don't like because they have an agenda. They are not interested in the performance and the performer, they're interested in expressing their own opinion. In those cases often they're writers who are failed performers and this is as close as they can get to giving their own concert by trying destroy someone else's performance. So there are a few, I won't name them. There are some in particular that come to mind.
MC: Your plans. What is your next project Andrew?
AM: Well I work and live in Sweden now. I'm chief conductor of an orchestra over there which is huge fun and I'm with them for many weeks of the year. [MC Note: Manze is chief conductor of the Helsingborg Symphony Orchestra]
MC: What sort of repertoire do you play over there?
AM: We cover everything. We don't do much baroque music understandably because it's a modern symphony orchestra. It's not a huge symphony orchestra so our home territory is Brahms and those composers around the life of Brahms really...

(MC: Austro-German repertoire?)…

Yes, but we also do a lot of Swedish repertoire from Brahms's time and onwards. A lot of contemporary Swedish repertoire as well. There's a lot of Swedish music and a good deal of it is extremely good….

(MC: How well does it travel?)…

But it is sad that it's hard to take it outside Sweden. In Sweden they know who their good composers are and they support them but it's still very difficult to take it outside. I'm coming to Birmingham later this year and I'm going to do one of the symphonies of Wilhelm Stenhammar. He's an absolute genius.
MC: Yes, a greatly undervalued composer. His music goes down very well at British Recorded Music Societies. If my memory serves he completed 2 Symphonies and his Excelsior! Overture is sometimes played.
AM: That's right. He didn't write too much orchestral music. He was such a busy performer, he conducted and he was a very good pianist too. He's a wonderful composer but he doesn't often make it into the average concert programme outside of Sweden. I was really happy when the Birmingham orchestra were willing to do this. In fact they wanted to do it because they had played his Serenade, which is another of his great pieces, a few years ago with another conductor whose name escapes me. They thought wow this is fantastic and they asked me what is the next piece of Stenhammar that we should do. I'm really pleased at that outcome.
MC: Which symphony are you doing?
AM: I'm doing the Second Symphony in fact. The Second Symphony has hardly ever been done. I've done it once before myself. The Gothenburg Orchestra, which was Stenhammar's own, did the early performances. Then Stennhammer withdrew it. Then it wasn't done, I think, until the 1980s; they did it a few times.
MC: Do we know why Stennhammer wasn't happy with the score?
AM: Just after he had written the symphony he did a couple or three concerts. By then he had changed direction. He had heard Sibelius's Second Symphony and he then underwent a big change of direction in his musical language. You could say away from Bruckner and Wagner and more in the direction of the Nordic composers Sibelius and Nielsen. They were the modernists at that time. So he withdrew the symphony because he felt it was too backward looking. I find it a beautiful Romantic symphony. It's unashamedly Romantic. It's got 6 horns and its fifty minutes long, a huge, rich piece of music.
MC: I bet you'd love to play that with the Munich orchestra.
AM: Yeah, I certainly would. When we did it in Helsingborg it had a sensational effect on the audience and the orchestra. I love Bruckner very, very much but I would say this is more interesting than the first few Bruckner symphonies; I mean the Study Symphony, the Symphony No. 0 and the No. 1 and No. 2 maybe. The Stennhammer is up there, it's not Bruckner No. 3 but it's certainly worthy of being heard.
MC: Your passion for Romantic music is fascinating and from someone who has been pigeon-holed as an early music specialist for so long.
AM: That has been the danger from the success of some of those recordings I did. My priority was always that I had the opportunity to record good music, whatever era it was from, and with good musician colleagues to do it with and opportunities in concert. That is what it is all about.
MC: So you were never a slave to the gut-string movement and the correct positioning of the orchestra in authentic performance style etc.
AM: That is the one limiting thing of the early instrument movement. Once you have got your instruments you have to make a programme that suits the instruments. You don't have much freedom of programme.
MC: I know of a leader of a string quartet, they use instruments with modern stringing, who was criticised by a reviewer for playing with portamento. Implying that only period instrument performers should play that way. Straight-jacketed. Rather than feeling free to interpret a piece of music in a way you feel is right at that moment in time.
AM: Yes, that happens unfortunately. There are stylistic elements where you wouldn't play Bach like you would play Gershwin, you know there are obvious things. But then zoning in on what is Bach playing, is I suppose, what I did a lot with baroque playing. In the end the instrument itself is much less important than the musician and what they are doing about the music. So I am perfectly happy to hear what we call modern instruments play old music. That's not a problem in any way. It's all about the music making and the music itself… I thought it was rather sad that because of the success of the baroque music movement, it took baroque music away from the mainstream musicians…

(MC: Yes, it did. You had to be a 'specialist' to play baroque)…

Exactly and I feel that was a negative result. There were many positive results but that was one negative one. I'm a violinist but there are some violinists that I never heard play baroque music. It's not because they are not good and intelligent musicians. It's probably because they felt that they'd leave that alone because it belongs to the early music movement. If I play that, people will laugh at me or that sort of thing.
MC: Well it's good to see Nigel Kennedy playing Bach on modern instruments. But I don't suppose he's too bothered by what other people think of him. It's quite refreshing really.
AM: Yes it is. Whether you like it or not. Kennedy believes that he is doing the right thing whenever he does it. He's a player of huge conviction.
MC: Viktoria Mullova is going back to Bach in an authentic way. For an artist trained in the strict Russian tradition who had never even heard of a period bow she's now playing with gut strings and using a period bow.
AM: Now that's quite a story isn't it? To have the ability in her mind let alone in her fingers. To be able to do that in her head is quite extraordinary, I think.
MC: Are you still playing the violin Andrew?
AM: No, not at the moment. No I'm not.
MC: If you were asked to play, say a Bach concerto, would you be able to?

AM: That was one of the difficulties for me. Some musicians are able to put their instrument down and pick it up again a few days later and they don't notice the difference. I'm the sort of player that declines very fast so I would have to practice a lot to just stay still. There just weren't the hours in the day in a way. But also I realised that having done so much playing, I wanted to explore the different areas of repertoire beyond where my own playing could take me. I would never have been able to reach the point of performing Brahms's Violin Concerto but I'm more than happy to conduct his symphonies.
MC: Your enthusiastic conducting and clear instructions seemed to transmit to the Munich players so well last night. It felt too as if you were enjoying every minute of the concert.
AM: I must say they the orchestra are experiencing a difficult time with their current conductor Christian Thielemann deciding to leave and go to conduct in Dresden. So it wasn't an easy time for them. I really feel that the orchestra is solving this, coming out of this difficult time, by just sitting on stage by playing so very well. I don't only mean in concert but I sensed this from the first moment in rehearsal. When an orchestra loses a chief conductor it's never usually the orchestra's fault in any way. It's not a musical decision. It's usually on a more political level. But it certainly looks as if the musicians have lost their chief conductor. This orchestra does not deserve this reputation because this orchestra is a very fine orchestra… Lorin Maazel who is vastly experienced is to be their chief conductor. It will be very exciting; I believe the agreement is that he comes for three seasons. He is 80 years old now, I think. He's a living legend and it's great that this orchestra can enjoy the prospect of making music with that man for 3 years. Lorin Maazel was with them only last week; they know him, so it's great for this orchestra. I really have the sense that there is a burning musical desire inside this orchestra.
MC: Yes, a superb orchestra. They must be up there with the Berlin Philharmonic…

(AM: Yes, certainly)

…but how can you ever choose between the two really.
AM: Yes, they are very different, from different ends of Germany. The audience has a different sort of character. We were only talking about that yesterday The narrator [MC Note: Konstantin Wecker] in the Britten Young Person's Guide to the Orchestra is a local man from Munich. He's a singer/songwriter so he's very well known here. He's a celebrity and the audience love him. I asked him, 'Are you equally known around Germany ?' and he said yes. Then I said , 'Do you change your repertoire when you go up to the North of German' and he said yes. About a quarter of this songs are in a Bavarian dialect and they just don't travel - they are just for the Bavarians really. So I thought this is a big country. As you say the Berlin Philharmonic are a great orchestra and the Munich Philharmonic are a great orchestra too. But it's almost as if they are in different countries they are so far apart and the atmosphere is so different.
MC: Thank you Andrew so much for speaking with me today.
AM: Thank you for asking me, it's been a pleasure.


Michael Cookson