Other Links
Editorial Board
Editor - Bill Kenny

Deputy Editor - Bob Briggs
Founder - Len Mullenger
Google Site Search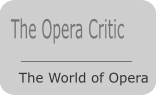 Philip Langridge CBE : The distinguished British tenor talks to Jim Pritchard about singing three roles in Lulu and about having fun with Humperdinck on stage (JPr)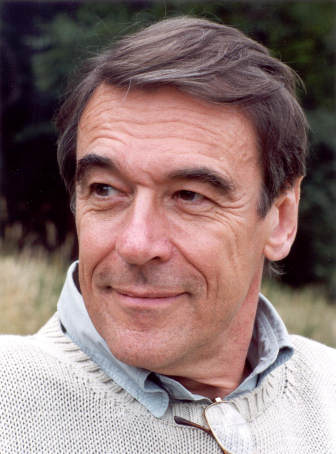 Philip Langridge is one of the world's most distinguished singers and is equally at home in the opera house and on the concert platform. He was made a Commander of the British Empire in 1994 in recognition of the musical and dramatic abilities that keep him in constant demand. This exceptional artist took time off from his rehearsals for his debut in three roles in Alban Berg's
Lulu
, one of the masterpieces of twentieth-century opera, to speak to me.
Lulu
was left unfinished by Berg's death in 1935 but will be performed in the 1979 three-act completion by Friedrich Cerha.
I began by asking whether it is difficult to 'sell' this dark and complex work to the public in these difficult times as it is not the happiest of operas.
It is certainly the way the director, Christof Loy, feels about it and that is absolutely not to 'sell' it as such. Lulu is really representing womankind and what it is that attracts men to women; she attracts all kinds of people and they kill themselves for her. Father and son both marry her, the Painter kills himself when he realises what else is going on. One of my roles is as a Prince who is engaged to be married to her when he suddenly realises she isn't the girl he thought she was. So in a way you don't have to sell that I don't think, you play it as it is in a very explicit, very sexual, very tragic way, as it's got everything in it. We're playing it in this production like in the imagination such as when people hide, they don't, and they just turn their backs. Yet people don't go off the stage to kill themselves they do it on stage, there's also Jack the Ripper, blood and guts, but it is an extraordinary piece.

I've sung Andres in Berg's
Wozzeck
but that is completely different and is almost a wash of music by comparison. This is almost like Bach in a modern sense as it is very closely written such that what you sing is harmonising something else. Yet the whole way through if you take the lines on their own they are as modern as twenty-first century music with lots of leaps and so on but still rather lyrical. Berg began the opera in 1929 and it must have been so modern then. I like the way he wrote these wonderful orchestral sounds and sometimes in the strings it is almost like Mahler. Yet this is only for a few seconds and then it is back to something else.


I asked about working with Antonio Pappano on this music.
Well at the moment Tony is doing this,
Traviata
, and
Il barbiere di Siviglia.
Wow! Not many people can do that. He takes a lot of care and we singers love him because if he has got something to say he'll say it straight out – 'You're flat', 'You're early' or whatever it is – then there might even be a joke and we get on with it. I like that and what you see is what you get with Tony. He is a great company man too, he truly is. The Royal Opera has really taken off since he came here, considering how it was when he took over, of course there have been great moments in the past but he brought the company up from when it was right down.


Had he also enjoyed working with the director, Christof Loy too?
Yes, Christof Loy is an extraordinary director and I have learnt so much from him. He has done a lot of straight theatre and so we don't over-act things and it is all much more expressive. Berg wrote down the stage directions too and when we all first met he told us to go off and read them and come back and do it. Of course, when we did, he told us that is not the way we're going to do it of course.

Only one member of the cast has performed their role before and that is the Painter, Will Hartmann. We have had to really work at this but we have had such a wonderful time. I thought it might be like working in a library and you mustn't speak unless somebody would shout at you but actually it has been the reverse and we have had fun and it is a lovely cast. Most of that comes from Christof himself because we all make mistakes of course and that is what rehearsals are for yet he will not say 'You've made a mistake there' he'll just say 'I like that, I know it's not what we planned but I quite like what you did there so let's keep it in.' Other times he might say 'That'll be as far as we can go and let's bring that back' but he'll never slap you down and say 'That's completely wrong why don't you do it just as we arranged'. This attitude brings out the creativity in all of us and you are encouraged to do better.


How does he describe the production?
Well I mentioned it is very imaginative and the whole thing is just a glass wall so we really have to act. As a person you have to be the character that you are. In most operas you can do a gesture and you are thinking what your next line is but this is so pared away that if you just move a finger you'll be noticed. I find that really fascinating.


If you open the score then in your mind's eye there is the room there, there is the stairs over there and Berg writes it all out and then the director comes along and says 'We're not doing it that way and we are just doing the meaning'. So there is now no portrait and you think how are we going to do that? That is also fascinating and it's not 'right' of course because there is no 'right'. It wouldn't actually be right to do Berg's version as he'd written it in any case, because it would be so boring, not because the composer had the wrong idea but because to see everything straight in your face makes it too obvious. For the audience it would be too easy and life isn't that easy!


I wondered what it was like playing three different parts in this opera.

I am playing three parts for the first time
ever
in an opera. I have to zone into each one of them. I'm dressed pretty much the same certainly as the Prince and the Marquis who wants to sell her to a brothel and for them I am in a suit but for the Manservant I have half an evening suit on - braces on a white shirt with a bow tie, trousers and gloves – and he's something out of Hitchcock. Christof said he is a repressive lover who would love to kiss Lulu and have a good time with her but when he gets the chance he can't quite tell her. We can all recognise that so it is very natural whilst at the same time it's quite spooky.

Generally as you get older they give you these smaller roles. Personally I don't approach them any differently from any other role because you are still playing a part. I did
Marriage of Figaro
here at Covent Garden and sang Don Basilio and that was the first sort of vignette thing I'd ever done. Frank Egerton was in the cast and I asked him for advice and what he said was that I must never make it funny but should play it straight and if they laugh stay with it. I was so glad of that as it was at the dress rehearsal when people starting laughing, I could have gone with it and played it for comic effect but it took a lot of effort to realise playing it straight was best. I think personally all the awards should not go to tragic actors but to the comics because you're playing tragic characters most of the time and it is just the situation that is funny.


I gathered that being 'true' to the composer's vision is always particularly uppermost in his approach to his work.
All I ever want is to be true to the piece, the words and the character; to the whole thing, its meaning and so on. When we are true to what we do that is what makes great art. If you try and nudge it in a certain way to try and make it better for you or make you more famous then that's boring. The public are not stupid and they may not have studied many hours what you are performing – some have, but many haven't – but you can always tell when somebody means something and when they don't.

Communication is also an important thing and if we do not communicate what we are doing – or what the music is doing – what is there left?

A few years ago he had said that he would not be singing any more new roles yet that vow had not seemed to last long.
I've sung hundreds of roles and at that point I was learning so much and I couldn't stand the pace any more. Now thankfully at my age there is no way I will be singing opera the whole time so it is so much easier. It is fine now and I enjoy a challenge as much as I always have done.

I was intrigued that one of his newest recent roles was as the Witch in
Hansel und Gretel
and I wondered how that had happened for him.
I love the Witch, just think of it Jim, I've spent all my life – and I'm proud of it too – playing all these serious, introverted, cranky, stupid or whatever, people in opera and then Peter Gelb at The Met comes along and asks me to sing the Witch. He rang me and after a moment's silence my reaction was 'I thought that was a female part?' and then 'Can you give me a bit of time to think about it?' He told me to give him a call in a couple of weeks but that he thought I could really do it well. Well my wife, Ann Murray, has sung it so that's quite interesting though we probably have very different views on the role since there are lots of ways of doing it. So I thought 'Why not?' and I was in high heels, skirt, with a huge, really heavily padded, suit with my body and arms all covered in plastic so that my skin cannot breathe and that was hell. You get off stage; get out of the costume and all the accumulated perspiration explodes off because it has had no other way to get out. All quite unsafe from a 'health and safety' point of view; can't have been much
'elf
there but
safety
possibly!
[Laughs]
I had a great time and I said to Ann that after all these years I've finally found something I've really had fun with.

It was Richard Jones's production and he was absolutely serious about it. I got over to New York and the first music rehearsal was to be the next day and he asked me to write something out; he didn't wish to see what I wrote but he wanted me to write down what the Witch thought, what she did, what her game was, in the two hours before I came onto the stage as her. So I did and it was so helpful because you then realise you have got to make it all up and think why would she enjoy eating children. Of course it is truly horrendous - much the same as playing a pimp in
Lulu
. You can play it if you get yourself to believe it –and it's also not often you get the chance to play a pimp.
[Laughs]
Richard is another great director and I had sung Loge for him here at Covent Garden. His
Ring
production was before its time yet it is a fairy story and we did it like that. People can always say it is stupid making Brünnhilde walk around with a paper bag on her head and of course it is strange - but at the same time it was good – however he got pilloried for that. Thankfully it hasn't held him back. There is place in our art for very many different versions of things as nothing is really set in stone.

In the announcement about his 70th birthday concert at the Wigmore Hall in November it mentions, as I had often read about him, how he is considered to be the 'successor to Peter Pears'. I asked about this and his reaction was not what I expected.
Well I don't know what that is all about as I don't sing anything like Peter Pears. Of course I have sung some of the same pieces but he never sang in
Lulu
or
Palestrina
and Rossini's
Otello
as I have, so why am I his successor? I truly believe we have our own voice and personality and must be true to that.

I was in the Purcell Singers for Imogen Holst at Aldeburgh and Benjamin Britten often came and listened and so did Peter of course. It was a fascinating but also very difficult time for me because I didn't have a voice, even then, like Peter's – I am not the same type of singer at all – but at that time if you didn't have that kind of voice you were not regarded as a tenor so I was quite hard up for work. That makes it so strange when people say I am Peter Pears' successor – I really can't sing like him, why would I?

I asked whose voices had inspired Philip as his career as a singer began.
Well firstly it was my teacher at the Royal Academy of Music, Bruce Boyce, he sang a lot with the accompanist, Gerald Moore, and I went to recitals they gave at the Wigmore Hall. Before I sang a note he would often ask 'What's this music about?' or on other occasions would say 'I didn't understand what you meant'. Too few singing teachers now do that. With Bruce, you could not even sing an exercise unless it had some meaning – am I cross, am I in love or am I happy. I was always made to give something and that taught me a great deal.

Richard Lewis was another huge inspiration. I always think about his 'Waft her, Angels' from Handel's
Jephtha;
it was fantastic and how wonderfully he sang Gerontius too. He was at Glyndebourne when I was starting out and I was singing in the chorus. He wasn't a great actor but what he had was a total commitment to what he was doing. In those days you could get away with just the odd gesture and so he didn't act well but he had
gravitas
and what he did you saw that he really meant. If Peter Pears hadn't existed Richard Lewis would have been much more famous. Here at Covent Garden he sang Aron in
Moses und Aron,
and he sang Schubert and Purcell - just everything - and that was truly my inspiration because when I was asked to do so many things I knew it was possible. He was a great man and a great singer.

Given his own teaching and masterclasses, I wondered whether he is optimistic about the future and thinks that there are enough good singers around.
There is talent everywhere but what I notice almost everywhere, is that they sing too much. I have to tell them 'I know it sounds daft but stop singing and just mean it.' By that I want them to sing it with meaning and so sometimes it needs to be pianissimo but with tremendous intensity. Loud is always easy – you just open your mouth and bellow – but singing softly is not so easy if you do it properly.

Thinking now about his concert work I asked how much he was looking forward to his special seventieth birthday recital in November at the Wigmore Hall.
Well recitals are always terrifying because we are lucky here because we have had seven weeks of rehearsal for
Lulu
but you might get only three rehearsals out of a pianist for a recital. When you start doing them it is a matter of how do I learn it and sing it in to my voice. Of course as you get older it's the memory that is the problem and I think my hard drive must be nearly full now
[Laughs]
– I'll have to jettison some pieces and so it is harder. Yet I really love doing recitals, it is just you, the pianist or a string quartet in some cases.

For November I have chosen music such as Schubert's
Die schöne Müllerin
that I first sang at the Royal Academy after I got my Recital Diploma. Most of the others sang the songs they had learnt but I didn't have any songs so I said I would like to sing some Lieder and would do
Die
schöne Müllerin.
So I did that and they crowded the place out because it had never been done before and that gave me a lot of experience. So I am doing some of that and I also wanted to do
Winterreise
because I have done them more recently. There will also be a new work by Harrison Birtwistle because I have known him for such a long time. He is such a good man and a great composer. I first met him when I sang with the John Aldiss choir and shortly afterwards he recommended me to the oboist Heinz Holliger. Heinz had told Harry that he did not have a tenor for a new work of his called
Der magische Tänzer
and Harry told him there was only one tenor for it – me! It was for a recording and I got the job but it was probably the hardest piece I have ever done. It had high Cs and bottom As and everything in between but I had the notes and so I could sing it.

Harry is very special and that is probably why he feels he can write something for me. It is a great honour. He writes what he feels and doesn't write anything because someone wants him to write this or that. If someone does not like it well that's fine because it is his expression and, to me, that is what is meant by being an artist - you do it because it is right as you see it.

I asked about his children and his wife, the celebrated mezzo-soprano Ann Murray, and referred to them as a 'dynasty' as they seem all involved in the theatre or music in some way.
I can tell you if any of my children are successful it makes me happier than I would be if I had done something myself. I can't explain it and that is the same for my grandchildren too – I have six grandchildren and they are all doing well.

My youngest Jonathan, my son with Ann, has a really nice tenor voice and it is up to him to decide what to do. Nobody knows how successful he could be, you can't tell, I had no idea how successful I'd be when I started. If you really hunger for something you will do it. Stephen has always enjoyed the kind of theatre work he does as a director. Anita is a double bass player and she has just had ten years off looking after children but has now gone back to it. That is very rare because after so long usually the 20 year olds have come in but they all wanted Anita to do it and she is in work. My youngest daughter, Jennifer, is a cellist and because of family reasons is now with the BBC Philharmonic in Manchester. I've done some solos with her and the first time was Richard Rodney Bennett's
Tom o'Bedlam
, a song for cello and tenor. We met to rehearse it and I was amazed how she knew exactly how to accompany me. I asked her 'How did you know that?' and she replied 'I obviously know your singing and I knew you would breathe then and I also knew you would phrase it that way'. She got it so quickly and we hardly needed to rehearse.

I sing recitals with Ann of course and we will sing Brahms's
Liebeslieder Valzer
in July at the Trasimeno Music Festival and next season there is a BBC Radio 3 Lunchtime Concert at the Wigmore Hall. Those are always fun but it is quite hard for us to do opera together because I always bring my work home a bit. If we are doing different things it is ok but if you take home the same piece you are both rehearsing all day long, every week, every month, it can become really annoying – there is another life out there too. So, what we try to do is talk about it over a drink or something and then leave it and talk about the house, the children or whatever. That's why we tend not to perform together because it is just too much working at it all day and all evening but we will occasionally on special occasions.

Finally I asked what else he was looking forward to doing in the future.
Well there will be the Witch again in New York and there will be a brand new Mark-Anthony Turnage opera here at Covent Garden with Richard Jones directing and Antonio Pappano conducting. With all these things you don't know what it is going to be like – it could not be to my liking or it could be really interesting - so you just wait - and wait - to find out.

I think creativity should be fun and I wish one could always go on creating – perhaps I can – I hope so. Truth be told the jobs will gradually die off and they will not invite me anymore even though I am still singing and available – I still have singing lessons, I really do! I can sing it all but there is that risk that when you reach a certain age they'll worry about how old I would be in three years time when the performances are planned. I'm singing now in
Lulu
with Gwynne Howell as Schigolch and we are about the same age. What a wonderful singer he has always been and still is. I'm a great admirer of his and his voice has always excited me as it is true and honest and he doesn't fake anything. I believe that is the greatest thing you can ever say about anybody and I'm so glad we're here in this opera together.

Although this was the first time I had met Philip Langridge I am convinced that his appreciative closing remarks about another colleague are typical of this remarkably generous and affable British tenor. It is so very fitting that at this stage of his career this very thoughtful and versatile singer has been released from the shackles of the 'serious' and 'introverted' operatic characters with which he established his fame and been allowed to go on stage and have some fun. He deserves it.
© Jim Pritchard

Philip Langridge will be singing the roles of the Prince, Manservant and Marquis in
Lulu
at the forthcoming performances at Covent Garden – for further details please see the Royal Opera House website
(
http://www.roh.org.uk/
). For further details of 'Philip Langridge – a Celebration' on 2 and 3 November 2009 and the BBC Lunchtime Concert on 26 April 2010 visit the Wigmore Hall website
(
www.wigmore-hall.org.uk
).
Picture © Richard Davies

Back to Top Cumulative Index Page