Other Links
Editorial Board
Editor - Bill Kenny

Deputy Editor - Bob Briggs
Founder - Len Mullenger
Google Site Search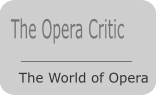 SEEN AND HEARD UK CONCERT REVIEW

Bach, Cello Suites 1-4 : Raphael Wallfisch (cello) The Cathedral, Ely, UK 26.4.2009 (RW)


The Lady Chapel of Ely Cathedral is a unique building with special qualities suited to intimacy and delicacy. It was the ideal venue for Raphael Wallfisch to perform four of Bach's Solo Cello Suites. When he opened the concert with the first familiar bars of Bach's unaccompanied cello suite number 1 in G major, the audience was immediately spellbound. There was no doubt this was a special event. It was as though the listeners were incorporated in Raphael's deep and personal engagement with Bach's music. It was not a performance – it was an experience.
Raphael Wallfisch's technique was unquestionable and with perceptive understanding of the style, the movements of each suite were brought alive. With a particularly resonant and warm tone, the preludes set the spirit and mood of the following dance movements. The Allemandes featured well controlled flowing melodies of heightened dimensions. The 'running' nature of the Courantes displayed Raphael's splendid virtuosity. They were infused with considerable drama at times. The Sarabandes on the other hand were notable contrasts. These dances, originating from Spain, explored emotional depths rarely attributed to the J.S. Bach we know and love. The Sarabande in the first suite was particularly rich and sensuous. In the Sarabande of suite number two, Raphael positively drooled over the rich lower strings and milked the tensions for all their worth. The third and fourth suites also contained Sarabandes what can only be described as particularly sensuous yet at times stately expressions with touches of melancholy and reflection.
Of the minuets and bourrées, Wallfisch's ability to infuse a fresh sense of vitality into the familiar bourrées was most noticeable. He made the notes really sing as he sailed through the rapid runs with ease and he as he infused the underlying rhythm framework with a compulsive sense of momentum.

His gigues (like the English jigs), as expected, positively 'danced' and the listeners were spellbound as his fingers and bow deftly manipulated Bach's interweaving melodies shaping them into a phenomenally complex but cheerful fabric. This was indeed a unique and splendid event organized by Ely Sinfonia with the support of ADeC and the Cathedral.

Forthcoming events include a Summer concert in Sutton Church on Sunday 28th June at 7.30 p.m., on Saturday 3rd of October Ely Sinfonia will be joining forces with Ely Consort and Swavesey Community Choir to present Mozart's Requiem, Beethoven's 5th Symphony and a specially commissioned piece by Adam pounds and their Christmas Concert will be on Sunday 6th December.

Rosemary Westwell


Back to Top Cumulative Index Page