Other Links
Editorial Board
Editor - Bill Kenny

Deputy Editor - Bob Briggs

Founder - Len Mullenger
Google Site Search
SEEN AND HEARD INTERNATIONAL INTERVIEW
A Breath Of Fresh Air: an interview with Sarah Williamson and Joseph Phibbs (GDn)



Open textures and analogies to light permeate the new concerto that Joseph Phibbs has written for clarinettist Sarah Williamson. Gavin Dixon meets them to discuss the work.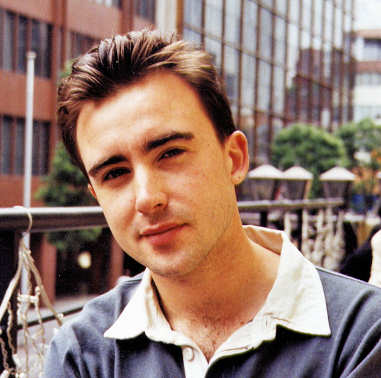 Joseph Phibbs - Picture © TM Ooi


GD Can I start by asking you something about the background to this piece. How did the commission come about?

SW Well, I commissioned Joseph to write me a piece last year called Arc de Soleil, which I performed at the Wigmore Hall in January. It was a piece all about the rays of the sun and was in five movements. I really loved it, I thought it was brilliant. And Joseph knows David Curtis [Artistic Director of the Orchestra of the Swan], he's a mutual friend. David suggested that we ask Joe to write us a piece. David commissioned the concerto with the help of a grant from the Lottery Fund. So that is how it has all come about. This piece is also to do with light isn't it?

JP Yes, it is not unrelated to Arc de Soleil and some of my other works in that light and the depiction of light, how it evolves, is a key aspect.

SW I first heard Joseph's music at the Proms. He wrote a piece for the last night of the Proms [Lumina in 2003]. I thought it was absolutely amazing. It has a massive clarinet solo at the beginning...

JP (laughs)...it was my yearning to write a concerto...

SW...and I thought it would be great if he were to write me a piece.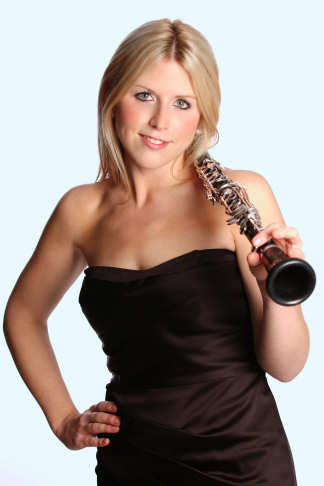 Sarah Williamson - Picture © Simon Tottman

GD Could I ask you Joe about your relationship with the clarinet?

JP It has always been one of my favourite instruments, for two reasons. Partly, the sheer sound, the basic timbre of the instrument, but also I think it is a wonderfully versatile instrument to write for. It is fairly unique in that respect among the wind instruments. Its range is so large, it can play at any dynamic in almost every register and it is very agile. But beyond that I just love the sonority, and I have done for years. This is my first concerto, but even before I met Sarah I kept thinking that if ever I was asked to write a concerto it would be the clarinet that would be at the top of the list. So I was really thrilled when this opportunity came up.

SW The clarinet has a lot of versatility compared to other woodwind instruments, and I think it is a lot more difficult to write for because the composer has so much more to play with. You can make it sound like a nightingale or you can make it sound like a fire engine.

JP Exactly, even the timbre is versatile.

GD There are not many clarinet concertos out there. Does having less precedent allow you more freedom?

JP In a way it does. I didn't know the Copland until I heard Sarah's wonderful recording [made at the final of the 2002 BBC Young Musician of the Year contest, where Sarah was the woodwind finalist]. That is a marvellous piece, but they are fairly thin on the ground. The only other recent concerto I know is the Elliot Carter, a completely different type of piece, although they are both American, of course. But beyond those two I don't really know the repertoire very well. So, yes it did mean that I felt I could come to it fairly fresh.

GD The score has some unusual features for a concerto. For instance, the quiet ending is almost without precedent in the concerto repertoire. You don't seem bound by the rhetoric of concerto writing.

JP When I was writing it, I tried to distance myself from the 19th century idea of the concerto as a showpiece. I wanted to think of it rather as a piece for clarinet and strings in three movements. So it's not an overtly soloistic virtuoso piece.

SW No, it's very introverted.

JP Certainly the outer two movements are quite introverted. There is no cadenza either. That is something I wasn't particularly keen to use.

GD In this context or in general?

JP It sounds odd, but I find that I sometimes get quite annoyed by cadenzas. They can disrupt the flow of the movement, especially a fast movement, when you suddenly have this break before the end. And the obvious display of virtuosity...it can be very exciting, but it's not something I wanted to do.

SW I am going to play the Copland Concerto in the same concert, and I think the two pieces will work well together. The Copland is extremely flamboyant, whereas this piece is more introverted, almost claustrophobic. It is very meandering, and I think that is what is so nice about it, that it is not just charismatic flamboyancy.

JP That's right, and also I had the benefit of knowing that it would be performed with the Copland, so hopefully they will complement each other.
GD So you knew from the start that the concerto would be premiered alongside a performance of the Copland?

JP Yes, and in fact the scoring was dictated by that of the Copland. I actually welcomed the fact that I wasn't scoring it for chamber orchestra or a larger orchestra. I enjoy just working with the scoring of strings and harp.

GD The harp part strikes me as prominent.

JP I actually had the option to have a piano as well, to match the scoring of the Copland. And I did want to use the piano, it is another of my favourite instruments, but I felt I would run the risk of writing a double concerto. So I forced myself not to have a piano. The harp is not soloistic as such, but it is prominent and I think that it adds to the texture. It is a lovely instrument to use alongside the strings in that it is related but has a very different sonority. I enjoyed having it there, mainly to enhance certain notes, but also for the ostinati that weave in and out.

GD Your approach to writing for the strings seems to be to be very colouristic. You seem to be exploring and expanding the range of available sounds.

JP I love Britten's writing for strings, where there is a great deal of attention to the specific timbres, for example with open strings, harmonics and different types of bow stroke. I wanted to try to weave some of that into my thinking about orchestration, so I often specify which string and I often use sul ponticello.

GD And the fact that the clarinet can play so quietly also offers the potential for adventurous string accompaniments.

JP I think it does, and also the fact that we don't have any other wind instruments means it is absolutely a solo. It is not competing against anything, it is a unique timbre within the ensemble.

SW The thing I like most about Joe's piece is its simplicity, and the fact that the parts play off each other and the clarinet plays off the orchestra. It speaks for itself, it doesn't need to be any more complicated.

JP In the first movement, I wanted to aim for a really simple opening, a two-part texture between the strings and the clarinet. I was trying to pare it down to the simplest form of expression, which was quite a challenge.

GD When you write straightforward or open textures, do you find that you have to fight yourself to do that?

JP Yes, always. I find that about 90% of my composing is scrubbing out and trying to make the music clearer or simpler, to try to express what I want to do with more clarity. It is often going back the original ideas and deciding that they are simple enough and that I shouldn't disrupt them.

GD So what are the basic musical ideas behind this concerto?

JP Well, the two-part texture of the opening evolves into a very high vocalise, which is influenced partly by Bulgarian folk music, specifically a capella female vocal music, which I'm really keen on. So those two elements are really the main part of the first movement. The second movement is musically more about ostinati, with a repeated figure of a descending fifth which proliferates throughout the movement. It is batted around and developed, so that is a fairly tight motivic way of working. The repeated string pizzicatos in the second movement are influenced by Indian music to a certain extent, they work like Indian tala rhythmic units. The third movement is again very simple, another vocalise, a melodic line in the clarinet over slowly evolving string chords. Again, there are aspects of Indian music in the movement, there is a repeated tala figure in the double bases, which links in with some of my earlier work.

SW I think the climactic part of the concerto is at the end of the first movement, going on into the second, with all those high notes.

GD So dramatically it is an arch?

JP I hear the last movement as a reflection of the first, but with a slightly different, more subdued form. To me the opening is a gradual unfolding. Going back to the analogy of light, it is maybe a gradual unfolding of a dawnscape. And then the last movement is more of a sunset. That is a very loose analogy, but it gives the idea of something coming almost full circle.

SW You could call it that, I think you should.

JP You mean, name it 'Full Circle'?

SW I think that would be a great title.

JP The work actually grew into its current concerto form. Initially I was thinking of a two movement rather than a three movement structure, but in the end I went for the standard three movement plan, so 'Concerto' seemed to be the right name.

SW I love this piece. I think it is great to have a new work that is so convincing and that you can believe in as a piece of music. And to be able to perform modern music like that is such a breath of fresh air.

© Gavin Dixon 2009

The Clarinet Concerto by Joseph Phibbs will be premiered by Sarah Williamson with the Orchestra of the Swan directed by David Curtis at Cadogan Hall, London on the 28thOctober 2009.
For more information visit the orchestra's site: http://www.orchestraoftheswan.org/
Sarah Williamson's website: http://www.margaretmurphy.com/williamson/biog.htm
Joseph Phibbs' website: http://www.josephphibbs.com/

Back to Top Cumulative Index Page