Other Links
Editorial Board
Editor - Bill Kenny

Founder - Len Mullenger
Google Site Search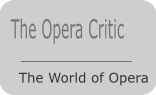 SEEN AND HEARD INTERVIEW

Gautier Capuçon - "I need a responsive audience!": The young French Cellist talks with Aart van der Wal (AvdW)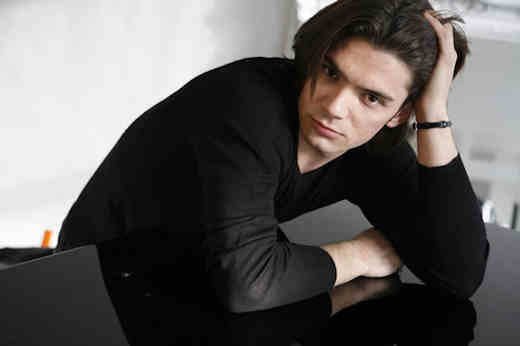 Gautier Capuçon (photo: M. Tammaro, Virgin Classics)
The biography of Gautier Capuçon , one of the world's few leading young cellists, alreadt reads like a complete success story. He was born in Chambéry in 1981, began playing the cello at the age of five and studied at the Paris Conservatoire. In 1999 he won both the first prize of the Maurice Ravel Music Academy of Saint-Jean-de-Luz and the André Navarra Competition in Toulouse. The following year Capuçon was awarded the Paris Conservatoire's Cello and Chamber Music Prize and has since attended Heinrich Schiff's master classes in Vienna. In 2001 the Victoires de la Musique (the French pendant of the US Grammy award), France's top music awards, named him New Talent of the Year and in 2004 he received an award from Borletti-Buitoni Trust.

As a member of the European Community Youth Orchestra and the Gustav Mahler Youth Orchestra he performed in 1997/98 under conductors such as Bernard Haitink , Kent Nagano, Pierre Boulez, Daniele Gatti , Seiji Ozawa and Claudio Abbado . As a soloist he played with a.o . the Chamber Orchestra of Europe and the Santa Cecilia Orchestra Rome under Myung-Whun Chung, the Philadelphia Orchestra under Charles Dutoit, the Detroit Symphony Orchestra under Hans Graf, the Orchestre de Paris under Christoph Eschenbach , the Ensemble Orchestral de Paris under John Nelson and the Orchestre Philharmonique de Monte-Carlo under the late Armin Jordan. Recent highlights have included performances with the Munich Philharmonic under Paavo Järvi and appearances with Camerata Athens under Sir Neville Marriner , the Orchestre de Bordeaux under Louis Langrée , the Orchestre de Lyon, Orchestre National de France and Dresden Philharmonie and tours with the Scottish Chamber Orchestra, Orchestre National des Pays de la Loire, the New Zealand Symphony and – in China – the Orchestre de Strasbourg under Marc Albrecht. In February 2008 he made his debut with Washington DC's National Symphony Orchestra under Leonard Slatkin and Philadelphia Symphony with Charles Dutoit, in the 2009/2010 season with the San Francisco Symphony and Los Angeles Philharmonic, the Mariinsky Theatre Orchestra, Philharmonia Orchestra, Royal Philharmonic Orchestra, and the Vienna Symphony Orchestra.

As a chamber musician, Gautier Capuçon undertook a tour of Italy in a trio with Katia Labèque and Victoria Mullova , while his other chamber partners include Martha Argerich (with whom he made a tour of Japan), Daniel Barenboim, Yuri Bashmet , Gérard Caussé , Myung-Whun Chung, Hélène Grimaud , Stephen Kovacevich , Jean-Yves Thibaudet , Lilya Zilberstein, Leonidas Kavakos, Menahem Pressler and Gabriela Montero. His closest musical relationship is with his violinist brother Renaud, with whom he notably made a critically acclaimed US recital tour. He has also given many solo recitals across Europe, and he appears frequently at major European music festivals.

Gautier's recordings for Virgin Classics include Haydn's two Cello Concertos with the Mahler Chamber Orchestra under Daniel Harding, and with Renaud Capuçon a number of works by Brahms – the Double Concerto (with the Gustav Mahler Youth Orchestra and Myung-Whun Chung), Clarinet Quintet and Trios, the Ravel Trio, Schubert's 'Trout' Quintet, Face à face and Inventions (both albums of duos) and a hugely popular version of Carnaval des animaux by Saint-Saens. In January 2008 the Cello Sonatas by Prokofiev and Rachmaninov, with pianist Gabriela Montero, were released.

Gautier Capuçon belongs to the young generation of musicians who do not care much about all the pomp and circumstance that is so often inherent to fame. Like his highly talented young colleagues he studies hard and tries to give his very best. Gautier wants to make beautiful music as far as that goes, his main luxury being the applause and the recognition of his musical qualities.

He is an exhilarating artist who impresses his audience with beautifully phrased and idiomatic interpretations on his 1701 Matteo Goffriler cello, and always searching for dramatic contrast in a most convincing and coherent manner. He does not go spurious gestures or inflections but he prefers warmth, affection and great finesse, keenly attentive to inner voices. Every detail is weighted by the perfectly poised subtleties of his bowing. Here is an artist at work who is fully capable of rhythmic grip and tonal coloring and who shades each and every phrase without losing sight of the grand structure of the piece. Gautier Capuçon is a great musician throughout.

Music is alive!

I met him on December 13, a sunny Sunday afternoon, after a series of three concerts with the Rotterdam Philharmonic Orchestra under the baton of Tugan Sokhiev (1977, Vladikavkaz, Ossetia), who just made his first appearance in the Rotterdam concert hall 'de Doelen'.

Gautier had played Tout un monde lointain, the cello concerto composed in 1970 by Henri Dutilleux (1916, Angers, France). His performance of the work was a sheer miracle and highly cheered by the audience and the orchestra. His vigorous approach, in full control and masterly balanced, greatly supported by the orchestra, was really winning my day. I gathered he should have been exhausted after such a tour de force, but he wasn't. After a well-deserved espresso he was ready to talk. The flower bouquet he got from the orchestra's cello section was neatly displayed on the grand piano in his room. Gautier was very touched by this eloquent gesture. He was quite amazed about the orchestra's many young players: "Together with their new young leader, Yannick Nézet-Séguin, a great musician, they make a really excellent team." And with a big smile: "We could do certain things together, I think." Then, there was the book waiting for him to write down his experiences with the orchestra. What was his impression so far?

"I knew Tugan Sokhiev already long before this concert. We even played our first Dutilleux concerto together, for the composer's ninetieth birthday, in 2006. Sokhiev is a great conductor with a very keen ear for orchestral balance. Yes, I know that he comes from Ossetia and that he, like Valery Gergiev, studied with Ilya Musin at the St. Petersburg conservatory. That says something, although Valery is quite a different musician!"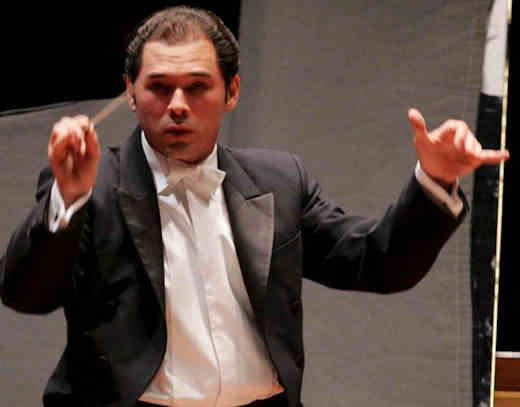 Tughan Sokhiev
"I think that this afternoon's concert was the best of the three. When I would rank them, the Friday night concert would come second, because it was better than yesterday's, which was a rather difficult one for all of us. At any rate, less audience means less excitement to me. After having set my first steps on stage I already feel when the audience is excited, anxiously waiting for the things to happen. Then, you want to give more. Music is all about communicating and concentrating, to get your message through, to make sure that it is well received and understood. This is not something you can simply do or to take it for granted; it is neither a gesture nor a phenomenon emerging just by itself. No matter how hard you work on a piece, there is no full satisfaction without a responsive audience. And that is exactly what I feel and need, when I am performing on the rostrum. Of course, it would be great if we all would always have the best audience in the world, but unfortunately, reality inevitably comes first!"

Live recording

Taking this up a little bit further, my thought was that there is no such audience in a recording studio. Even worse, it can be a rather unsociable environment out there, almost like in an office. In the rear, behind the glass screen, there is that down-to-earth voice announcing that a passage needs to be done again, from bar so and so. And again… and again.

"I know. Music is alive, so we are showing music. It is true that when you are in a room with just a few people and a lot of microphones, it is hard to pretend that it really is. When you have an audience, things change considerably. How great this all can work out in a radiant live performance, when you are on the podium with wonderful and luminous partners! Like at the Lugano Festival, with for instance Martha Argerich. Or with Katia Labeque and Victoria Mullova . It just gives the additional push one needs to make the music even greater than it already is."

'Therefore, I try to do my recordings live. The Dvorák Cello Concerto I did live, and the one that is coming out soon, with Valery Gergiev, was also recorded live. I think it will be released next month already. This was truly something. We just had one dress rehearsal and the concert itself to get it all finalized. So we performed and recorded Tchaikovsky's Rococo Variations and Prokofiev's Symphony-Concerto in E minor. Valery was really incredible. But also playing this music in St. Petersburg with the Mariinsky Theatre Orchestra. My skin was like …wow! Okay, some conductors are great, they accompany me incredibly, but with Valery it was even more than that, almost as if he was helping me, or challenging me to push even further, almost over the edge. I don't think I would ever do this on my own. Frankly, this is all about chemistry. This makes it so great to share this music with a charismatic, not to say unique character like Valery Gergiev."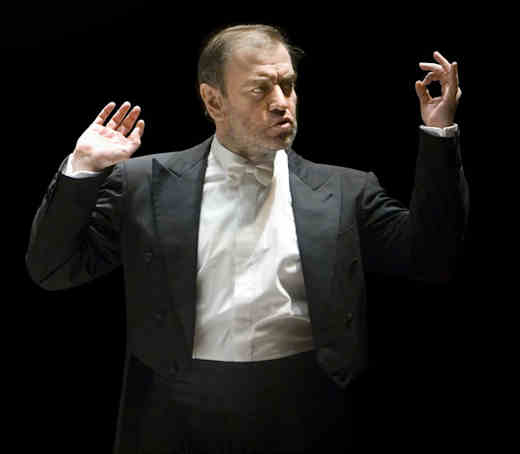 'Old and 'new'

I tossed in the idea that music calls for progression. That we need to be consistently aware that music is not the kind of an exclusive art form that calls for preservation in a museum-like concert hall. Maybe I provoked him by saying that the music scene around the world has been swamped by the Cello Concertos by Dvorák, Haydn, Saint-Saens, Schumann and even Elgar and Shostakovich, but that those by Britten (albeit a Cello Symphony), Honegger, Ibert , Lutoslawski , Martin, Delius, Miaskovsky , Vlasov are much less frequently performed, as are the concertante works by Schnittke , Tishchenko , Gubaidulina , Khachaturian, Knipper , Toyama and Weinberg, to name just a few. Gautier exclaimed: "Absolutely!", but left it at that.

In the meantime we are witnessing the gap between contemporary music and the public. Too many composers are writing new music without obviously reaching the public. Gautier likes to perform new works and he is really interested in new concepts and ideas. A traditional model is the sandwich program, the traditional mixed bag with 'old and new'.

"It's the only way to get the audience acquainted with new music, without driving them away from the concert scene. Putting famous and unknown pieces together, in one program! I wouldn't know any sensible alternative. Apart from that, it is true that there isn't much reward for any orchestra or any musician when the public doesn't really positively respond to a new work, irrespective of the amount of preparatory and rehearsal time that has been invested in such a novelty. We can't neglect a discrepancy like that."

As long as we appreciate that also new music needs to meet high quality standards, although it is not always easy to assess these in view of the work on hand, and especially not when it is heard for the very first (and often very last!) time. What about Dutilleux's Cello Concerto Tout un monde lointain ?

"For me, the Dutilleux piece, although written almost forty years ago, is still contemporary music. At the same time, it is absolutely great music. This concerto is one of the most important ones of the whole repertoire. It really is a big, incredible piece, irrespective from the angle you look at it. You heard the great response by the audience. They picked it up, but maybe they are afraid when they see a program like this, not knowing what to expect? It goes beyond the well-known path, it needs a little bit of an 'investment' to speak, but believe me, it really pays off! And yes, it's contemporary because Dutilleux is still alive. He will be 94 in January. Sadly enough, his wife passed away last week."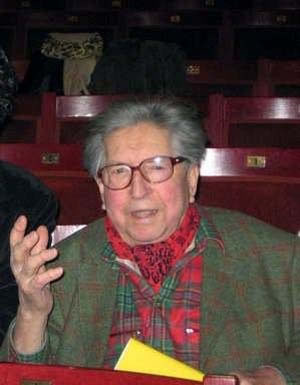 Henri Dutilleux
New release

In Gautier Capuçon's forthcoming release on the Virgin Classics label, the Prokofiev Symphony-Concerto is mixed with Tchaikovsky's Rococo Variations. Why not, for instance, opted for Miaskovky's Cello Concerto instead? It was done before, in 1997, by his colleague Mischa Maisky , with the Russian National Orchestra conducted by Mikhail Pletnev , released on the Deutsche Grammophon label. He did not give me a straight answer. But Gautier Capuçon is just 28, with hopefully a long career still in front of him. He could still do the entire cello concert repertoire! He reminded me of the title of one of James Joyce's famous novels: A portrait of the artist as a young man...

"As a musician you have to find your own way, your own ideas and your own preferences. I really love the Dutilleux, I performed it many, many times, but it was the Dvorák piece I played the most, and I really wanted to record it. I know, of course, that there are tons of fantastic recordings of the work, and I'm not saying that with my recording I brought something new, but we are still talking about an incredible piece that was written by Dvorák, but everybody is and plays different, has something disparate to say. I just wanted to share something that I feel is Dvorák. Of course, I also want to do a lot of contemporary music. It is very important and it is great music as well, but that doesn't mean I shouldn't play or record Dvorák! At the end of the day it may just come down to a good balance in the sense of programming and recording. And the more so because I believe that as a young musician it is important to help to promote contemporary music by bringing it to the audience as good as I can. Like players in Mozart's time were bringing his music to their audiences. At that time that was contemporary music, you know!"

"We have to find our own way of saying things. However, it is most imperative is that we are sincere in what we are doing. Sincerity and honesty in the music, with the audience, with yourself is what finally matters. To find another way of saying things in music? Great, as long as it comes from the heart. Then, nothing can be wrong."

Reviews

Nothing can be wrong? Well, reviewers might just happen to think differently!

"When it comes to reviews, I respect the reviewers' work, but I have the feeling that sometimes they don't respect ours. When they don't understand it? That's not my problem! Yes, I agree that very positive reviews – but also the opposite - can be utterly wrong. However, we should all understand that art is totally subjective. It is a matter of taste, background, education, experience, historical knowledge, etcetera. What I like about a performance is that someone is telling a story. Sometimes I'm touched, sometimes I'm not, but that doesn't mean that it is a good or bad concert. But what I absolutely don't like is a review which is really killing an artist, whoever that is. It maybe not such a great artist, but a reviewer shouldn't crush the work of an artist who is for instance working ten hours a day since he was four years old. It is criminal and really, such an artist might be very fragile, although personally I don't attach so much importance to it. Instead, I prefer to listen to people I know and respect, trust and love. They can criticize any time, which is very important, in order to go further, to reach higher levels, to improve my playing, because I never finish learning. It never stops, it is an ongoing process. There is never a perfect concert, I'm never satisfied, it can always be better, and will be different all the time."

What about reviews comparing performances by a variety of artists? People like to compare, it already starts at elementary school, or even before.

"Sure, it happens all the time and it is so easy to do! I absolutely agree with you: it has nothing to do with the artist's artistic individuality, it is even ruled out! People love to compare, it's one of their many habits! Even when I play with my brother [the violinist Renaud Capuçon – AvdW] they love to compare. But there is nothing to balance: we are two different personalities, we have good sides, bad sides, we play different instruments. That makes it so interesting when we play together, when we have different things to say. Even more so, we learn from each other."

The two brothers

"When we are practicing together we don't need many words. It goes very fast, it's like we want to say the same thing at the same time, without knowing why, but it works for us. It might have something to do with the same education, the same background. Deep inside we feel in the same way, about a phrase, or even the big picture of the work, although there are many different things needed to put it all together. It's like you cook, you want to do the same dish, but inside you put different things of your own.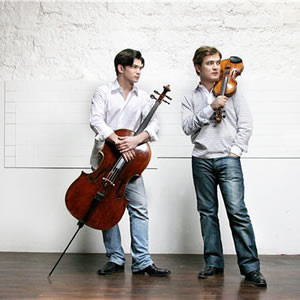 Gautier and Renaud Capuçon
We are very complimentary when we play together! I'm an instinctive musician, my intuition tells me a lot, but in the minds of many people you can be instinctive and stupid at the same time! However, you can be instinctive and have a brain! When Renaud and I perform together we may be in a different mood, experiencing things quite different. We can really go to the edge together, or even beyond. As it can be with Gergiev, or with Martha Argerich, or with any other quite inspiring artist. Different ideas, different conceptions, the willingness to take risk, to feel a certain freedom, to go further. You see, the concert might offer unforeseen, unknown opportunities when I'm telling my story to the public. As I said before, what do I get back, is there some fascinating interaction? In the recording studio you mainly see those microphones. They don't feel, or talk!"

His prime examples? For instance Jacqueline du Pré , Pierre Fournier, and Leonard Rose. Pablo Casals, yes, but that's another book. The idea of Pierre Boulez writing a cello concerto? He might just be too old for that now, even if he would like the idea.

"There are many more violin concertos compared to cello concertos. Why? Maybe it is in the composer's or the public's mind that the violin is more virtuosic, more flexible than the cello. Ha ha ha ! Of course this isn't true!"

What about all the traveling, from one hotel and concert hall to the other?

"It is not an easy life, but you need to have a base. I'm married and I have a daughter. She is four months now. This is important, because all that traveling is really difficult, but when you have your feet on the ground you can cope with it. But yes, there are those lonely feelings, and the more famous you get, the more difficult it gets too. But at the end it all comes down to the foundation in your life."

Aart van der Wal

This interview also appears in the Dutch online magazine opus klassiek