Other Links
Editorial Board
Editor - Bill Kenny
Founder - Len Mullenger
Google Site Search
A

P

assion for the

P

iano:

the Brazilian pianist Cristina Ortiz talks to Bob Briggs (BBr)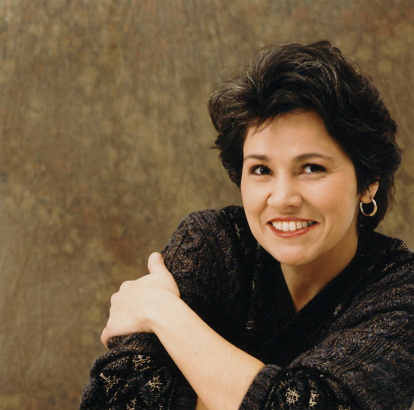 Cristina Ortiz has enjoyed a career as both performer and, more recently, teacher. She has won many awards, made recordings and traveled the world playing both familiar and unfamiliar piano works. She has forged successful duo partnerships with Antonio Meneses, Truls Mørk, Kurt Nikkanen and Uto Ughi - and she has worked with some of the world's greatest conductors, including Vladimir Ashkenazy, Neeme Järvi, Mariss Jansons, David Zinman, and orchestras such as the Berlin and Vienna Philharmonic, Cleveland Orchestra, Chicago Symphony, Czech Philharmonic and Philharmonia.

We met outside the Royal Festival Hall, on London's South Bank, on a balmy October morning, to discuss her life and career. Cristina was only too willing to share her thoughts on pianism, teaching, music and so much more. Her conversation is regularly punctuated with bursts of laughter as she tells a story or illustrates a point, and it is obvious that she really loves what she does with a passion - and passion is a word she uses frequently to describe her work. Any big career, such as Cristina's has to start somewhere so I was fascinated to know if she discovered the piano, or whether the piano discovered her.

The piano was there, at home, and my father used to play it. We had the piano in the sitting room, and I climbed on to it, aged 2! The moment I could get onto the seat I got in there and I never left it. I was playing by ear all the time. I used to have absolute pitch but, with age, you know, it goes down [goes flat]. When I was 4 years of age my mother thought, "well, this girl must have some talent, let's start some lessons". So I was taken to the young sister of a colleague of my father, who used to be a concert pianist, she's much older than me, she's still playing, she's now 80, and that was how I started. So I was with her and I had no technical problems, and we didn't do exercises, it was all music, music, music, and that's why I am what I am! She just gave me tunes and music to play; Bach and Mozart and everything, a little Chopin, everything. No scales. I went to the Conservatory when I was 8 years old. My mother clicked on to the fact that I never did scales and people have to do scales…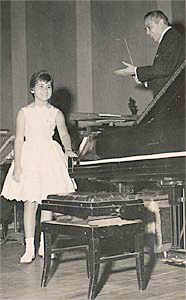 Cristina made her Concerto debut at the age of 11…

Yes. I used to go in for competitions, my teacher had all of these little competitions, it was great training, a great chance in Brazil. When I first got into the National Institute of Music I realized that I had never been to a competition, or a public concert or anything. In Brazil we have tradition of little concerts that the teachers would produce to introduce their pupils to the public every year. They played in order of excellence, and I remember every year I would go lower and lower, towards the finale, for I was getting better. And also with competitions, whenever there were competitions, I remember in that year I went in for six competitions and I won them all, and I got to play a Concerto with the Orquestra Sinfonica Brasileira, under their then principal conductor Eleazar de Carvalho, who worked with Bernstein, and I played Mozart A major, K488.

Then I lived in Paris from when I was 15 to about 19 and when I got back to Brazil I was very quickly bored, I had nothing to do, because I'd been in Europe and there were the concerts and International competitions. I did the Enescu, I had a prize there, and I got back to Brazil and I said, "what am I doing here?" and the moment I could I went in for a competition, which happened to be the Van Cliburn! As I descended on the quay in Rio, in the January, after three and a half years away and somebody handed my mother, or me, the prospectus for the Van Cliburn which was a few months later, and I nearly missed the deadline because I wasn't…(groans)… three and a half years of nothing but piano I didn't want to think about a competition but, very quickly, I just made the deadline and I enrolled and in September I went and I won the 3rd Cliburn competition. After that, my dream was to study with Rudolf Serkin because I had had lessons in all the French music, the French tradition, with Magda Tagliaferro [1893 - 1986 born in Petropolis, Brazil, she studied under Antonin Marmontel and Alfred Cortot.She died in Rio de Janiro.] who was born in Brazil but lived in France and had all this perfume and tradition and Spanish music and so on, and I had all that - the perfumed music and the flair - and I wanted the very sturdy Geman repertoire and I had met Serkin many times when I was in Paris, and heard his concerts, and I had this dream of studying with him. So after winning the Van Cliburn I had an interview the next day and the first question was "what do you want to do?" and I said that I wanted to study with Serkin! So I went and I auditioned, he was then the director of the Curtis Institute, and he took me on and I stayed there for two and a half, maybe three years. So I had this wonderful chance of playing chamber music, and I went to Marlboro [School and Festival], I was invited for two summers. There were Pablo Casals, the Guarneri Quartet, everybody was there and it was something I had not imagined in my life! We were so close together. Elbowing each other! These fantastic people.

Even though Cristina wanted to get a grounding in the German tradition from Serkin, she had already played the Brahms D minor in her winning performance at the Van Cliburn.

I've just been commenting on competitions and that is one vehicle for winning any competition. If you are good enough, and it's such a work of art. If you're young and you've got temperament and you've got technique, it's not scarey. It wasn't scarey. I learned it in Paris, when I was there, so it was the one Concerto I really had [in my fingers]. We had to prepare, that year, four Concerti, for the Van Cliburn, and they would choose [which one you were to play]. And I remember having to learn, well I already played Beethoven 4, but there was Prokofiev 2, Rachmaninov 1 and Brahms 1. And you have to play only one. I wanted to play all four, having prepared them, but they chose Brahms 1. But I did have the tradition, but I didn't play Beethoven very well, he was too restricting for me, in a way, but with Brahms there's a passion, and textures. I always loved Brahms, For me, now, he is my passion, all of his chamber music, and both of the Piano Concertos. I'm doing both of them on the same day in Brazil. This is my passion. Brahms 1 for me is the Concerto.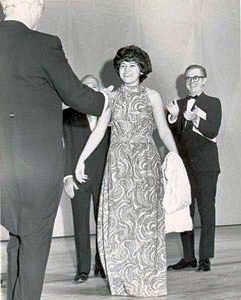 Winning the van Cliburn

When Cristina played the Brahms 1 for the van Cliburn she was exactly the right age for the piece, for it is the work of a younger composer.

Exactly. You have all the passion and you just have to go for it. And that Hungarian last movement just nailed me to the ground and I just played, not worrying about being 19 and playing Brahms. You know, everything has changed so much. People play for the jury, people play the repertoire the way they think the jury want them to play. Some of these kids want to play, want to sound old when they're 17, playing Rachmaninov. You have to get into the music to know what the music is about. You can't take one away from the other, you know, the passion, and the elaborate things, but not for the sake of showing off, just to bring out the content of it, the orchestral mind of Brahms.

After leaving the Curtis Institute, what had she planned for herself?

I never have planned. Never. And I still don't plan my life, that's the problem in my life. I have not been very ambitious, I always expect things to come my way. Well, not expect but they always did! But when it doesn't, I always think, "Oh! Why is it?" These days everything has changed. So I have no plan. But it happened that things were not happening, so it was with Cliburn, then I was in America studying after that, and then after that I decided that things were not going so well, because after winning the Cliburn I had quite a series of mishaps to do with the background of the competition. I had a supposed contract with Sol Hurok, who didn't take me on, he took the second prize winner [Japanese pianist Minoru Nojima], so I said, "let me go" and I came to the Leeds. That's why I came back to Europe. I knew Radu Lupu, for we had met quite a few years before at the Enescu [competition], he was the winner, and he was at the Cliburn [Radu Lupu took the Gold Medal at the 2nd Van Cliburn competition in 1966 and won the Leeds Piano Competition in 1969], and he said, "No, no, don't go, it's not your kind of competition!" I mean that's rubbish, so I went [to Leeds] and I didn't make the finals. But then I met my husband to be and so I stayed over. Well, I went back [to Brazil] and six months later I came back to Europe. It's fate. It wasn't written that I should have ended up in London, but I came to Leeds and by doing that my life changed and I have been living here ever since. That was when Perahia won [Murray Perahia won the Leeds Competition in 1972]. Murray was from Curtis as well. Until this day Leeds is nothing but Radu Lupu and Murray Perahia. Nobody else. Why is it? I think it's a sign of the times. People are not winners by chance.

It seemed to me that Cristina had been in the public eye from quite early in her career. There were lots of records (LPs).

Yes. I had so many chances, that somehow, I don't want to be negative but, all the recordings I did, I hated them. And I still do. I mean it's a wonderful process and one learns so much from it. I still can't hear my records until many years later. I used to have to go through the editing process. My first edit? It was a nightmare! It took real courage to sit down and listen, so I would put it on in the sitting room and go to the kitchen and hear from far away because I could not face what I had been through. It's like when you look at something through a magnifying glass. It dissects everything. "Oh my God, is that what I do?" "that's not enough" "why didn't I do that?" "there's a little smudge here". All the things that you remember from going through the sessions. So I have to wait quite a while before I can enjoy it. Ten years later I can go back and listen! I was listening to Rachmaninov 2, which I did so many years ago with Moshe Atzmon and the Royal Philharmonic and I thought, "My God, that's not bad!" It sounded so like a real performance. You can't hear anything wrong and it's full of verve.

I still am like that. But these days, for instance, Naxos do everything. I've not heard the Fauré which has just come out [Fauré Piano Quintets 1 and 2, Cristina with the Fine Arts Quartet, NAXOS 8.570938]. They do everything. I had no idea of the sound - only what I heard when I was there [in the studio]. I must stop meddling anyway, so I decided to stay out of it and look at the result! It's amazingly successful, I couldn't believe it! I love Fauré, but I am looking forward to the Franck, which should be coming out any minute [String Quartet in D and Piano Quintet in F minor - Cristina with the Fine Arts Quartet, NAXOS 8.572009]. It was so special for me because I did that [the Franck Quintet] so many years ago with the Medici Quartet [EMI ASD3546 LP only].

I wondered if, as Cristina could only listen to her recordings ten years after they had been made, did she feel that it was obviously her playing.

Oh yes. I know, very much, my playing, and I can hear exactly how I did it then. I can get the mindset. I listen to it as I would a concert. And the projection of the work, the direction, the pace is very important. And it either works or it doesn't. When you play chamber music, or when you play with an orchestra, I always say that when you play with an orchestra I worry too much about everybody else, that's my problem. I'm not a real soloist, I am a real soloist but I want everybody with me. And that is the most important thing for me with an orchestra, to have them breathing like I do. I mean that's the ideal, isn't it? Music is phrasing, direction, pacing. Of course when you have a conductor who brings in things which stun you it's wonderful. It's give and take. And you don't want him or her - it's usually him! - to sound exactly as you do, because if there's a tutti it's not my pacing. If it is Villa Lobos then I can maybe help, because of understanding the work a little bit more, but it is fantastic when you get the impression that everybody is in communion. Musically in communion. And that's why I always say that, for me, playing with an orchestra is chamber music, grand scale! For me it has to be. A full orchestra has two rehearsals, perhaps three, to accomplish what an instrumentalist has been doing for years. It's really difficult. So it depends so much on the body of the orchestra and the conductor.

I also wondered if the number of Piano Concertos pianists are being asked to play is getting smaller.

In London it's always been that way, hasn't it? We don't play the unusual. For my repertoire I'm always looking for the unusual. The Stenhammar, talking about something unusual, is a beautiful Concerto [Cristina recorded Wilhelm Stenhammar's 2nd Piano Concerto with the Gothenberg Symphony Orchestra under Neeme Järvi on BIS-CD-476]. I learned it for the recording; I learned to play it after the recording! It was ever thus! Now, finally, I am going to go to Brazil to play, probably for the first time, the Concerto No.2 with a big orchestra in São Paulo. It's fantastic! It will be a great discovery for everybody because the name, Stenhammar, not knowing who it is, sounds like modern music, I can't take it! It's from Brahms. I call him my Swedish Brahms! There are some beautiful solo piano pieces, the Late Summer Nights [Sensommarnätter : Fem pianostycken op.33 (1914)], oh yes. Gosh! And Schulhoff. I'm always going for the Concertos that nobody plays and deserve to be played. So I play the small Concerto by Schulhoff, and also his piano music, some fantastic solo pieces. But the media controls the world and I am not part of it in a way so I cannot choose what I play so you end up playing Rachmaninov 2 for ever and a day. If I could choose, and it depends when it is, I would choose things that nobody else plays. Not to be different but because I have worked my head off to do those things. The Scriabin Concerto. my goodness, and Villa Lobos. It's not that I'm stuck with him, I am quite happy to play but it is incredibly hard work to get a performance to be accepted. The orchestra's have no idea what hit them! It depends on a sympathetic conductor. So the choice of repertoire depends on what spheres you revolve in. Unfortunately. The soloist is booked not to play anything he or she wants but to fit in with the programme. But sometimes you have the choice. I am not saying that I haven't played the unusual things - I've played the Scriabin in Liverpool, for instance.

So what is Cristina's favourite form of music making? Playing Concertos, chamber music with a few friends, or solo recitals?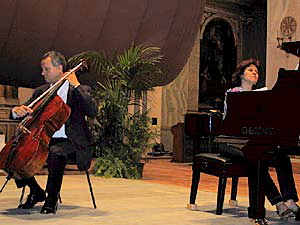 With Cellist Antonio Meneses


Well more and more solo recitals funnily enough. I always had something to say but I never really wanted to be building a career only as a soloist. I still love playing with orchestras, it really can be the most satisfying of everything. But I have come round to the fact that my piano playing, from playing so much with orchestras, has become really orchestral in my conception of the keyboard. And so when I'm playing these days - I teach a lot so I'm always telling my pupils "use your fingers like an orchestra! The sections; the left hand, the cellos, sometimes the viola, and bring out the voices". I play a lot with Antonio Meneses, cello and piano repertoire, and we also do trios, and your hand can bring out things like a soloist would bring out. You have the limelight and the music is bouncing back and forth. You have the Rachmaninov Sonata and there's some gorgeous piano playing moving up to the moment when the cello has this glorious one line, which is the one everyone will remember, never mind the millions of notes we have to go through. So I enjoy playing alone a lot more because I can breathe. You don't have to rehearse very much if you're working with somebody who can breathe with you, like Antonio Meneses, and we play together with the greatest of pleasure, we hardly need to rehearse. We can play things and he said to me, "you breathe before I breathe" - breathe is a very important word in my music making these days - and it's very important to have that when you're playing alone. Your playing has to be unique. That's why I recognise the polyphony of my hands, and I hear more and more the things I am trying to teach young people. You must have complete independence of hands. Chopin writes things with a forte coming down, diminuendo, and the left hand starts piano and goes up with a crescendo at the same time. It's not me, I'm not inventing it, it's all there. He's not thinking of a block of two hands, he's thinking of lines and instruments and different moods, so for me it is the discovery of the language of the composer, and fitting in my way of seeing it. Over the years I have developed, especially with French music; my Debussy is something I am very proud of, because I lived in France and now, when I play for French people, it's so different from what one hears. French pianists, mainly, playing French music put the pedal down, and hope for the best. That's not what French music, in my eyes, is like. It's animation, texture, it's chamber music within the hands. My Debussy is completely different from the rest.

I wanted to talk about Cristina's upcoming concert in the Queen Elizabeth Hall, where she plays Debussy and Villa Lobos. Cristina has been quite an advocate for Villa Lobos's music.

Yes, I've been an advocate because when I first came here I always used to refrain from playing Brazilian music. I was always very frightened of people saying "oh, she can only play Villa Lobos" or "she can only play Brazilian music". And it's not true. Now, I think, "why not?" Now, of course, having come all this way, forty years after the Cliburn, I don't think anybody plays better than I do! Excuse me! Not that I'm conceited but such is life. I've lived through it, all the repertoire I have done. I have done all of Villa Lobos and he has come to mean Brazil. Especially when you live abroad, you hang on to your roots. Some of the pieces I perform really mean to me what it is I want to say. Alma brasileira is like a presumed version of the Brazilian soul. Why? Because the Brazilian soul is always nostalgic. People think Brazil is all happiness and rhythm - we have that of course - we can live smiling and laughing and being happy about things and you put a little bit of samba here and carnival and rhythm and everybody smiles. Then you go back home and you become nostalgic and soulful with the influence of the Portuguese soul that we have. And then Valsa da dor… They all have a meaning for me and I become completely Brazilian because I have lived through his language and made it my own and I just want to bring emotion to people. So when I play Villa Lobos, and the public don't know his music, it's a wonderful world.

This concert is my homage to him. Nobody booked me to play Villa Lobos, but it's his 50th anniversary [Villa Lobos died in 1959] so why not? I thought it was a good idea and it's my own choice. I was going to play my Chopin repertoire which I'm doing next year - four Ballades, four Scherzi - but instead of doing it now I decided to do the French, Villa Lobos lived in Paris, but all the music in the concert was written before he lived in Paris. There's a lot of French impressionism in his music, especially in the little suite I am doing [A Prole do Bebê, Book.1].

I asked Cristina why she was starting the Debussy half with Suite bergamasque and ending it with L'isle joyeuse. Wasn't that going from the sublime to the ridiculous? L'isle joyeuse being such a fiendishly difficult piece.

L'isle joyeuse is not that difficult. It's just a world of colour and a world of imagination. Sometimes you have to imagine something, and I was taught by Tagliaferro who just lived with images, and she always taught this piece this way and I cannot get away from that. I was 15 or 16, when I heard her play it. My own view of how it starts is of someone coming out of a trance, after having arrived on this wonderful island, not knowing where he is. I don't know why it's a man but it is! And he wakes up and says "where am I?" and there's the shimmer of birds and he gets up and the rhythm comes in. The connotation is with the island and indigenous people, and there's a search for water, and you hear little rivulets of water, and there's a discovery of an oasis. It's not that difficult, technically it's not that difficult. It's almost the most brilliant piece he's written. That question of the finale (gasps) it's like an explosion of exuberance, and that's why it's there! The bergamasque nobody does. It's incredibly difficult to portray the antique kind of music. It's such detailed work. Delicate to start, you don't know how tiring that can be. You talk about how hard L'isle joyeuse is, how hard is Bergamasque! I can tell you that the Passepied [the final movement of the Suite Bergamasque] is the hardest of the lot. The textures that he asks for are hard work on the piano. And Estampes is just bliss. It's like traveling in music. You go from China to Spain and back to France. I love images so this is a very wonderful programme. The Villa Lobos Prole do Bebê is the soul of Brazil. It has portraits of the little dolls, each doll you have to imagine and the witch comes in and you can imagine her throwing things in the cauldron and at the end you hear the poor little doll, I think she's been thrown in as well. And after that come all the people you miss in life, the people you've lost. And Festa no sertao is a Brazilian L'isle joyeuse, it's exuberant and steeped in the countryside. It has fireworks and complexity in rhythms. That is hard. Foreign pianists come to me and say, "Do you think that we as a race would ever be able to cope with these rhythms?" I suggest that they go to Brazil and live there for a while! It should, of course, come naturally.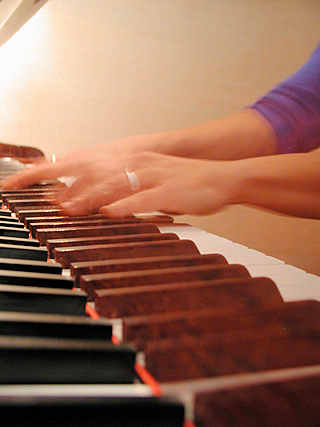 During the course of our conversation Cristina has kept mentioning teaching, so now was the time to ask about this relatively recent string to her bow.

I never wanted to teach but somehow it started with masterclasses, which is nice for me as I don't like routine, I just like to inspire young people. People started coming to me, after hearing a concert of mine, and I must say that I have learned so much. It's so simple to criticize and point out things which aren't coming through. Then "why do you do this? Why do you do that?" And the problem for me, the technical problem, the placing of hands on the keyboard, why are you missing this in the music, here I am like a doctor. All of those technical things I have learned to pass on, but, after they go I use it on my performance. The independence of hands and how you separate the textures of the music I have to apply to myself. And it has been a great obligation and that is why I say I have a lot more to offer now. So when I give a recital I put to use what I try to get across in my teaching. All these young people who write to me come from all over the place, so teaching is really an amazing experience for me. I have actually come to quite enjoy masterclasses. I hate talking in public, and I don't talk. I'm not an intellectual person who sits and explains what this music's all about. But I just realized that when I'm on stage and the audience is there you have them in the palm of your hand. Whatever you say they think it's so funny. You make a little silly joke and they all go (laughs) and you wonder, "what did I say that was so funny?" It gives you a little confidence. It's not easy to go up there and have something to say. I was terrified that I wouldn't have anything to say but I try to be honest. I'm direct and I never plan anything, and I never have anything special to say, I simply work with what I have. I can immediately find something that I can help with.

I once had a very special masterclass in Oxford Philharmusica - I've done it two or three times and I'm going again next summer - and this particular time it was a very special occasion for there was a very talented young girl, 11 years old, and I thought that I could teach a grown up but a child? Well I couldn't not criticise, I could say "you could do this or do that" and I played the Prelude of Rachmaninov and people realized that two pianists could play the same piece so differently. This girl was amazing. She wanted to play for me because she read that I have a special eye for musical colours, textures, things like that. And she wanted to learn colours from me. And she played a Chopin Mazurka beautifully, and a little French music. It was stunning, She was a gorgeous little girl, but unfortunately she came back five or six years later and her talent had not developed as I had expected it to. And also my incredibly inspirational first teacher, when she heard about this course, decided to come to Oxford and enroll in one of my masterclasses! She was 76 and she was playing Rachmaninov fantastically, full of vision, to me! My teacher. It was unique in the world. I was so emotional. She was wonderful. She played the best Kreisleriana in the world. She's still playing. She's 81 now. I couldn't believe it when she said to me "Cristina, I'm coming to play for you!"

The problem, I think, with young pianists these days is that they don't go to hear anything in the concert hall except pianists. You can't learn music from pianists. You have to learn music from great conductors and Symphonies. From opera, you go to listen to singing, so that you can sing at the keyboard, and learn about breathing. To learn all that you have to go and hear other great musicians. To learn music you must hear everything else, but piano! That's what I tell young people.

When you hear kids, in China they play like a fleet. They play anything. I've heard them at 11, in Hong Kong, a bunch of them playing through 24 Preludes, or 24 Études by Chopin, from beginning to end. I mean, hello? What is this? Have they lived before? Of course it's wonderful but you've got to live. That's why when you win a competition, when you're 18, you've got to go back to life, and be kicked in the head by suffering, by critics who will criticise constructively, not just be mean. But when you're young and you can't take criticism for whatever reason, you have to learn to take constructive criticism and you really have to have lived. And at the end of the tunnel you come out much better for it all. Your interpretation will come from that because you have to relate what you have been through. I remember trying to record, many years ago - they never came out - Prokofiev Sonatas. And at the time, after spending a couple of days in the studio, I heard Ashkenazy doing two or three Prokofiev Symphonies and I sat there and thought, "Oh my God, it's so much easier for an orchestra to portray, as I said before, what each part of your hands should be portraying: the sections of the orchestra. And it's so much easier for the conductor to have the violas play up, hear the wind playing, and we have to do that with two hands! Playing the piano is much more complex than directing an orchestra. And this is something that not many people realise, and not many pianists portray music this way because they think of two hands just as that. Everything is the same. That's the problem with piano playing. The great pianists of the past had a lot more imagination, had a lot more to say. Serkin, at 80 years of age, was playing pieces as if he was playing them for the first time. He had an exuberance of attitude. And the Lipattis, and the Hofmanns, the Lhévinnes. OK, not just technical, there was technique. There was flair. How can you play a Viennese waltz if you haven't been to the opera, or to a ball? Actually Villa Lobos is not so typically Brazilian music, but I play Brazilian music more and more - there are other Brazilian composers whom I love so much - and I have this wonderful friend, she's the assistant to the Governor in São Paulo, who said to me, "the trouble with people playing Brazilian music in Brazil, now it's getting fashionable, is that they take it too lightly, but you really work your head off, as if you're playing Brahms." And I do. I will spend as much time working on it as I do on a Beethoven Sonata. It's much simpler, but I'm not going to let it go just because it's Brazilian music. You've got to go for it. If there's an orgasm you've got to portray it.

I have five brothers and we used to do samba at home. They all played piano, one the guitar, one the batterie [percussion] so I lived in pop music. I adore jazz and I have the courage, when it's needed, to apply that to Brazilian music. But not especially Villa Lobos. It takes courage to be a pianist.

Cristina Ortiz 's recital at the Queen Elizabeth Hall, London is on the 9th of November where she will play Debussy's Suite bergamasque, Deux Arabesques, Estampes and L'isle joyeuse, together with Villa Lobos's A Prole do Bebê, Book 1, Alma brasileira, Valsa da dor and Festa no sertao (No.3 from Ciclo brasileiro.)


Bob Briggs