Other Links
Editorial Board
Google Site Search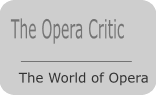 "The Formula of Love": Göran Forsling meets the Estonian composer Mari Vihmand after the premiere of her first full-length opera (GF)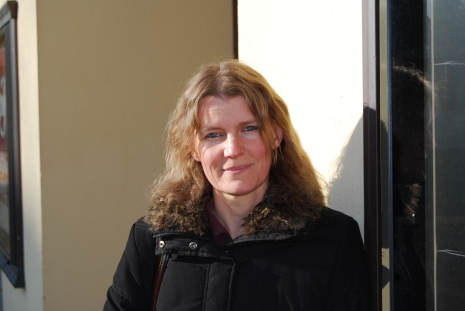 'Were you satisfied with the performance last night?' I ask Mari Vihmand when we walk through drifts of autumn leaves on our way from The Estonian National Opera for a cup of tea and a chat in a café in Tallinn's Old Town. It is the day after the world premiere of her opera Ar mastuse valem (The Formula of Love - see review).

Mari nods and smiles lightly: 'Yes, I was very satisfied. Everything went fine.' Mari is not a friend of big words. She is far from compliant, she knows what she wants but she is definitely not the breast-beating kind. She is a fairly tall and slim woman in her early forties, born in 1967 in Tartu, who studied composition at the Estonian Academy of Music with Professor Eino Tamberg and later with Professor Lepo Sumera, receiving her Master's degree in 1997. She also studied composition in Lyon, France, with Gilbert Amy and Philippe Manoury.

She has primarily written chamber music but there are also some orchestral pieces, including Floreo, which won First Prize at the UNESCO-sponsored contest 'International Rostrum of Composers' in Paris in 1996 in the category of composers under 30 years of age. The conductor then, as at the opera premiere yesterday, was Arvo Volmer. She has also written choir music and children's songs.

The premiere of The Formula of Love was the climax of two hectic months of rehearsals and Mari has been deeply involved. Not only did she write the music but she also assisted Maimu Berg with the libretto, arranged, added and cut things. 'My contribution was maybe ten per cent', she says modestly. She also worked out the dramaturgy together with stage director Liis Kolle and after the rehearsals started, there had to be adjustments to the score, including some rewriting of the vocal parts. It was decided a couple of years ago who would to sing the central roles and Mari worked with the singers voices in mind and was clear about the need to be flexible with the singers' wishes. Composing the music took one year, balancing the musical craftsmanship with taking care of her two children.

But the actual process started long before that. More than ten years ago, Paul Mägi, then Chief Conductor and Artistic Director of the Estonian National Opera, asked Mari for a new opera. She had already written a chamber opera A Story of Glass, which was awarded the Estonian National Cultural Prize in 1995, so she wasn't a newcomer to the genre, but a full-scale opera is something different of course. She was hesitant at first but the idea was aroused and subconsciously she searched for suitable material.

One evening, she saw on TV in Germany, where she has been living for ten years, an interview with the author Esther Vilar, who talked about relations between men and women. Somebody then gave Mari the novel The Mathematics of Nina Gluckstein, and since she was so fascinated by what she had heard, she read it – and was hooked. She presented the idea to Paul Mägi who encouraged her and the project was soon in its stride.

'It really has been team work', Mari says. Transforming the novel to an opera libretto was no easy task because the book is a strict narration, actually of two different stories with a common denominator: two women whose love goes wrong. In the opera the love story of Nina Gluckstein and Chucho Santelmo becomes the central theme but the other story, that of the old poet Roberta Gómez Dawson, is interwoven into it. The novel has little dialogue, so this had to be created and there were references to Oscar Wilde and Ovid, but no strict quotations. Mari had to go through their works and find the original wordings, which were then incorporated in the opera as choral pieces, sung in their original languages.

During the work, Paul Mägi left the Estonian National Opera but Arvo Volmer, who took over, was just as enthusiastic. The opera was scheduled for premiere some years ago but was postponed several times. This wasn't really a disadvantage: 'It gave me more time to finish my work', Mari says.

The whole thing seems very much a labour of love for Mari, who ended up translating the whole novel into Estonian. She takes out a copy of the book from her handbag. The cover is red as blood – or love. 'It's a thin book', she says, 'but it contains so much. And there is a lot here that there wasn't room for in the opera.'

There is to be a presentation of the opera and the novel at the Winter Garden of the Estonian National Opera this same afternoon, where Esther Vilar, the author of the novel, will be present but unfortunately which I can't manage. The book, however, has been a bestseller in Spain, France and Germany. The central male character in the opera, Chucho Santelmo, is an Argentine tango singer but Mari stresses that this is not a tango opera. 'There is tango in it, well, kind of – the scene where Nina and Chucho fall in love, Chucho's two songs in the second act and the final scene with two white figures on trapezes – but it was never important to underline the Argentinean setting. The central theme is universal and so is the music.

I mention the accordionist, who has a central role in the opera. 'Originally I had intended to have him incorporated in the orchestra but it didn't work out very well so instead he became a soloist. I wrote the music for him but the accordion is very much an instrument for improvisation and Jaak Lutsoja embellished and amended the music in his fashion.'

How did she start the process of composition?

'I wrote all the melodic material first and only then did I go on harmonizing and later orchestrating it. I wanted the song lines to be bel canto.'

'And the choral music? It is very important in this opera and at times I got a feeling of oratorio.'

'Maybe.'

'And in the Ovid chorus there were even echoes of Gregorian chant.'

'Maybe. I never thought that way.'

'Is there any specific composer that has been influential on you?'

Mari hesitates but eventually says: 'Veljo Tormis is a composer I really appreciate. He writes choral music that goes to the roots of the Estonian people and is simple and accessible. Another composer who means a lot to me is György Ligeti.'

The Estonians are a singing people and Mari admits that choral music is close to her heart. 'I have always been a choral singer. In Germany I sing in a church choir. We are working on Handel's Messiah and the Bach Passions.'

'What else do you do?'

'I'm working with old people. Singing old German folk songs as a kind of therapeutic activity. I feel that this is very important. Just as my work with children is, back in Estonia. Colleagues of mine were working with drama at school and I wrote some music for them. After the premiere yesterday I got a single rose from a person whose name I didn't know but she had been in this group and was so grateful. This really warmed me.´

And what is she working on at present?

'Nothing!' Mari says plainly.

'Are there any plans for a new opera?' I ask when we walk back through Old Town in the October chill.

'No. Well, maybe in twenty years', Mari answers with a smile.

I dearly hope it won't be that long.


Göran Forsling