Other Links
Editorial Board
Google Site Search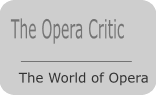 Carpe diem : the great Argentinian tenor, José Cura talks with Jim Pritchard about how he looks forward to every day. (JPr)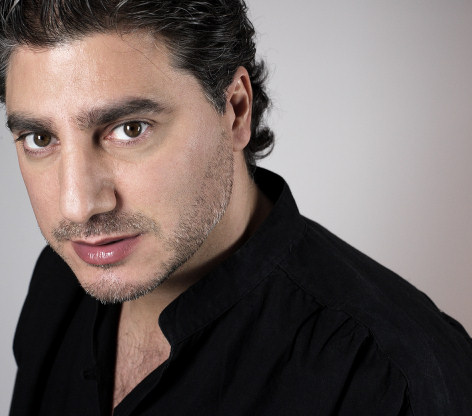 Picture © Cuibar Productions 2007

The biography on the tenor's own informative web site JoseCura.com, begins by saying how he is 'World-famous for his intense and original interpretations of opera characters, notably Verdi's Otello and Saint-Saëns' Samson, as well as for his unconventional and innovative concert performances, José Cura is the first artist to have sung and conducted simultaneously (both in concert and on recordings) and the first to combine singing with symphonic works in a "half and half" concert format. He also made operatic history when he first conducted Cavalleria rusticana and then stepped on stage after intermission to sing Canio in Pagliacci at the Hamburg Opera in 2003.'

This might already seem enough for one person - star tenor and conductor - but add to this that he is also a composer, an opera director, set designer and photographer and the mind begins to boggle. Then do not forget he is also visiting professor of voice at the Royal Academy of Music in London as well as being associated with the British Youth Opera and New Devon Opera and in fact you begin to wonder what the person is like behind these achievements and commitments. So during his rehearsals for his first Calaf at Covent Garden in their revival of Turandot it was wonderful to meet such an out-going, self-effacing, humorous and knowledgeable person. Our talk ranged from José Cura's earliest memories to his future plans and dwelt on those moments that otherwise have been highlights of his career and the 46 years of his life so far.

How did his career in music begin?

That I don't know and we cannot even ask my father who died about a year ago now. I remember he used to say to me 'Ok you want to be a musician well that's fine … but what are you going to do for work?'

I do not recall many years of my life when I have not been on stage. I began when I was about 12 and that's 33 years now so my memories of being on stage are more than my memories off. I sang only as an amateur – chorus singer, pop music, spirituals in octets, some jazz singing and other things like that. It was a way of expressing myself that I did in parallel to my studies at the Conservatoire in Buenos Aires and that was in composing and conducting. For some reason I don't recall why that was my vocation; all I remember is when I was 15 I said to my father 'I want to be a conductor'. Fate is what moves you to one thing or another and when I had almost finished my studies one of my teachers said to me that I had better start learning how to sing properly. I wondered why as I did not want to be a singer. He said that it is the same way that understanding all the instruments I could play, such as violin, flute and trombone, helps with being a good conductor so by studying singing I could become an even better one. So I started to learn proper singing and not just the 'poppy' singing I was doing and one thing lead to another and here I am.

I wondered what made him move to Europe in 1991.

For me I find everything comes because of some reason and at that time in Argentina we were at the end of a military dictatorship and it was the first years of the new democracy and to live in my country then was really an adventure. We had a child and I had four jobs and my wife had two jobs and even then we did not have enough money at the end of the each month. We took the risk and decided to go to Europe to see what might happen for me. If nothing happens then we could always come back. Of course we didn't have the money to buy the tickets so we sold out little apartment and I remember that they gave me for it what I am now getting for one night's fee as a first tenor – so life is funny in a way – but it was a very tiny apartment of course and not that my fee is so big! (Laughs) We came first to Verona and we'd met someone on the plane coming over who helped us so we started to pull a few strings, worked in restaurants and hospitals, managed to cope and eventually it happened for me.

His first Calaf was in Verona in 2003; it is an open-air auditorium that he has sung in a number of times over the years and I asked what it was like for him to sing there.

It is an amazing place to sing when you sing out, though it is in the intimate moments when you feel the handicap of the place because you have to sing loud. You do not shout but must be loud, so no matter what you want to say you lose the subtleties. There is no problem with the big moments such as with the 'vinceròs' and things like that and you can feel the 16,000 people roaring at the end of the aria; so then it is an amazing feeling.

Why had it taken him a while to sing Calaf which along with Dick Johnson, Otello Samson and others has now become one of his signature roles?

Yes it was 15 years after my international career began and it was always because I refused to sing such a one-dimensional character but then of course I surrendered because of the incredible beauty of the music. The next step was to find something in his personality for me – not necessarily positive because he has a lot of negative sides – so I can sing that and it is a change from the usual hero on stage and therefore a nice challenge.

Calaf is not really interesting, in the sense of the psychological analysis of his character and his development through the opera. He is the same character from the beginning to the end. He knows he is going to win her, he's arrogant and a bastard in every sense. He does not care about love and actually he does not mention the word throughout the whole libretto : he talks about power, about domination, about money and so could be any of our politicians nowadays!

In this revival I have added, because that is part of my style, more physicality to the role particularly in the last duet. That last duet is almost a Freudian moment of possession and Turandot surrenders to him not only psychologically but sexually. So we are trying to do a bit more here in a stylised way and I am lucky that I also have a very athletic soprano. Iréne Theorin, though of course we cannot have sex on stage but we try to picture that and this is the main addition to the staging we have done.

Had he any views on the various completions of the ending of Turandot?

I've sung two alternative endings. One is the original Alfano ending which is even tougher harmonically with a more evolved musical style that is closer to Schoenberg and similar composers – remember Alfano lived in that period too. The traditional one that we do here is the second Alfano version, a little more rounded in the corners, not Puccini of course but more acceptable according to the previous music heard in the opera.

I have also done the ending without the last duet when there is the death of Liu and the curtains close and that is the end. If that happens your character is less of a bastard and it is more biographical because of what happened to Puccini. Everyone knows that Liu is the alter ego of the Manfredi girl and Turandot is the alter ego of Elvira, Puccini's wife, and that's just what Puccini did when Doria Manfredi committed suicide: he just went to Brussels to die and so more or less ended his life in Turandot. So if we carry on and do the traditional ending, then we have a really disgusting character who only 10 bars on from killing the only person he really loved, turns around and continues his social climbing - someone who would sell his own mother to achieve what he wants.

He has sung Calaf in 2007 in Shanghai and I asked what it had been like to perform Turandot in China.

I remember doing a press conference and saying 'I'm coming to China to tell the Chinese how to be Chinese'. But of course Calaf in the plot to the opera is a foreigner himself so that helps and is not so bad. Also the production was not like the one we are doing now where we try to be authentic. Here that is okay because maybe apart from some Chinese in the audience no one will know what mistakes we are making and if some things are not Chinese but occidental. In China everybody would notice what was wrong, so it was a very modern production and very wise in the sense that my character was somebody travelling through time and arriving in an old China - and being modern himself he set about convincing everyone to drop their old traditions and to move forward into the modern world. So the message was very interesting and they reacted well.

We sang in a gigantic auditorium though the acoustics were very good. China certainly knows more about our music than we know about theirs and if only because of that, they deserve our respect though the thing I remember most – which is shocking for us – is that they eat during the performance. When I asked about this they said it was what they do every day and nobody saw a problem with it. So if you can cope with the fact that you might raise your head during an aria and see someone eating in the first row because it is normal for them to do so, then the rest is fine.

I asked now Calaf compares to some of the other roles he has become famous for.

Well there is nobody so one-dimensional though Pinkerton, for instance, is an even worse character for me. Despite it happening in another time period Pinkerton with his paedophilia and sexual tourism is much worse than Calaf's greediness. Another famous bastard, a big one Italian style, is the Duke in Rigoletto and another who is one but is also a great character to portray is Stiffelio. He is a hypocrite and someone who proclaims peace and love and yet can hate to the point of wanting to kill his wife. It is a case of 'do what I say not what I do.' Stiffelio is very interesting psychologically and that is something I like; it was my debut role here at Covent Garden in 1995.

I wondered what his thoughts then, were on Otello.

Otello is a very complicated issue because if you do just what is written and forget the centuries of tradition, then Otello is the bastard of all the bastards. He is the biggest because he is somebody who was a Muslim who became a Christian for political convenience and he is now engaged in killing Muslims himself. He is a professional killer and there is nothing heroic or noble in his behaviour. In the context of modern fundamentalism this is a problem. Otello is a very complicated character and now after singing the role for a number of years, I am getting more and more to the point where, apart from the ending when he is a little bit pitiful, l for the rest of the time I make him very disgusting which is not always what traditional people want to see in this opera. They come to see the poor black guy who has been cheated and who suffers and forget all the other things that must be dealt with also.

I have done Otello in some weird situations and once in Zürich was in a spaceship where I was Captain Kirk and Iago was Mr Spock, but in that production you could ignore the ridiculous surroundings and it was very well acted. I was lucky to have tremendous colleagues including Ruggero Raimondi and Daniela Dessì and so we were able altogether to create a great atmosphere with the thing to make it one of my most daring Otellos.

He has a lot of options for things to keep him busy; conducting, composing, set design, directing, teaching not forgetting the singing, so I wondered how he balances his working life.

Well I don't think I balance it at all and I just do not stop. My day starts at 7 in the morning and finishes at midnight but it is never a chore and is great fun. To distract myself from the singing day, I can sit down and draw some sketches for a production I want to do and that is a good thing. Doing one thing all the time would end up suffocating me, but I have 3, 4, 5 things I might be working on and that for me creates a real distraction, and is a good thing.

In 2007 I enjoyed creating my show La commedia è finita in Croatia and there is information about it on my website and I have not long ag,o directed Un ballo in maschera in Cologne, I was the director and set designer for that, and it was good. I didn't sing in that of course but sometimes I will sing, sometimes not, so in 2010 when I am directing a new Samson et Delilah in Karlsruhe for the opening of the season I will be designing that and singing in some of the performances. So it is all part of the same thing and its not that I do one thing one day and something entirely different the next: here one thing is enriching the other. Of course it is a lot of work and needs a lot of energy. I am glad God gave me this body and my energy and I know it is not something everybody could cope with because it really can be exhausting.

I asked if he had a particularly style when he directs.

My way of directing is the same way I am when on stage. My concentration is on the acting technique and really understanding the subtext of what we are doing. This has been the feature of my career as I believe people come to the opera house to see good acting. If you want to hear good singing these days you can stay at home and put on a CD but if you come to the theatre you want to see good acting and if they do not get it, we will lose our public. There is no way they are just coming to listen as in previous times when there was no other way to hear music.

How had all his work with young performers come to be centred in England?

It's amazing how everything is happening in Great Britain. They all asked and I love to do it. I am a father of three and my eldest son is living and studying in London and is a young, up-and-coming actor but more than that it is the responsibility of my generation to nurture the new generations. So in a humble way I try to pass on my experience and my training and to draw them into my little revolution of trying to be a believable actor, even if it means sacrificing a sound to an overall result. My contribution is purely artistical and I give as much time as I can. It is great to be involved with three English organisations - something as an Argentinian I never expected. (Laughs)

My theory is when I give a masterclass, the people attending will already be young professionals with a high level of education. I will not be teaching them singing as I cannot in a few hours or even one or two weeks teach somebody how to sing. The only thing is if I hear something dangerous or ugly, then I can give them some advice about how to try another way and tell them to discuss it with their teacher. In the short term it is possible to do more damage than help. I get them to discover their characters and to discover their psychology and understand why the voice on a certain note should sound a certain way to convey the meaning of the text and what that character feels in that moment.

I am pleased to say that in 99% of the cases, by putting aside complicated technical issues, almost without realising it they will sing better. They often say 'I've never sung this aria so easily'. They may have worried before about the aria but now they have the psychology of the character and trust the composer, so the job is done.

Did he himself have a mentor?

For me my biggest mentor is my own wife who next year will have been with me 30 years. That is a lot of patience for someone married to somebody like me. Other people along the way gave me help but I never had a sort of godfather throughout my career because I repeat the only one who has been there from the beginning - in the good times, in the bad times and the more-or-less times - was my wife.

I referred to his published book of photographs and asked if he still has time for both photography and composing.

My hobby is to take photos and I never thought about doing a book, but there was a Swiss editor who had seen some of my pictures and said could we do a book of them. My reaction was 'I don't think people need a book of photographs by Cura' but he persuaded me and he was right because they are good pictures and I am pleased I can give the opportunity to people to try and see what I see. It's selling pretty well.

I don't compose big things any more because I do not have the time and any way I will have the rest of my life to write music: orchestration particularly, takes a huge amount of time. What I do a lot now is to write song cycles because that takes less time. Last year in Italy I had the première of my song cycle based on Pablo Neruda's poems and it was a great success. I was very pleased because I was worried. When you are a singer, people can complain but ultimately the responsibility for the music is not yours but when you sing your own compositions it is tricky. You are not sure what is going to happen as it is a very risky thing to do. Now in January 2009, I will record this cycle of seven songs and parallel with the recording will release the vocal piano scores.

The last big thing I wrote was a Requiem for the victims of the Falklands War in 1984 when I was about 22. One day I might rewrite it completely or I may even leave it like it is with its innocent naivety of someone young.

Will he be back to Covent Garden soon and what is he most looking forward to in his busy schedule?

This is my last signed contract here now with Turandot and I hope we can discuss other things for the future, but if not I've been singing here since understudying Carreras in 1994 and making my debut in 1995 so in 2009 that will be 15 years and that is a lot of time.

In February I will go to Bologna to conduct La Rondine and this is something very new and we are still discussing it now. It is because Italy has it own financial difficulties and the opera is suffering and they have had to reschedule the whole season. Two big productions in February have been cancelled and because I was going to be there at the end of January for masterclasses they have asked me if I wanted to continue the masterclasses with performances of La Rondine done with students and I like this idea very much. It is not confirmed yet and I'll have to work like hell since rehearsals would start in a couple of weeks now and I am still to open the score – or even receive it. Although it is always traumatic for a theatre to cancel productions due to lack of money, to substitute this with something using young people is a daring thing and takes a lot of courage.

In March I'm also particularly looking forward to my return to the Metropolitan Opera, simply because my debut there in 1999 was in Cavalleria rusticana when Domingo sang Pagliacci. Now I'm going back to do them both myself and that will be exactly 10 years after I first sang there.

I think I look forward to everything, everyday – it's my way … carpe diem!

© Jim Pritchard

For more information on José Cura visit his website www.josecura.com.

For information about performances of the revival of Andrei Serban's production of Turandot at Covent Garden (Johan Botha sings Calaf at some performances) in December and January see www.roh.org.uk.