Other Links
Editorial Board
Google Site Search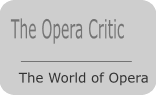 Graham Clark – Still curious, still learning … and still going! An Interview with Jim Pritchard (JPr)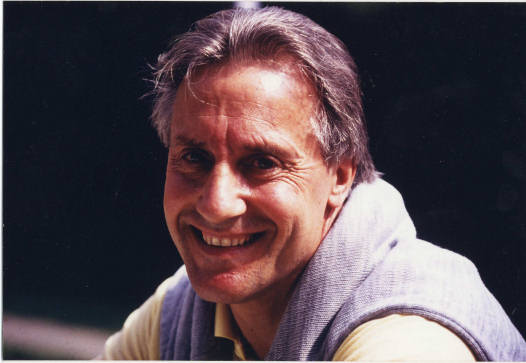 The tenor Graham Clark is not a marquee name destined to cause sell-out performances on the day that booking opens but he is certainly someone who can enhance his audiences' enjoyment of whatever opera he sings. After beginning his career in the Italian repertory over 30 years ago, he has become perhaps the greatest character tenor of his generation. I myself have followed his career closely and saw him early on as 'Rudolph' in La bohème and as Hoffmann in The Tales of Hoffmann for English National Opera. After many memorable performances both here and throughout the world he is now back in London, at Covent Garden, to appear in The Tales of Hoffmann (Les Contes d'Hoffmann) for only the second time. We talked as he was rehearsing for his four new roles, Andrès, Cochenille, Pittichinaccio and Frantz in a revival of the late John Schlesinger's sumptuous production first seen in 1980.

So this is only your second production of 'The Tales of Hoffmann'?

Yes, as the only other time I've been in it was when I sang Hoffmann for English National Opera in 1978 so it is a huge privilege to be invited to do something like this particularly at the Royal Opera House. I think it is a good piece and I now have four characters rather than just one to perform and it's marvellous. I can play around with them in completely diverse ways. They are all short roles obviously – the French expression is 'grotesques' – and they are an Offenbach speciality. He liked to make fun of certain people within Society. With his own theatre he used to find out who was in the audience that evening and would change the singers' text to comment on who was there. I have just been the 'Fool' in Reimann's Lear in Frankfurt and in some ways it is the same. In Offenbach the characters get given a name but in Shakespeare they don't. The 'Fool' has no family baggage but he is still important because he says cryptic things that are pertinent to the moment. With Shakespeare they entertain us or philosophise but of course with Offenbach they are only commentators about what is going on.

What is your idea about the four characters?

Well Andrès is a clever little know-all, he is well-dressed and has a position in society - somehow he has money though maybe he made it illegally. Cochenille in the Olympia scene is one of Spalanzani's creations that is not working 100% - certainly not as well as the doll, Olympia, but even she breaks down in the end. Pittichinaccio is somebody else entirely and gets Giuletta at the end of the Venice scene. At the end there is Frantz the old and doddery servant. It is quite fascinating to portray these four different people. I can call on characteristics that I see around me on the street or on the underground or on a bus.

Although an early important public performance was here at Covent Garden and you were not too long ago back here as the Captain in Wozzeck you have not sung as often here as some other opera houses throughout the world. Why is this?

Well don't forget that for many years I was a member of ENO. I have sung in most of the world's major opera houses but oddly enough I haven't been to Australia and it was an Australian, Richard Bonynge, who got me into the opera business through performing in this opera house.

Before I came into music I worked for the Sports Council in England and after a promotion in the mid 1970s I had flexi-hours and I took singing lessons as a hobby with Bruce Boyce who was based in London. I thought, 'why don't I start singing in one or two choruses in some of the festivals to broaden my knowledge?' When I was in Wexford I was approached by somebody who wanted to represent me. My initial reply was 'No thank you as I have a fabulous job and am only doing this as a hobby.' When I was told it could be just for extra work at weekends or when I was free I thought that would be fine but I never wanted to be considered as a full-time singer. Very shortly after that, I was asked to audition for Richard Bonynge. At the time I didn't even know who he was until I was told he was Joan Sutherland's husband. The audition didn't go that well I thought, but a message came back a couple of days afterwards that Richard would like me to sing at a gala for the Darwin Hurricane Relief Fund at Covent Garden in ten day's time then go to Vancouver the following Spring to sing Camille de Rosillon in a new production of The Merry Widow. I didn't know what to do but I certainly wanted to do the gala. Although it didn't go as well as I wanted to because of the big occasion, Scottish Opera's Peter Hemmings heard me and invited me to audition for them. That must have gone well because they offered me a full-time contract. So that was how I started in opera.

I had been working for the Sports Council for four years and to be truthful had itchy feet. I felt that something was happening now in my life and it was a chance I would regret if I did not pursue it. The Sports Council were very good and said they would have me back if it didn't work out, so I went to Scottish Opera in 1975 as a totally raw beginner and started to learn the business; and that's how I came into it. It's been a big learning curve ever since and I'm still finding things out. I didn't know these four Hoffmann characters before I began to rehearse them, neither did I know Narr in the Reimann opera I've just done, and I recently sang Aegisth for the first time. I'm still finding roles in my late 60s I can do for the first time and it is a great thrill - and when I started never dreamt that could happen. I was a total philistine as I hadn't the training or the knowledge of people who had been to music college so I had to learn by doing. Now clearly there will be things that work and others that do not. There are some things I clearly wouldn't want to do again and in which I fell flat on my face and there are others which I've really enjoyed doing and have been able to come back to several times and make it better each time.

The great joy is to approach everything as though it is the first time. Anyway, it is always a different situation and it's never the same twice. It's a different opera house, different colleagues, different conductor, different production and different costumes. I love rehearsals and every time you do something, you can find something new : and even with these four characters now, though they have very little to say. But each time they sing something it is pertinent and I have got to find the right pacing and precision for it and that only comes from doing it over and over again and trying it out while rehearsing.

I wonder whether you have watched the DVD of this Schlesinger production.

I have deliberately not, although I have bought it and might put it on after the first or second performance. I don't want to be conditioned by someone else's approach and it has been great to be confused and baffled as we have gone through the rehearsal as to what I do next. It's been a challenge each day. The revival director, Christopher Cowell, is extremely well prepared and we've been putting it together very carefully. It's been analysed, broken down, stopped and started over and over again, so although it is a revival he has gone back to what was John Schlesinger's original vision as far as possible and recreated that. The choreographer Eleanor Fazan, has been in on rehearsals all the time and she remembers what the original impetus for the various things was. We've been rehearsing for three weeks already with about two more to go and that is a lot of time for a revival. Very often some of the big opera houses would throw something like this on in three days and it can founder but we have had the luxury of being able to really produce it. Tony Pappano has been there almost from the beginning so there have been lots of music calls and lots of proper preparation. We break it down, we analyse it and try and get it right. Offenbach is not as easy as some may assume since it is not what I call 'skit and dance' operetta; it's semi-dramatic opera and has a different dimension to it.

You have worked with Tony for many years haven't you?

Tony was a répétiteur when we did the Ring in Bayreuth in 1986 with Daniel Barenboim and indeed he was his main assistant right from 1988 to 1992 so we worked intensely on the Ring for five years and they were golden days.

You were in Bayreuth for 16 seasons from 1981 to 2004. How did you first get to sing there?

My first Wagner was Balthasar Zorn for Scottish Opera and when Hans Hotter came to Scotland for a masterclass I was asked to study David from Die Meistersinger with him and from that I was asked to audition at Bayreuth. I went to Bayreuth to sing David without knowing anything much about Wagner and my knowledge of him grew by seeing all the operas during my first four summers there. I saw a tremendous range of productions and performances of the Wagner repertoire and it was when I saw Solti's Ring in 1983 that I felt Mime and Loge were roles I could do something with. I was asked to audition these for Wolfgang Wagner and I was subsequently invited to sing them in the Barenboim Ring. In the case of my Wagner, Bayreuth was my training ground and everything has snowballed from there. David Syrus, head of music at the Royal Opera, was working at Bayreuth at this time and I had a lot of study with him in the early days on Die Meistersinger and then on the Ring; and then Tony Pappano came in 1988 for the Ring and we have worked intensely since. From then I have since been in more than 250 performances of Der Ring des Nibelungen.

I see you will be singing Mime again next year in Los Angeles.

Yes, I'm going to have one more go and couldn't resist it. It's been my bread and butter but the role is incredibly demanding and interesting and as with all classical works there is so much one can find in it. It's a brand new production by Achim Freyer whom I know but have never worked with. Jimmy Conlon is conducting and he came to Scottish Opera when I was first there in 1976 to do Macbeth with Vishnevskaya and that's how far back I go with him! It is about my 21st or 22nd Ring production - I've lost count - but the Ring is the Ring and what more is there to say? I never tire of it.

For many of us your Mime in a dress for Richard Jones here at Covent Garden was unforgettable.

It was an interesting idea because there is an unwritten story of what happens at the end of Die Walküre ; we do not know what happened when Sieglinde gave birth to Siegfried. Did Mime kill her? Was the baby thrust into his arms and was he forced to take him? Did he even see the birth? Did he snatch the child and kill Sieglinde? We don't really know. For 16 or 17 years he has been carrying out this deception with Siegfried 'Ich bin dir Vater und Mutter zugleich' (I am your father and your mother). Finally Siegfried has realised something is wrong but for a long while Mime had got away with it and wearing the Sieglinde's cast off dress was actually very valid as well as being very spooky. I thought that was a really fabulous production and for me the best thing was those final moments when Mime thinks he is winning. He has the poison in his hand and now I sang 'Nun, mein Wälsung, Wolfssohn du!' (Now my Wälsung, you Wolf's son) and ripped off the dress. It was wonderful.

You recently put on a dress again as the Witch in Hansel und Gretel for Welsh National Opera and will sing the role again next year in Japan.

It is very bizarre and I'm not sure it is right for a tenor to do it to be perfectly honest, but that's why it is fascinating. I think the bizarreness of hearing a male voice singing 'Hocus pocus' is very strange. My grandson hated seeing me as the Witch when he was younger. In a sense that is the point of the piece as the Witch is supposed to be a hideous scary person and it is not simple pantomime. It is slimy, nasty music with extraordinary sounds; it seems as though it should be funny and jovial when in fact it is utterly demented.

You talk about things that have worked and mention things that haven't. Can you give an example of something that didn't work well for you?

Well certainly it was the Italian repertoire that I started with and ran from as it was not right for me. Rodolfo was the last Italian tenor role I sang. I came into all this, as I said, as a philistine. My mother loved Italian music and my teacher schooled me in Italian technique and was besotted by Tito Schipa, Carlo Bergonzi and all the really good Italian tenors. The more I did Italian opera at Scottish Opera and ENO I realised the tenor characters were a little bit vacuous and rather two-dimensional, apart that is from Rodolfo who is a real male chauvinist. For Italian music you need red wine and sunshine in your voice and I did not have that. So I turned down Jonathan Miller's Rigoletto and Arthur Davies came from Welsh National Opera and did it and I swapped with him to do The House of the Dead. It was a watershed for me. Since then I have found more of the psychologically challenging people I prefer performing, in North European music than Southern European music.

Also I found coloratura hard to do too as it didn't come naturally and although I did Cenerentola a lot of times it was never easy for me. Certainly those things were never right for me and one of the great secrets of any job is to find out which things work best for you, concentrate on those and make it work – this not only applies to being a singer it also applies to any walk of life.

Do you still take the opportunity to do masterclasses?

Yes, as much as I can and the Opera Studio has just asked me to do one between my performances here in December. In fact, I loathe the title 'masterclass' because it immediately starts hinting at a hierarchy and can intimidate a student or make the teacher who is supposed to be the 'master' assume a posture of some sort. I just call them classes and we are learning together, trying things out together as working situations. So I don't really teach. I try to help the singers to have the confidence to express their intuition. They must of course have a technique but I never work on technique. If they crack a note while we are working it doesn't matter because they won't do it twice, as next time they'll find a way round the problem. I never use the word 'no' and never put anybody down. I try to give them the chance to express themselves. It is always very interesting that the more you do it, the more time is spent just speaking the text. I like to see how the imagination is ignited and sparked; it is often good if they can go away and think more about it and maybe come back in 3 or 4 months and have another go. I work on the grey area between learning a role and doing it.

During the two months I recently spent in Frankfurt I had two Loges and a Mime come to me who I didn't know before and they wanted to go through these roles with me. It is a joy to help the next generation and see what they can come up with. There is no one correct way of doing these pieces and to see someone young approaching this music for the first time is extraordinary because often I get new ideas too from this.

I have heard you talk before how important a deep understanding the text is to a singer. Can you say more about this.

As I have said that in the classes I do I spend a lot of time talking about the text and personally even for the Hoffmann here, I have been going to the French coach to talk through my little phrases and the little aria I have to do to find the appropriate nuances in the text. After all we are telling a story. The composer has written specific text to music and even if it is a Handelian aria with repetitive phrases there is a specific reason for the construction of the text within the music and I am keen to explore that. I find if singers do explore the text more, it makes for a difference in personality and performance and this is what I try to do in my classes.

I remember the late Horst Stein in Bayreuth when we did all those Die Meistersingers because he was singer as well as a conductor. He schooled me a lot in the expression of the German language. When I had all that time in Bayreuth with Barenboim there was the luxury of time on our side, so there was a lot of rehearsal time for Siegfried and many musical sessions with Barenboim. In the first scene, Siegfried wants to know who his mother was to an enormous amount of music that dwindles to nothing and Mime tells him his mother died when he was born. Within 15 hours of glorious Wagnerian music he says 'Sie starb' (She died) with almost no music at all and immediately afterwards there is the Siegfried leitmotif since at that moment he was born. We spent a lot of time talking about how can you tell someone your mum died in childbirth. Is it a beautiful moment or a horrible, extraordinary or frustrating one? Do you sing it as one continuous 'Sie starb' or do you pause and sing 'Sie …. starb'. There is no one right answer but there are millions of possibilities and this is the joy of the job.

I wish you much more joy in the future, what are you looking forward to?

I hope to be possibly back here at Covent Garden next season. There is also a new opera I am in discussion about but can't say much at this point. I'm still learning new music in my late 60s and have still the curiosity for something different; the curiosity to repeat things I've done before and the hope that I can find another answer for: and the curiosity to extend myself and find out more about the business, particularly the individual operas themselves and about character and about personality. I haven't lost that yet and I hope I never will. It's been an incredible ride. I love coming to rehearsals and one of the best things is to be able to rub shoulders with extraordinary talent. The people I work with are amazingly good and I am always thrilled by their knowledge, understanding, intuition, ability and sheer expertise. I have never asked for a role in my whole career and I am hugely grateful for things that have been thrown my way. The job between performances is a holiday and the travel is a joy. I never dreamt when I was 24 or 25 this is what I would be doing now. I'm still going – I'm 67 – and I'm still clinging to the wreckage!

© Jim Pritchard

Performances of Les Contes d'Hoffmann begin on 25th November and the last performance is on 13th December. Visit www.roh.org.uk for further information.