Other Links
Editorial Board
Editor - Bill Kenny
London Editor-Melanie Eskenazi
Founder - Len Mullenger
Google Site Search
SEEN AND HEARD INTERVIEW

Jim Pritchard talks to the Royal Opera's Jokanaan
: An interview with the distinguished German baritone Michael Volle (JPr)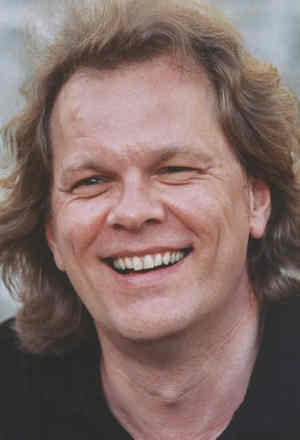 Michael Volle - Photograph © Anne Kirchbach



Michael Volle has received glowing reviews for his role debut as Jokanaan at Covent Garden in David McVicar's new production of Salome and there have been words and phrases such as 'muscular', 'of Wagnerian stature', 'a caged, wounded tiger' and 'mighty in tone and presence' from leading critics. This last phrase also aptly describes my reaction when he greeted me at his dressing room door to talk about these performances, other recent roles and his background as a singer. He was apologising for being late for our talk and as I sympathised with the fact that he had been stuck in a tube train unable to use his phone we almost both shrugged in unison saying similar words - he said 'Well that is London for you' and I muttered 'Welcome to London!'

I wondered whether he was enjoying singing Jokanaan.


'Yes very much indeed. It is a long time since I did some Strauss and that was in Der Rosenkavalier and Ariadne. I could not sing Jokanaan until recently because as we say in Germany "Boys are always a bit later in their development" and although some are faster I took my time.'


What was it like to view his own decapitated head?


'When I told my elderly mother about it she said she could never come and watch it and see that. I was not really frightened by it but it is really very impressive to see yourself without a body and bleeding like that. I had a one hour photo session last summer when they took hundreds of photos with different facial gestures and then they created this incredible head that you can recognise is me from the back row of the theatre. It is really very well done and so realistic.


Had he worked with David McVicar before and how does he enjoy his ideas on the role?


'I did the revival here at Covent Garden of his Le Nozze di Figaro in 2006 not with him but with his assistant and was really happy with it. So I was pleased to know he was to direct my first Jokanaan. I have not of course sat in the audience but I have felt very comfortable on stage. We have been very close in our ideas about the character and he has given me a lot of freedom. We talked about what situation this Jokanaan was in because there are various things to do with this role and one is just to sing his prophecies and curses and just disappear again into his prison cell. David McVicar wanted to show more of the fanaticism and heretical side of things to make it all more contemporary.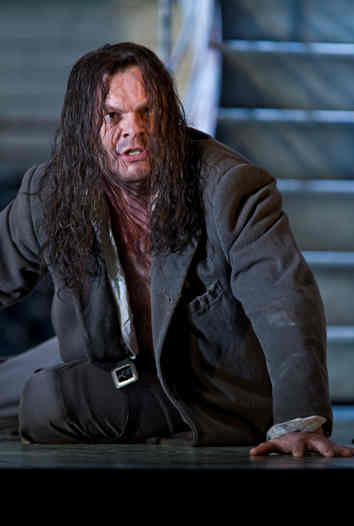 Michael Volle as Jokanaan - Photograph © Clive Barda



How did he become a singer?



'I was very lucky to be born into a protestant priest's family in the south of Germany with seven brothers and sisters. We grew up with baroque music because everybody had to sing in the church choir, had to learn an instrument and often had to play in the brass ensemble. There would never be a Christmas Eve without music in the house. So this was the perfect start for me. Then a teacher further encouraged me by showing me the joy of music and I began to play with friends in a little orchestra, then I studied music and after a while not knowing what I wanted to do I felt more and more I had to be involved practically in music. I'd started a very good ensemble of contemporary musicians in Stuttgart and then I had to decide between changing from the violin to viola or singing. With some good advice I chose singing and then it took about seven years until my first contract in an opera house. It was in hindsight a lot of very happy circumstances with the right person at the right time there to point me in the right direction.

Yet when I started singing in southern Germany opera seemed very far away. There music was very important because of the religious situation and as a student in music high school you could sing Bach cantatas every Sunday morning in several churches and this was an important lesson for me, only then were there the first steps towards opera. If you grew up with baroque music there is firstly Mozart, possibly Wagner and Richard Strauss but never Verdi or something like Onegin.'

I wondered how he considered his voice had changed and might be still changing and what effect this might have on his career.

'I took that time growing up with church music and I did not have, as I can only describe it, a feel for my voice in the body. It took a long time with some wonderful teachers, including Rudolf Piernay, here in London at the Guildhall School of Music, who brought me step by step to where I am today, as well as, of course, learning by being on stage doing a role. With Jokanaan and with one or two other roles such as Amfortas that I sing and Tamare in the Schreker opera, Die Gezeichneten, I did in 2005 at the Salzburg Festival, it is not a question of being loud but of being in control of the intensity in the voice. It does not mean that as time goes on you have to lose any flexibility or the lightness and ease needed in the baroque or your ability to do good phrasing, you keep all that way of singing but the voice is growing in range and volume. I know I can now sing Jokanaan without any forcing and I have been pleased to be told that my voice is big enough for all the words to be heard clearly. I believe it is possible to sing Mozart and Verdi, then a Schubert recital and then Wagner and Strauss. I never want to lose that lightness in my voice until the end of my singing days.

Well as for my career? As a German once you succeed in one style you only seem to be hired for that. I was told by the leader of a really big opera house in Europe once that I would be fine for Strauss and Wagner and that was it, they were not sure about Mozart. This does not seem to be the same for British, American, Russian or Italian colleagues, just for us Germans. Nobody – and quite rightly – complains if Plácido Domingo sings Wagner because his voice is perfect for it. My teacher Joseph Metternich after the Second World War was one of the first -and until now nearly the only one - who sang as a German baritone in New York and in Milan as Scarpia and Rigoletto and then the next week sang Wagner or Strauss. It was possible then but not now it seems because of all the categories you can get put in.'

He had mentioned Wagner and I had been in Bayreuth last summer to see him as Beckmesser where the character goes from pedant to performing artist and wondered what he thought about it.

'The character was wonderfully developed but of course a lot of it is in the role already as Beckmesser goes from being one of the winners to become a bit of a loser, and this was taken to the extreme in the third act of this production. I thought Katharina Wagner and her team created some really impressive stage pictures and there were some interesting ideas but I was not pleased with everything - but that can happen. I will be doing it again this summer and although things will change I am sure the principal concept will be the same. It was not the big scandal that was expected because it was not something totally new. Katharina Wagner is not even thirty and it was amazing how she handled all the media hype: she is a very tough person and it will be interesting to see how her way of directing develops. Being in Bayreuth is a great experience and it has a special atmosphere; there was a really good family feel to the place but maybe that might not be the same now after the death of Gudrun Wagner but I hope not. Let's wait and see. The problem at the moment is that Bayreuth does not always attract the quality of singers it once did but since the orchestra and chorus are really amazing that is a shame and should be attended to immediately.'

Seeing how he has had contracts at a number of European houses and now is contracted to Munich I asked how important this was to him.

'I like to come home to a familiar atmosphere and it is not just because we are talking in the dressing room of the Royal Opera House but this house is one of the best places I have ever worked in. In this place every section of the work is so well organised and it is so friendly and professional. Munich too is a very good house and I will have a certain amount of freedom to do the other work I want to. There is a big change in the leadership of the house there so we must wait to see what happens. I hope to return to Zurich in some projects as I was there for eight seasons because it is wonderful there too. But I am also coming back to London more often and will be singing in the new productions of Lulu and Tristan und Isolde that Antonio Pappano will conduct.'

I understood that he will be continuing to combine the opera work with appearances on the concert platform. Was that also to keep the flexibility in his voice he talked about earlier and what does he most enjoy singing?

'It is partly because it is healthy for the voice and it is also because my heart needs it too. There is a time when I need my St Matthew Passion and at Christmas I need the Christmas Oratorio and more and more I want to do recitals. It is such a big pleasure and it is also good for the brain not to be doing the same thing all the time. For me in recital, it is a never-ending treasury of songs. Schubert's Winterreise is one of the summits to strive for, there is Wolf, Brahms, Schumann but then there are many other countries worth discovering – I love Russian music very much and would like to do Rachmaninov, Mussorgsky or Tchaikovsky. Then there are Scandinavian or French ones. I also admire people such as Bryn Terfel who sing Vaughan Williams and Walton songs.'

I had brought with me Michael Volle's new CD for Oehm Classics on which he sings 'Songs by Great Conductors' (that also features Petra Lang) with Adrian Baianu as pianist. I noticed this project had been ongoing for a few years and wondered how these songs had come to be recorded.

'I did my recordings in 2004 but Petra did hers last year and now it is being released and I am very happy about it as it is very interesting. I have done rare opera like the Franz Schreker one in Salzburg - he was another conductor. That is also very impressive but like these songs of other great conductors it will never find a way into the mainstream repertoire. Some of the songs I sing by von Bülow, Bruno Walter and Clemens Krauss on this CD are very special. Particularly if you do a song from a poem that has been set to music before – I have sung Heine's Tragödie by Schumann many times – here the composer is Bruno Walter and naturally subconsciously while you have some expectations, you then study it and discover something new. It is really very interesting here and elsewhere in these unfamiliar works to hear the different colours in them influenced by musical history or by experimenting with the harmony or by taking steps in another direction than you expect.

Adrian Baianu works at the Munich Music High School and likes to look for rarely performed things and he also did a recording with Andreas Schmidt and Susan Anthony of Humperdinck Lieder. He was kind enough to ask me and I do a lot of opera and a few concerts but not yet that many recitals so I am happy any time I can. Also the recording market is very bad and if you have the possibility to do something it is good that it is unique. Adrian and I have done recitals and we did Brahms's Die schöne Magelone with my brother as narrator; and Adrian is a powerful performer with strong wide hands that you need for this sort of repertoire.'

You mention you sing Amfortas and I know you have sung that not so long ago with Bernard Haitink in his return to opera after many years that must have been quite special?

'Oh what an experience that was! It was marvellous. I had sung it before in Zurich and a DVD is to be released from the performances conducted there by Bernard Haitink and I will sing it again with Kent Nagano in Munich. The role is somewhat like Jokanaan in that the others have more to sing and it is very compact. Haitink does not do very much but the strength, positive power, energy and compassion he transmits in rehearsals and performances is incredible. He is such a shy man and so very modest yet there he is at nearly eighty years-old able to conduct this difficult piece and maintain the musical line through the long lengths of the acts. Matti Salminen my famous colleague who was singing Gurnemanz for the 250th time told me he was deeply impressed by the man and his humanity and the way he conducted the opera.'

What roles is he looking most forward to doing in the future?

I like to do characters where I have some development and I can delve into their personalities. I am looking forward to Dr Schön and Jack the Ripper in Lulu and I will sing Wozzeck in Munich, Golaud in Pélleas as I adore French opera, of course the Count in Figaro, an although I probably will do Pizarro in Fidelio there is no development there. I hope I will sing Hans Sachs one day too as not only is Meistersinger an incredible opera but it is one of the most interesting parts as he has to show so many different sides to his character. It is also a very difficult part and very long.

I will be singing Barak in Strauss's Die Frau ohne Schatten in the future and Gunther in the new Ring cycle at the New York Met. I want to sing more recitals and will do more concerts and look forward to working with wonderful colleagues and musicians.

And even if I have to buy my own opera house and find my own crew I want to do Italian opera and wish I was asked more for it. I am not arrogant but I am sure everyone would like it if I did Germont in Traviata or Posa in Don Carlos. I already do a lot of Marcellos in Bohème and I sing Ford in Falstaff and like that him very much. As I am sure I will sing Hans Sachs I am equally sure I will sing Falstaff himself one day.

At this point the brief time that the London Underground system allowed Michael Volle to have with me was over and it was time for him to prepare for that evening's performance. Arrogant he certainly is not and he was - as I hope this interview shows – very informative about his life and insightful about a singer's career in the twenty-first century. I am especially hoping I can be there when he sings that first Hans Sachs someday, as it should be quite an evening.

© Jim Pritchard

Ba
ck to Top
Cumulative Index Page