Other Links
Editorial Board
UK

Editor

s

- Roger Jones and John Quinn

Editors for The Americas - Bruce Hodges and Jonathan Spencer Jones

European Editors - Bettina Mara and Jens F Laurson

Consulting Editor - Bill Kenny

Assistant Webmaster -Stan Metzger

Founder - Len Mullenger
Google Site Search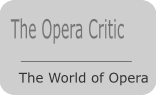 SEEN AND HEARD INTERNATIONAL OPERA REVIEW


Rautavaara, Aleksis Kivi: reprise premiere at the Finnish National Opera, Soloists, Finnish National Opera Orchestra / Mikko Franck Almi Hall, Helsinki, 15.2.2011 (GF)

Directed by Pekka Milonoff
Sets by Eeva Ijäs
Costumes by Niina Pasanen
Lighting design by Juha Westman
Choreography by Ari Numminen
Cast:
Aleksis Kivi - Jorma Hynninen
August Ahlqvist - Timo Torikka
Charlotta - Riilka Rantanen
Hilda - Pauliina Linnosaari
Young Alexis - Ville Rusanen
J L Runeberg - Tobias Zilliacus
Mikko Vilkastus - Aki Alamikkotervo
Uncle Sakari - Matti Turunen
Junki - Aki Alamikkotervo
Siivo - Olli Tuovinen
Kristo - Jussi Merikanto
Olvi - Risto Pulkamo
Krasse - Simo Mäkinen
Kuku - Jeremias Erkkilä
Vanha pakana - Matti Turunen
The eighth brother - Teppo Virtanen
Aleksis Kivi (1834 – 1872) was a groundbreaking Finnish author insofar as he wrote the first important novel in Finnish, Seitsemän veljestä (Seven Brothers). Up till then, Swedish was the literary language in Finland. Kivi also wrote poetry and about a dozen plays. He was quite successful at first, winning the State Prize for the play Nummisuutarit in 1865, but after Seven Brothers was published in 1870, he was heavily criticized for the unflatteringly realistic description of the Finnish people, most prominently by August Ahlqvist, who led a campaign against him. This resulted in heavy drinking, and later in schizophrenia, and Kivi died in poverty at the age of 38.

The Finnish baritone Jorma Hynninen suggested in the 1990s to Einojuhani Rautavaara that he write an opera on Kivi's tragic life, and Rautavaara, who had himself contemplated an opera along those lines, set to work. As is his wont, he wrote the libretto himself, incorporating quite a number of quotations from Kivi's literary oeuvre, which lends true authenticity to the opera. It was premiered in 1997 at the Savonlinna Opera Festival with Hynninen in the title role, and was first seen at the Finnish National Opera in 2009. In 2002, it was recorded by Ondine, again with Hynninen and an all-star cast, including Gabriel Suovanen as the young Kivi.
Stylistically, the music is very diversified. 'It has become ever more important to me to build a synthesis of the many stylistic courses and techniques that during the last almost five decades have been born in my music', Rautavaara writes in the programme book. There are twelve-tone rows juxtaposed against tonal harmonies. The fiddlers in Act III play variations on a polska emanating from the composer's Opus 1, Pelimannit and the student chorus sing a national romantic song, which I suppose is authentic. Harsh chords, even chaos, dramatic eruptions and airy sounds succeed each other in a score that sensitively follows the ebb and flow of the drama. As Kivi's mental state becomes ever more unstable, surrealistic episodes are woven into the action, even burlesques, like the scene where the aged and senile national poet is brought in, sitting in a wheel-chair. This role, as well as the towering role of August Ahlqvist, are spoken and, in the latter case especially, the reason is obvious: a man who is so evidently hostile is not worthy of music. Important roles are also played by seven male singers, referring to Kivi's Seven Brothers, who appear in sundry disguises and there is also that eighth brother, who is a mime and serves as a wordless commentator through his body-language. The two female roles are also important: Charlotta, Kivi's protector and her pupil Hilda.

The opera opens with ominous sounds and a bass clarinet plays a long solo. The old Kivi – well, he is only 38 but his hard life has taken its toll –has a vision of his old detractor Ahlqvist. Then we are transported back to his happy years and his younger self, but Ahlqvist soon appears and condemns the young author's aesthetics and the first act ends in gloom. In the following two acts, we follow the grown-up Kivi's gradual decline until, in the epilogue, he meets his younger self and the two sing a duet, whereupon the opera ends with a final song about the Groves of Tuoni, the kingdom of the dead.

Aleksis Kivi is played in the Finnish National Opera's intimate Almi Hall, seating about 500, and the closeness no doubt contributes to the involvement of the onlookers. It is almost impossible not to be affected. It is a deeply touching performance, the chamber-size orchestra play superbly and the sets and lighting are generally very beautiful. Rautavaara's music also goes directly to the heart. Long passages are honestly among the most beautiful I have heard anywhere - most of all in Kivi's solos, but everything is deeply felt. The duet between the young and old Kivi is a stroke of genius and old Kivi's final song is celestial. The only thing I regret is the absence of surtitles, but I suspect that my wife and I belonged to a very small minority unable to follow the Finnish.
It is of course a special treat to see and hear a singer in a part he or she has created, in this case even commissioned. It was with a shudder of delight that I heard Britten's War Requiem some twenty-five years ago at the Royal Festival Hall with Dietrich Fischer-Dieskau as the baritone soloist, and this performance of Aleksis Kivi had the same aura. Jorma Hynninen will be 70 on April 3rd this year (2011) and no one hearing him can believe that he is a day over fifty. The power, the beauty of tone and the intensity of declamation is still fabulous. After a career of more than forty years, he shows no signs of the tear and wear that mars the voices of many singers half his age, and his stage presence and identification with the poor author's mental disorder gives a totally convincing picture of a decaying personality.

As his evil genius, August Ahlqvist, Timo Torikka is just as convincing in a histrionic reading of the role, and when - before Kivi's eyes - Devil's horns grow from his forehead, he is Satan personified. The supporting cast is excellent: Ville Rusanen as the Young Aleksis, Riikka Rantanen's noble Charlotta and Pauliina Linnosaari's warm Hilda. Tobias Zilliacus's portrait-like Runeberg is the comic element here, played with breakneck virtuosity, and Aki Alamikkotervo's sharply etched Mikko adds another memorable character role to his long list of successes.

I do hope that Aleksis Kivi will stay in the repertoire and urge readers who have plans to visit Helsinki to check the National Opera's homepage for the next revival of this remarkable opera (www.operafin.fi) The second best alternative is to get hold of the CD-recording (Ondine ODE 1000-2D), but the visual aspects no doubt enhance the experience of the work.

Göran Forsling