Other Links
Editorial Board
UK

Editor

s

- Roger Jones and John Quinn

Editors for The Americas - Bruce Hodges and Jonathan Spencer Jones

European Editors - Bettina Mara and Jens F Laurson

Consulting Editor - Bill Kenny

Assistant Webmaster -Stan Metzger

Founder - Len Mullenger
Google Site Search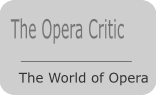 SEEN AND HEARD INTERNATIONAL CONCERT
Kurt Weill, Knickerbocker Holiday: Soloists, Collegiate Chorale, American Symphony Orchestra, James Bagwell (Conductor), Ted Sperling (Director), Alice Tully Hall, New York City, 25-01-2011 (SSM)

Music by Kurt Weill
Book and Lyrics by Maxwell Anderson      
Concert Script Adaptation by Ted Sperling and Edward Barnes


Main Cast
Brom Broeck: Ben Davis
Tenpin: Christopher Fitzgerald
Peter Stuyvesant: Victor Garber  
Tienhoven: David Garrison
Tina Tienhoven: Kelli O'Hara
Washington Irving: Bryce Pinkham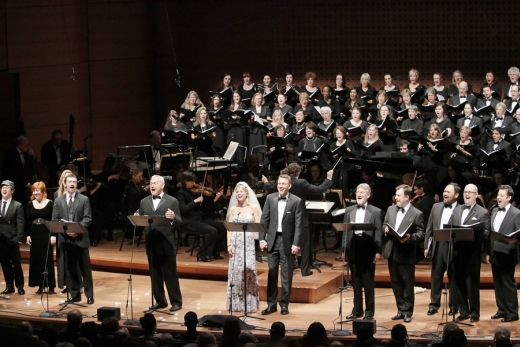 Entire Cast of Knickerbocker Holiday
Photos by Erin Baiano


There was some question in my mind as to whether there was any precedent in my submitting a review of a Kurt Weill musical to Seen and Heard. In a site search, Kurt Weil's name appears only about half a dozen times. One is a review of his One Touch of Venus  (a rave review, by the way). Another is a piece on a three-day festival of Weill's music held at the Barbican Centre in January 2000, the centennial of his birth and fiftieth anniversary of his death.
 
Yes, this is unquestionably a musical theater piece, but certainly not on the order of The Addams Family, The Lion King or Mary Poppins. There is much silliness in both the plot line and the acting, but Maxwell Anderson's introduction to his libretto makes it clear that this is not a lighthearted musical. Anderson writes of the play as a polemical vehicle meant to convey his nearly anarchic beliefs. He calls government a business that has a tendency to turn its members into gangsters, terrorists and plunderers who then hide their evil qualities behind a facade of patriotism. One line from the play spoken by Stuyvesant and quoted in Anderson's introduction is emblematic of his politics: the belief that government is nothing but a protection racket perpetrated upon its citizens by the assessing of exorbitant taxes.


Anderson's intentions are certainly not those of a benign lyricist. Even the most innocuous melodies that Kurt Weill could produce contain elements of Anderson's political agenda. In the song "What is an American," Anderson writes that a true American hates police and the legal system for one simple reason: a true American never does anything he is ordered to do.


This collaboration between Weill and Anderson mirrors Weill's more famous collaboration with Bertolt Brecht. In both Brecht's and Anderson's writing, politics peeks out from behind the curtain of their most famous operas and musicals. Radical statements are made but in contexts and situations that hide much of their radical rhetoric. For a new immigrant like Weill who wanted desperately to rid himself of his German heritage and be accepted as true-blue American, Anderson was certainly a strange bedfellow.  


The musical tells the story of Peter Stuyvesant's arrival from Holland to take the position of Governor of Dutch New Amsterdam. Everyone in the play is corrupt except the two young lovers, Brom, the Nelson Eddy to Tina's Jeanette MacDonald. (Eddy did play the role of Brom in the 1944 film version of the musical.) Peter Stuyvesant's governorship is simply a transfer of power from a corrupt council to a tyrant. The subplot contains elements of the Marriage of Figaro, but certainly not the genius of either the librettist, Da Ponte, or the composer, Mozart. Both Anderson's Tina and Da Ponte's Susanna are being pushed into conjugal relationships with their superiors. Both plays end with the true lovers conquering all, while their superiors learn the wickedness of their ways. The envelope that wraps this play's plot and makes for some ironic and amusing theater is that everything going on here is taking place in the mind of Washington Irving. Irving, played convincingly by Bryce Pinkham, speaks and sings directly to the audience and, near the finale, to the actors as well.


Weil's score is a charming one, and it was sung and acted with enthusiasm and spirit. The all-professional cast contained no weak links. For a show that had only two performances, it certainly seemed well rehearsed: the cast handled all the lines and lyrics with ease and confidence. The most famous tune, "September Song," could easily have become maudlin, but was convincingly and movingly sung by Victor Garber. Kelli O'Hara's operatic voice seemed a bit out of place; none of the male cast members sang operatically. All of her songs might have sounded better without the amplification that did no justice to her upper range. In fact, the entire production would have gained in musical clarity without the amplification, even if the audience missed a few words. The orchestra and chorus clearly enjoyed what they were doing, and the conductor led both groups with a clear understanding of that era's musical style.       
  
    
Stan Metzger
Back to
Top
Cumulative Index Page