Other Links
Editorial Board
UK

Editor

s

- Roger Jones and John Quinn

Editors for The Americas - Bruce Hodges and Jonathan Spencer Jones

European Editors - Bettina Mara and Jens F Laurson

Consulting Editor - Bill Kenny

Assistant Webmaster -Stan Metzger

Founder - Len Mullenger
Google Site Search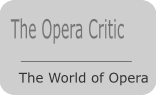 SEEN AND HEARD INTERNATIONAL CONCERT REVIEW


Haydn and Shostakovich
: Jonathan Pasternack (conductor), University Symphony, Meany Hall, Seattle, 24.2.2011 (BJ)
It is some indication of the quality of the University of Washington's symphony orchestra, and of Jonathan Pasternack, who took over this season as its conductor, that their performance of Shostakovich's epic Eleventh Symphony could creditably withstand comparison with those given in recent years by distinguished professional ensembles. By contrast, for that matter, with the effect of "a well-drilled machine, not a genuine breathing organism" that I described in reviewing Valery Gergiev's Kirov Orchestra performance of the work several seasons back, what Pasternack and his enthusiastic players achieved in the hurtling rhythms of the second movement was a veritably terrifying intensity of manic fury.
This was a performance of commanding authority, not only in such extrovert passages, but also in the inward-turned self-communing of the opening "Palace Square" movement and the "In Memoriam" Adagio, where the viola section covered itself with glory. I will not suggest that the UW Symphony is the equal of the Seattle Symphony-which under Gerard Schwarz's direction has given the two finest performances of the Eleventh I have ever heard-but there is no shame implied in that admission. I had the feeling on this stimulating evening that many of these players may well be on their way to substantial careers, while Pasternack is clearly an interpretative force to be reckoned with.
The concert began with Haydn's Symphony No. 88, which was played with wit, charm, and a fair degree of stylistic insight. The gorgeous slow movement flowed beautifully, and the little hesitations in the returns to the finale's main theme had just the right touch of drollery. The weak-beat accents in the third movement's trio section could have done with a touch more emphasis, and I thought it odd that, having observed the minuet's first-section repeat in the da capo, Pasternack elected to omit the second one; but this movement, too, was played at a thoroughly appropriate tempo, and it came off a treat.
Bernard Jacobson