Other Links
Editorial Board
UK

Editor

s

- Roger Jones and John Quinn

Editors for The Americas - Bruce Hodges and Jonathan Spencer Jones

European Editors - Bettina Mara and Jens F Laurson

Consulting Editor - Bill Kenny

Assistant Webmaster -Stan Metzger

Founder - Len Mullenger
Google Site Search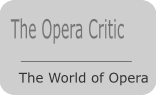 SEEN AND HEARD INTERNATIONAL CONCERT REVIEW


Liszt:
Jean-Yves Thibaudet (piano), Carnegie Hall, New York City, 2.2.2011 (SSM)

Liszt: Consolations, second version
Les jeux d'eaux à la Villa d'Este
Deux légendes
- St François d'Assise: la prédication aux oiseaux
- St François de Paule marchant sur les flots
Meine Freuden from Chants polonais (after Chopin)
Ballade No. 2 in B Minor
Isolde's Liebestod from Tristan und Isolde (after Wagner)
Tarantella from Venezia e Napoli
Encores:
Liszt: La cloche sonne
Cherkasky : Prélude pathétique
Brahms: Intermezzo in A Major, Op. 118, No. 2


This recital by Jean-Yves Thibaudet had the same program as the one reviewed by my colleague Harvey Steiman on 26-1-2010 at the University of California ; the only difference was one additional encore played here.
It is not unusual to feel ambivalent about certain composers. One of my first classical LPs was the soundtrack to the romantic film biography of Franz Liszt, Song Without End. My parents refused to let me go to a movie that would now be rated G, and I accepted this album as a weak substitute. The LP was my initial introduction to Liszt: a 51-second excerpt from Les Préludes, a 4-minute medley of themes from the First Piano Concerto and Hungarian Fantasies and one movement in common with Jean-Yves Thibaudet's recital, the third consolation. Once I discovered Bach I decided I had no further use for this frivolous music.
Much of Liszt's music is bombastic and frivolous, but certainly not all. He wrote a mammoth number of piano pieces; Leslie Howard's "Complete Piano Works" comprises about 100 CDs. Much of this music consists of imaginative and virtuosic paraphrases of popular operas and concert music of the day. Liszt's transcriptions include all nine Beethoven symphonies and all the major Schubert song cycles, plus hundreds of other medleys, referred to as "paraphrases," "illustrations" or "reminiscences" on music from Bach to Wagner and beyond. The transcriptions avoid virtuosity for its own sake, but tremendous demands are still made on the pianist.
Thibaudet chose for this recital Liszt's transcription of Wagner's Isolde's Liebestod from Tristan und Isolde. This work with its numerous crescendos and decrescendos can never quite replicate the growing tension created by a large orchestra, but Thibaudet might have been more effective in creating an orchestral sound had he been able to produce a greater dynamic contrast from soft to loud, particularly in the final crescendos.
The program eschewed Liszt's most popular compositions, except for the third Consolation, and instead presented rarely heard works. All were performed with tremendous élan and a blazing technique. Thibaudet made the most out of the opening Consolations, drawing out the work's Chopinesque melodies and dreamy harmonies. The impressionistic Les jeux d'eaux à la Villa d'Este from Années de pèlerinage with its continuous trills and tremolos sounds simpler to play than it really is. Thibaudet was able to get the right balance between the rumbling left hand bass figures and the right hand which plays at the piano's highest range, emulating the sounds of a fountain.
Imitation of nature's sounds continued in the first of the Deux Légendes ("St. Francis: Sermon to the Birds"). Working within a restrictive tonal structure, Liszt didn't have the musical license that Messiaen had when a century later he composed his Catalogue d'oiseux and 30 years later still, his Petites esquisses d'oiseaux. Liszt's score uses a G-clef for the left hand as well as for the right. Only in the final measures does any note go below middle C.

Chopin is again the creative source of Liszt's work in his Ballade No. 2 in B minor. This is a work on the level of any one of Chopin's four Ballades. With a potpourri of moods from near silent hymns to fiery chromatic runs, it is a textbook example of the Romantic piano form. Thibaudet captured every nuance and made its virtuosic runs seem like beginner's exercises.
The concert concluded with a tarantella, a classic example of amazing piano playing that was marvelous to watch but lacked any musical substance. Those in the audience lucky enough to sit piano-left were treated to a view of the pianist's hand disappearing in a rush of speed. Those on the right heard nothing more than empty notes.
Responding to the enthusiastic applause of the audience, Thibaudet returned to play three encores. The first two were simple, song-like throwaways, but the third was the substantial Brahms' Second Intermezzo, Op. 118, played flawlessly by this masterful performer.
With so much of Liszt's music now available in this anniversary year, it might just be the right time to weed through his hundreds of piano works for gems like some of the works performed by Thibaudet and perhaps begin to raise Liszt's stature from the frivolous to the divine.

Stan Metzger