Other Links
Editorial Board
UK

Editor

s

- Roger Jones and John Quinn

Editors for The Americas - Bruce Hodges and Jonathan Spencer Jones

European Editors - Bettina Mara and Jens F Laurson

Consulting Editor - Bill Kenny

Assistant Webmaster -Stan Metzger

Founder - Len Mullenger
Google Site Search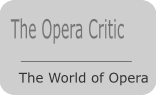 SEEN AND HEARD INTERNATIONAL CONCERT REVIEW


Brahms: Craig Sheppard (piano), Meany Hall, Seattle, 9.2.2011 (BJ)
Craig Sheppard's ambitious presentation of Schubert's last three piano sonatas in one recital was among the most memorable events of 2010 on the Seattle musical scene. This season the University of Washington professor of piano is concentrating on Brahms, and the results are again reaching exceptional levels of artistry.
The first two groups on this particular program were the Four Ballades, Op. 10, and the Eight Piano Pieces, Op. 76. Once again, pointed rhythm was among the most notable characteristics of Sheppard's playing, but no less impressive was the way he succeeded in catching the individual character of each piece with poetic insight, yet without any hint of mannerism or exaggeration. After intermission, his tone in the Three Intermezzos of Opus 117 sang in the way another recent Seattle performance of these subtly atmospheric pieces didn't.
In conclusion, we heard the wonderfully inventive and too rarely programmed Sonata No. 2 in F-sharp minor, where Sheppard captured the almost Lisztian exuberance of the opening salvos, the involuted sensitivity of the Andante, and the finale's alternations of surging afflatus and mysterious self-communing with equal authority. But perhaps the greatest moment came with the trio section of the Scherzo: here, sonorously rendered on Sheppard's own Model D Hamburg Steinway, the tune emerged with majestic splendor. Describable almost as a sort of way-station between the corresponding passage in Schubert's G-major Sonata and the posthorn solo in Mahler's Third Symphony, the section is as heart-catchingly beautiful as either of those memorable inspirations, and a remarkable achievement on the part of a composer still in his teens.
Sheppard's series is billed, not as "Exclusively Brahms," but as "Mostly Brahms." So it was appropriate that, by way of encore, he chose to offer his enthusiastic audience the fifth of the Gesänge der Frühe, the last piece Brahms's mentor Schumann wrote. It made an affecting ending to a deeply satisfying recital.

Bernard Jacobson