Other Links
Editorial Board
UK

Editor

s

- Roger Jones and John Quinn

Editors for The Americas - Bruce Hodges and Jonathan Spencer Jones

European Editors - Bettina Mara and Jens F Laurson

Consulting Editor - Bill Kenny

Assistant Webmaster -Stan Metzger

Founder - Len Mullenger
Google Site Search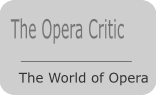 SEEN AND HEARD INTERNATIONAL CONCERT REVIEW


Feldman, Mozart, Urbaitis: Jonathan Vinocour (viola), Kiera Duffy (soprano), Sasha Cooke (mezzo soprano), Bruce Sledge (tenor), Nathan Berg (bass-baritone), San Francisco Symphony, Orchestra and Chorus, Michael Tilson Thomas (conductor), Ragnar Bohlin (conductor). Davies Symphony Hall, San Francisco. 25.2.2011 (HS)


Michael Tilson Thomas has a knack for provocative programming that not only looks good on paper but rewards listening. Such was the case in a series of subscription concerts last week that featured the Mozart Requiem. To precede it, Tilson Thomas gave us Morton Feldman's abstract, sparse and meditative Rothko Chapel, a 1972 piece written for the opening of an interfaith spiritual center graced with murals by the American abstract expressionist artist Mark Rothko.
The opener connected these two disparate approaches to music of the divine with a wonderful appetizer, Lithuanian composer Mindaugas Urbaitis' 1994 Lacrimosa, a five-minute gloss for chorus alone on the "Lacrymosa" from Mozart's Requiem. The Urbaitis, conducted by chorus director Ragnar Bohlin, weaves together gestures, fragments of scales and arpeggios that ultimately coalesce on the final page into Mozart's familiar tune. This sleek performance hung in the air until the real "Lacrymosa" arrived with a satisfying sigh more than an hour later. In between, Tilson Thomas provided a reverent performance of Feldman's opus, written for chorus, percussion and solo viola.
Feldman wrote the piece specifically for the octagonal space in Houston, wanting its fragments of quiet sonorities to permeate the ambience. He placed the timpani, percussion and celesta around the chapel, dividing the chorus into two antiphonal groupings and separating them from the soloists, a soprano and mezzo. The solo violist moves from station to station between sections of the music. On the spacious stage of Davies Hall, which seats nearly 3,000, only those in the first few rows got the full effect. Up in the second tier, where I usually like to sit because the sound collects there, these effects were lost. But I could hear every pianissimo clearly.
Quiet music has the effect of heightening an audience's concentration. You feel like you have to pay attention. The soft timpani roll that opens the piece set the tone, and the wordless chorus formed hushed, dissonant chords against which principal percussionist Jack Van Geem, timpanist David Herbert and the orchestra's pianist, Robin Sutherland, chimed in with delicate comments on the celesta. Principal violist Jonathan Vinocour provided the melodies, several with a distinctly Oriental cast, sometimes in short snatches, often in long, melismatic skeins. Under Tilson Thomas' baton, it all coalesced into a long moment in which time seemed suspended.
In Rothko Chapel, Feldman wrote, he was inspired by the painter's "color fields," large swaths of color that at a distance seem like a solid mass but on close inspection reveal subtle gradations in hue and texture. That, in fact, perfectly describes the music's effect.
That should have made a startling contrast with the Mozart, but Tilson Thomas seemed intent on minimizing any dramatic conflicts in the score in favor of a somewhat more meditative approach. In the opening "Requiem aeternem," for example, he softened the sudden forte, signaling a more, well, meditative approach to the entire score. This put the responsibility squarely on the chorus on soloists to provide some center to the music. They came through nicely, especially mezzo-soprano Sasha Cooke, whose rich sound and heartfelt articulation stood out. Soprano Kiera Duffy deployed a silvery timbre and revealed a nice ping to her lyric sound. Tenor Bruce Sledge and Nathan Berg dispatched their responsibilities adequately. The chorus, again, came through with one beautifully shaped moment after another.
Harvey Steiman