Other Links
Editorial Board
UK

Editor

s

- Roger Jones and John Quinn

Editors for The Americas - Bruce Hodges and Jonathan Spencer Jones

European Editors - Bettina Mara and Jens F Laurson

Consulting Editor - Bill Kenny

Assistant Webmaster -Stan Metzger

Founder - Len Mullenger
Google Site Search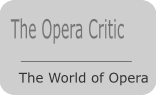 SEEN AND HEARD INTERNATIONAL CONCERT REVIEW


Rossini, Firsova, and Mozart: Northwest Sinfonietta, Christophe Chagnard (conductor), Laura DeLuca (clarinet), Illsley Ball Nordstrom Recital Hall, Benaroya Hall, Seattle 11.2.2011 (BJ)
The center of this program, titled "Mozartiana," consisted of two clarinet concertos. One was indeed by Mozart. The other one, which was receiving its world premiere, is subtitled "Freedom," and it is the work of the 24-year-old Alissa Firsova. The daughter of composers Elena Firsova and Dmitri Smirnov, she was born in Moscow, but has lived in England since childhood.
A little under a quarter of an hour in duration, her single-movement piece is pleasant and thoroughly approachable music, couched in a fundamentally tonal idiom. Eschewing bravura, its style is ruminative, dreamlike even, rather like a sort of less exotically perfumed Delius. The composer herself played a small part in the performance on an electronic keyboard instrument, which was standing in for the score's designated celesta and piano. Appearing as guest soloist with Christophe Chagnard's Northwest Sinfonietta—currently celebrating its 20th anniversary season—Seattle Symphony clarinetist Laura DeLuca played the work with evident dedication, and she was equally authoritative and eloquent in Mozart's Clarinet Concerto after intermission.
Having begun with a rousing performance of Rossini's overture to La scala di seta, the evening ended with Mozart's Symphony No. 40 in G minor, K. 550. Appropriately, given the clarinet's starring role in the program, it was played in the revised version, with the clarinets that Mozart added to the score some time after its composition.
Splendidly played by the Northwest Sinfonietta, this was a high-octane rendering, much in the vein of Chagnard's Beethoven Eroica with his orchestra last season. Along the spectrum that stretches from emphasis on expressive points to assertion of unity, Chagnard belongs nearer the unity end. But together with the directness and force of his reading, there were sufficient moments also of emotional depth. The trio section of the third movement, in particular, benefitted from a subtle easing of the pulse after the veritable onslaught of the main minuet, and the horns made the most of their opportunity to shine. The conductor omitted the repeats in the da capo of the minuet, and he also skipped the second one in the Andante (which was nevertheless especially convincing in his flowing interpretation), but happily the more crucial second-half repeat in the finale was observed, so that we could relish the return from the first-time ending to the extraordinarily abrupt and dramatic opening of the development section. In 1987, incidentally, Ms. Firsova's father wrote a set of Mozart Variations that takes off from just this violent gesture; his piece is of roughly the same duration as her new work, but considerably less friendly in tone.
Bernard Jacobson