Other Links
Editorial Board
UK

Editor

s

- Roger Jones and John Quinn

Editors for The Americas - Bruce Hodges and Jonathan Spencer Jones

European Editors - Bettina Mara and Jens F Laurson

Consulting Editor - Bill Kenny

Assistant Webmaster -Stan Metzger

Founder - Len Mullenger
Google Site Search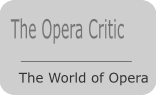 SEEN AND HEARD UKOPERA REVIEW
Rossini, Il barbiere di Siviglia: Soloists, chorus and orchestra of the Royal Opera House. Conductor: Rory Macdonald. Royal Opera House, Covent Garden, 18.1.2011. (JPr)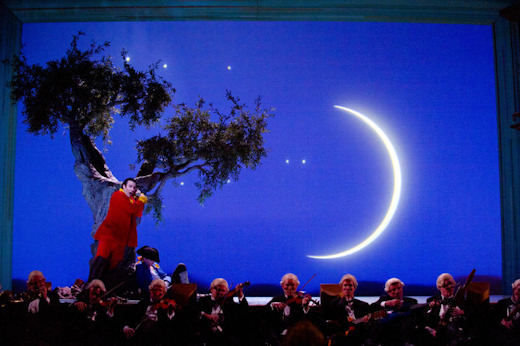 The Act I Set
I make no apologies for referring to ideas from the excellent essays in the programme book as a stimulus for this review of the second revival (overseen by Justin Way) of Moshe Leiser and Patrice Caurier's 2005 production. Emanuele Senici reminds the reader in 'An Essential Theatricality' that Il barbiere di Siviglia 'is the first opera ever composed that has constantly remained popular in the repertories of theatres around the world'. More importantly he debates how many commentators state that 'Rossini's comic characters … seem constantly aware that they are operatic characters, rather than real human beings. These characters have no past and no future, no memory of who they have been and no anticipation of who they may become; they live exclusively in the theatrical present. The only reality known to Rossini's comic operas, then, is operatic; or in other words, the subject of Rossini's comic operas is comic opera itself'.

Benjamin Walton's essay 'The Rossini Effect' considers his operas 'exist through performance, animated not (or not just) by the humanity of the dramatic characters but also that of the singers on stage. It is they who to a large extent determine whether the music takes on a comic or serious quality … and whether a joke comes to life or falls flat.' One word is repeated more than once here in these quotes - and that obviously is 'comic' - Il barbiere di Siviglia is a comic opera and that is the basis of its longevity in the operatic canon.

Il barbiere di Siviglia contains a numbers of arias that are beloved of the Classic FM audience, as well as, regular operagoers such as Figaro's signature aria 'Largo al factotum' and Rosina's first aria 'Una voce poco fa' and some exceptional sextets involving the entire company. It tells the story of Rosina who refuses to marry Doctor Bartolo, her guardian, as she is in love with Lindoro (Count Almaviva in disguise). After many farcical twists to the plot - and though Figaro's cunning and strategic help - Count Almaviva and Rosina finally succeed in getting married.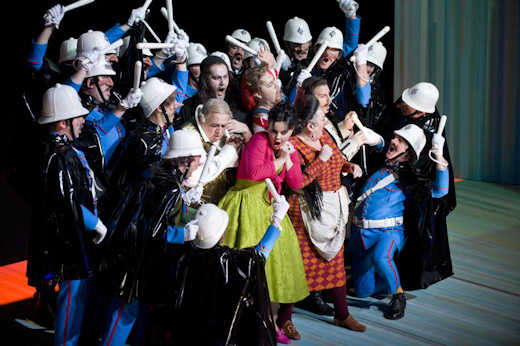 Act II



So apart from Moshe Leiser and Patrice Caurier's adherence to the concept of the 'meta-theatrical' as outlined+ by Emanuele Senici how can they explain why they remove all the irony, satire, wit and humour of the Sterbini libretto (that owes much to Beaumarchais's original play) and replace it with pure candy-striped and polka dotted slapstick pantomime full of mugging, pratfalls and supposedly funny noises that leaves us with a little short of three humourless hours. The audience doesn't laugh very much and I laughed out loud just twice – when Don Basilio (Rosina's music teacher) thinks Doctor Bartolo has been flattened under a fallen wardrobe; then soon after - with a gun pressed to his head - he agrees to be a witness to the Count's marriage because in the surtitles it was made clear it was an offer he couldn't refuse. Orson Welles suggests in The Third Man that 500 years of democracy produced the Cuckoo Clock in Switzerland, in the case of a century of French cinema history all they managed to produce is Jacques Tati. Similarly, Googling 'Belgian comic actors' does not produce many hits – so it is not surprising that Patrice Caurier and Moshe Leiser might have been starved of laughter as they grew up.

After an interesting opening starlit opening the mis en scène becomes rather tiresome; all we get from set designer Christian Fenlouillat is a multicoloured box with sliding panels that conceals windows and doors and the occasional chair, harpsichord … and that wardrobe. At the front is a row of old-fashioned footlights to suggest the idea of a stage within a stage. Agostino Cavalca costumes are brightly coloured for Almaviva, Figaro and Rosina but the whole look, particularly with Figaro with a hairnet, broad red and white striped shirt and red socks looks like a refugee from a pre-teen children's TV programme. When the blue-uniformed soldiers turn up at the end of Act I with white helmets and truncheons I thought we had strayed into the world of Gilbert and Sullivan as distilled by one of the musical skits at the end of The Two Ronnies. At the end of Act I, for some reason, this fairly cheap production then employs presumably costly stage machinery to shake, rattle and roll the entire set to emphasise everyone's confusion at this point: this goes on for too long and diminishes Rossini's genius.

I never saw this production in 2005 or 2009 with some stellar casting including Joyce DiDonato as Rosina (famously breaking her leg in 2009 and carrying on with the performances). Here a mezzo Rosina is replaced by Polish soprano Aleksandra Kurzak, she is easy-on-the-eye, charming, pert and, as always, shows great comic timing when given the opportunity. Her coloratura warms up slowly during Act I but comes into its own in Act II during the Lesson Scene in Act II. However it is clear to me that roles like this will soon be a thing of the past for her as bigger soprano roles in Puccini and Verdi would seem to be the way her voice is going.

The rest of the cast was a United Nations ensemble typical of the ROH casting department that gave us one Italian only for an Italian opera; supported by an American tenor, a Russian bass, a Welsh soprano, a British baritone, and, to cap it all, outdoing themselves with a Figaro from Transylvania.

John Osborn had the impossible task of following Juan Diego Flórez in 2009 and it was a brave attempt without him having the genuine lyrical timbre, agility or flexibility needed for his character's music. Bruno Praticò huff, puffed and snored as Don Bartolo without ever suggesting he is one of the great

buffo basses of this generation, particularly when he just helter-skeltered his way through his patter aria 'A un dottor della mia sorte' without little real apparent connection to what he was singing. Ildar Abdrazakov caught the eye as a slimy and slithery Don Basilio, he sang his 'slander' aria 'La calunnia' superbly, together with his acting – and this is to his credit – it made me think Bryn Terfel singing the role. Levente Molnár entered engagingly through the stalls but soon revealed that both his acting and singing was rather one-dimensional. He is only a few years into his career and already shows tremendous promise but he should be learning his craft elsewhere before coming to Covent Garden to sing such a major role and be measured against those who have sung it there before him.

In the pit young British conductor, Rory Macdonald, was rather too respectful about the music and however much he managed to animate the orchestra, there was gentility when it all might have benefitted from a little more flair, coarseness and vulgarity; Rossini crescendos never reached fever pitch as he was over-conscious about making sure he never swamped the ensembles.

Jim Pritchard

Pictures © The Royal Opera / Mike Hoban