Other Links
Editorial Board
UK

Editor

s

- Roger Jones and John Quinn

Editors for The Americas - Bruce Hodges and Jonathan Spencer Jones

European Editors - Bettina Mara and Jens F Laurson

Consulting Editor - Bill Kenny

Assistant Webmaster -Stan Metzger

Founder - Len Mullenger
Google Site Search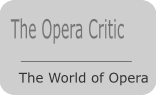 SEEN AND HEARD INTERNATIONAL OPERA REVIEW


Verdi, Rigoletto: Soloists, Orchestra and Choir Zürich Oper. Conductor: Nello Santi. Opernhaus Zurich 12.3.2011 (JMI)
Production: Zürich Oper
Direction: Gilbert Deflo
Sets and Costumes: William Orlandi
Ligting: Jürgen Hoffmann
Cast:
Rigoletto: Stefano Antonucci
Gilda: Sen Guo
Duca: Celso Albelo
Sparafucile. Pavel Daniluk
Maddalena: Katharina Peetz
Monterone: Valery Murga
While Gilbert Deflo's most recent Rigoletto production could recently be seen at La Scala, this is his Zurich production which premiered in 2002. The set consists of up to 5 different stages which creates some difficulty for the continuity of the action with its numerous stops. In the first scene we are in a large room of the Duke's Palace that looks like a tribute to the well known stage by Pierluigi Samaritani. From there on the action is moved to Verdi's times leaving us to conclude that the first scene was just a costume ball. Mr. Deflo's stage direction is rather too old fashioned. Singers just deliver their arias in a static way and there is no intention to get deep into the psychology of the different characters. On the other hand the frequent and rather long stops do not help to get into the drama on stage. I found particularly negative the fact of making one more stop after the duet of tenor and soprano to present a new stage with a balcony for Gilda to sing Caro nome.
The musical direction was entrusted to Nello Santi, who is a real institution in Zurich opera where the public always shows its love and admiration for him. It is all the more surprising that at nearly 80 he continues his habit of conducting without a score. The Orchestra is so used to him that even the smallest gestures suffice to give Nello Santi exactly what he wants from them. His reading was remarkable, although there were passages that were taken rather too slow. A good performance came also from the Chorus. There was no second verse in the cabalettas, and Santi also cut part of "Veglia,o donna".
Renato Bruson was announced as Rigoletto, but he cancelled—which surprised exactly nobody. His replacement was supposed to have been Giovanni Meoni, but he was required to sing Nabucco under Riccardo Muti in Rome. Eventually the Rigoletto that turned out was Stefano Antonucci who saved the show and no more than that. Antonucci is not a Verdi baritone and has never been, his voice doesn't have the amplitude or beauty necessary for the character. His bottom notes are almost non-existent and the top register is too thin.
The petite Chinese soprano Sen Guo was a pleasant surprise in the role of Gilda. She is part of the opera company and her appearances outside Zurich are very limited. A light soprano, she moves comfortably through the high notes and has no problems with the coloratura. The voice has an attractive-if-monotone timbre and manages the more dramatic moments well, too.
Il Duca di Mantova was played by Celso Albelo who has matured considerably since the last time I saw him in this same character. I still believe that this role is at the limit of his current capabilities but in this theatre that's not too important. His phrasing and diction are exemplary but I had the impression that he was not at his best since there were some moments where things did not go as I expected, particularly when he went into piano, as it happened both at his aria and La Donna è Mobile. After a remarkable "Parmi veder le lagrime" he ended the cabaletta "Possente amor mi chiama" with a clean high D that lasted an eternity.
Russian bass Pavel Daniluk was a sound Sparafucile with a powerful voice of modest quality. Katharina Peetz, another regular in Zurich, made an attractive Maddalena onstage but without major vocal interest and too short an extension into the lower register. This role requires a contralto. All the supporting roles were excellent, as can be expected in Zurich.
José Ma. Irurzun