Other Links
Editorial Board
UK

Editor

s

- Roger Jones and John Quinn

Editors for The Americas - Bruce Hodges and Jonathan Spencer Jones

European Editors - Bettina Mara and Jens F Laurson

Consulting Editor - Bill Kenny

Assistant Webmaster -Stan Metzger

Founder - Len Mullenger
Google Site Search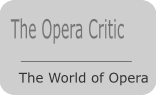 SEEN AND HEARD INTERNATIONAL OPERA REVIEW
Prokofiev, Betrothal in a Monastery: Soloists, Orchestre National du Capitole, Choeur du Capitole. Conductor: Tugan Sokhiev. Théâtre du Capitole de Toulouse. 16.1.2011 (JMI)

New Production in co- production with Paris Opéra Comique.

Direction: Martin Duncan.
Sets and Costumes: Alison Chitty.
Lighting: Paul Pyant.
Choreography: Ben Wright.

Cast:

Don Jerónimo: Brian Galliford.
Mendoza: Mikhail Kolelishvili.
Luisa: Anastasia Kalagina.
Don Antonio: Daniel Shtoda.
La Dueña: Larissa Diadkova.
Clara: Anna Kiknadze.
Don Fernando: Garry Magee.
Don Carlos: Yuri Vorobiev.
Padre Agustin: Eduard Tsanga.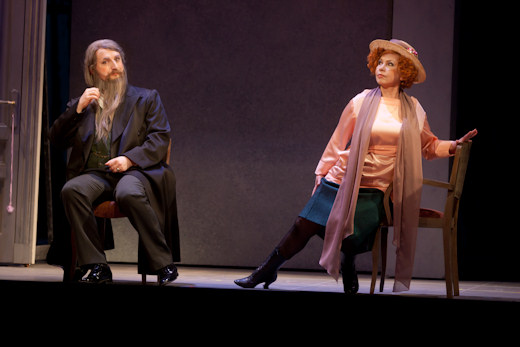 Production Picture courtesy of the Théâtre du Capitole de Toulouse



To start the year 2011 the Capitole offers this funny and original opera by Prokofiev - also known as The Duenna – which is slowly entering into the repertoire of well known opera houses. That's is not surprising, considering that each performance I have attended of this work has been received with much pleasure by the audience.

.

The stage production for this one is due to British director Martin Duncan, who provides a colourful and lively setting, very well suited to an opera buffa like this. The sets offer a flexible staging with simple well chosen elements that give great slickness to the numerous changes of scenes. The action is transferred to around 1946, when the opera was premiered, and has some very colourful costumes. Good lighting is an excellent complement for this production and Martin Duncan's stage direction emphasizes the buffo aspects of the opera, particularly in the scenes of Mendoza's fish warehouse and the last scene at the Monastery. This is a fairly simple production that works at the service of music and libretto, and has been very well received by the public.

 

Musical direction was entrusted to young Russian maestro (33) Tugan Sokhiev, who has been musical director of Orchestre National du Capitole since September 2008. His work in recent years has been superb and it is not surprising that his contract has been recently extended through to 2016. Tugan Sokhiev seems to me one of the great conductors today, shining especially in the Russian repertoire. His reading of Prokofiev's opera was truly outstanding. I confess that at the start of the opera I was worried because as the sound coming from the pit was so spectacular that I wondered what would happen to the singers, but my fears were unfounded: Sokhiev knew perfectly how to balance the sound. Under his baton the orchestra were at their very best. There was also a good performance from the the Capitole's chorus.

The cast of this opera is very large and was entrusted largely to Russian singers from the Mariinsky Theater in St. Petersburg, a venue very familiar to Mr. Sokhiev. The overall result was good, although somewhat uneven here and there.

 

There were three singers who clearly outshone the rest of their colleagues. I refer first to Georgian bass Mikhail Kolelishvili, who was an excellent Mendoza, with a powerful and beautiful voice, very well suited to the demands of the character. Russian mezzo soprano Larissa Diadkova made a great Duenna, both as singer and actress. This excellent singer finds her best use in roles not needing high notes and La Duenna fits her like a glove. Very positive too was the performance of Georgian mezzo soprano Anna Kiknadze in the part of Clara de Almansa. With another beautiful voice and expert knowledge of how to use it, she completed the trio of outstanding singers in this opera.

The rest of the cast did not have the same quality, although there were no failures. Don Jeronimo was played by British tenor Brian Galliford, a better actor than singer, which is not actually problem here, taking into account that the role really only requires a character tenor. Baritone Garry Magee was no more that a correct Fernando but Anastasia Kalagina, a well known light soprano from the Mariinsky theatre, showed a pleasant voice and attractive figure as Luisa although personally I think that the role needs rather more than that. Daniil Shtoda was Antonio and offered a nice voice, smallish in size and with limited acting ability on stage. This young tenor (33) rose to fame pushed by record companies about 8 years ago and remains a singer more suited to recording studios than the stage. Bass-baritone Eduard Tsanga impressed me the first time I heard him a couple of years ago although this time as Father Augustine, the prior of the drunken monks, I didn't find him so appealing. Yuri Vorobiev was adequate as Don Carlos.

 

The Capitole was almost full and the audience gave a very warm reception to the artists, especially to Diadkova, Kolelishvili and Tugan Sokhiev.

José M Irurzun