Other Links
Editorial Board
UK

Editor

s

- Roger Jones and John Quinn

Editors for The Americas - Bruce Hodges and Jonathan Spencer Jones

European Editors - Bettina Mara and Jens F Laurson

Consulting Editor - Bill Kenny

Assistant Webmaster -Stan Metzger

Founder - Len Mullenger
Google Site Search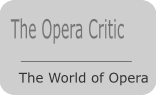 SEEN AND HEARD UK OPERA REVIEW


Weber/Mahler, The Three Pintos (Die drei Pintos):
S
oloists, orchestra and choir of University College London Union Music Society. Bloomsbury Theatre, London. 21.3.
20
11 (JPr)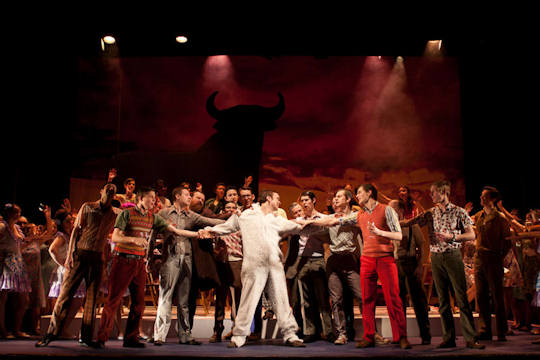 Act I


For all his wonderful compositions for the voice through his songs or symphonies, it is believed that Gustav Mahler never wrote an opera. Well … that is almost true. Mahler wrote an early cantata, Das klagende Lied; had, it seems, a couple of aborted youthful attempts at an opera … and then came Die drei Pintos.

If at all, we almost only entirely remember Carl Maria von Weber for his 1821 Der Freischütz, one of the spookiest and finest operas of all time and now - like the rest of Weber's music - seriously neglected. Weber never repeated the success in his lifetime of Der Freischütz with his last two operas, Euryanthe (1823) and Oberon (1826), and he died soon after (1826) leaving an unfinished comic work Die drei Pintos; he may well have been working on this at the same time as these other ones. After his death his widow showed the sketches for Die drei Pintos (and Theodor Hell's libretto) to several composers hoping to find somebody who might complete it but nobody wanted to give it a go. The problem seemed to be a lack of music to go with Weber's plan for the different numbers in the opera. Nothing happened until 1887, when the composer's grandson, Carl von Weber, showed the sketches to the 27-year-old Gustav Mahler, who was at the opera in Leipzig. Mahler was interested straightaway and using a libretto rewritten by Carl von Weber, worked intensively on the score during the summer and autumn months that year. As we know, of course, he was not only intensely interested in Weber's unfinished opera but in his grandson's wife Marion, thereby entering into a ménage à trois.

Mahler wisely used other music by Weber and only a few numbers were wholly new or recomposed from Weber's themes. Examples are the intermezzo (here played after an interval) before Act III and subsequently the music just prior to the servant, Ambrosio, venting his fury at his master, Don Gaston; both show clear evidence of Mahler's developing orchestral style. Mahler throughout subdues his own musical personality to Weber's cause: Die drei Pintos is echt-Weber. It was an instant success when the première was given in Leipzig in January 1888 with Mahler conducting and was soon staged elsewhere. Despite criticism from the likes of Hans von Bülow and Eduard Hanslick its success enhanced Mahler's professional reputation during a time when he would present his First Symphony to the public and find them ill-prepared to comprehend it. After just a few short years - and especially after Mahler's death - Die drei Pintos lost its audience and remained almost completely unknown until the 1960s and the general revival of interest in Mahler's music. It was put on by John Lewis Opera in the UK in 1962; there are some rare recordings and in 2000 the definitive critical edition of the full orchestral score was published. Performances resurfaced here and there but the last notable staging was at Wexford in 2004 … and I was there.

It is to University College Opera's credit that they chose The Three Pintos as their sixtieth anniversary opera. It has a Rossinian plot of multiple mistaken identities and the story is a well-crafted one of romantic intrigue and no sillier than more regularly performed operas or operettas. It all hinges on the impersonations; the student-adventurer, Don Gaston, and Donna Clarissa's secret lover, Don Gomez, both appear as the real Don Pinto - hence 'The Three Pintos'. It is a mixture of speech and song with a score that is irresistibly tuneful with many dance rhythms to be heard, including Mahler's - soon-to-be signature - ländler. All the possible comic complications are established in Acts I and II; then the entire cast comes together in Act III as Don Gomez (in the guise of Don Pinto) attempts to marry Clarissa through this trickery and almost succeeds … until, that is, the real Pinto turns up to much confusion but triggering a happy ending for most concerned.

I am no expert on the score but think about 30 minutes were probably lost by removing most repeated sections and some of the dialogue. What was left was brought to life by John Ramster's fun-packed production and Adrian Linford's sundrenched designs, as well as the exceptional dramatic skills of those involved. It was a laughter-filled evening full of pure farce and included some great schtick. We were in the 'Swinging Sixties' and the world, full of funny accents, frequented by TV's Benidorm or 'Carry On Abroad' - especially in Rodney Blumer's English translation (as used in 1962) which - despite some blasé rhymes ('Our interest is intense, don't keep us in suspense') - had some wonderful double entendres and witty moments like Carissa's 'Please … from the heart of my bottom'.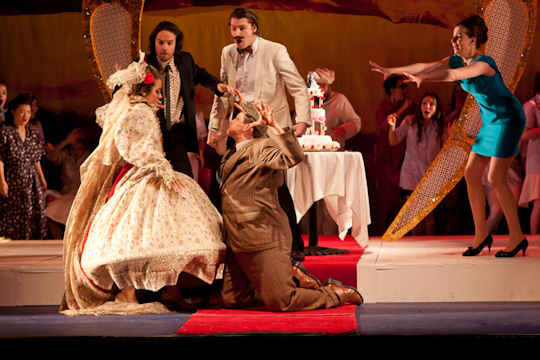 Act III


I am not going to dissect the UCO's wonderful efforts as I would their (more) professional colleagues, as I had a thoroughly great evening. Charles Peebles conducted the orchestra with an obvious spirited enthusiasm for the piece. As might be expect from a student orchestra the string tone was not all that was needed at times but there were commendable efforts from most other sections of the 60 plus ensemble. The male members of the UCLU choir didn't get us off to a great start but when all together they sang very well indeed. The best singers were the bright-toned soprano Larissa Blackshaw as Clarissa's servant, Laura, Alistair Digges's elegant tenor as Don Gomez, Thomas Faulkner's dark-hued Don Pantaleone (Clarissa's father) and another wonderful bass, Ross Ramgobin, who was underused as the Innkeeper. The others (Robin Bailey as Don Gaston, Edward Davison as Ambrosio, Scarlett Diamond as Inez, Nick Goodman as Don Pinto and Lara Martins as Clarissa) were always natural, enthusiastic and charming stage performers but perhaps their vocal gifts didn't have quite the polish of some of their colleagues. But it just did not seem to matter as I was completely engrossed.

The neglect of Die drei Pintos in the UK - and possible elsewhere - during the current Mahler anniversaries years is a scandal. It is ideal for music colleges and semi-professional and professional companies in needing a wide range of voices but not making too many demands on anyone. Why are we subjected to so many, for instance, Lieder eines fahrenden Gesellens, or the 'Resurrection' and Ninth symphonies, without giving Das klagende Lied - or this opera - more performances. It is almost a conspiracy of silence by Mahler academics who mythologise too much about Mahler: Mahler's music is 'operatic' - and despite naysayers like the distinguished Henry-Louis de La Grange writing the opposite - Mahler wanted to write operas - and given time, money and the facilities to stage them properly (as his idol Wagner achieved) - would have done.

Jim Pritchard