Other Links
Editorial Board
UK

Editor

s

- Roger Jones and John Quinn

Editors for The Americas - Bruce Hodges and Jonathan Spencer Jones

European Editors - Bettina Mara and Jens F Laurson

Consulting Editor - Bill Kenny

Assistant Webmaster -Stan Metzger

Founder - Len Mullenger
Google Site Search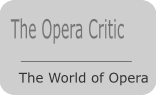 SEEN AND HEARD INTERNATIONAL OPERA REVIEW


Donizetti, Don Pasquale: Premiere (Sung in Swedish) at the Royal Swedish Opera, Stockholm, 26.3.2011 (GF)
Director: Philip Zandén
Sets: Lars Östbergh
Costumes: Sven Haraldsson
Lighting: Linus Fellbom
Cast:
Don Pasquale – John Erik Eleby
Doctor Malatesta – Ola Eliasson
Ernesto – Mats Carlsson
Norina – Susanna Stern
A Notary – Tomas Bergström
The Royal Swedish Orchestra & Chorus / Johannes Gustavsson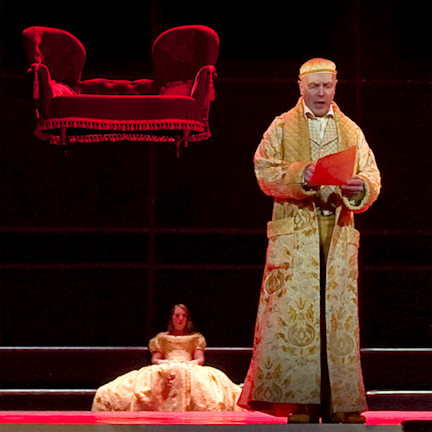 Production Picture © Hans Nilsson
With his first production for the Royal Swedish Opera Philip Zandén, the actor and director, has turned Donizetti's late masterpiece into a minimalist comedy and at the same time a play within a play. A rectangular white set has been built centre-stage, around the walls there are sofas where the actors (also the chorus) sit while they are not in action. Props are more or less non-existent: two chairs in the second act marriage scene and a red plush canopy which is lowered from the ceiling when 'Sofronia' is beginning to refurbish Don Pasquale's house. Costumes are a mixed bag, to some extent period but the chorus are a motley crowd in everyday clothes from various epochs, even latest fashion.

The chorus, who are in fact musically inactive during the first two acts, are instead onlookers and commentators, mocking poor Ernesto when he enters in act II with his suitcase, ready to leave for ever, intervening and miming in the background. This post modern concept is far from new and to be honest it doesn't add much to the comedy but it is not pointless either and quite amusing.

The commedia dell'arte based story with its stock characters may be dated, but I can't help feeling that this peeled-off treatment makes its dubious morals easier to stomach: especially when we don't encounter real life humans but actors performing a dusted-off old play for their own amusement. And it has to be said that the four main characters are splendid actors and play their roles for all their worth. Ernesto, I have to admit, is the least interesting of them and mostly walks about lamenting and brooding. But he has some of the best music in the opera and this semi-staged concept also puts the wonderful music in the foreground. Donizetti was a mass-producer of operas but also when he worked against the clock he managed to find the inspiration to create memorable tunes. Don Pasquale brims over with tunes, and they are enough reason for seeing this production even though the concept is not to everybody's taste. I heard some less than flattering comments during the interval and after the performance.

John Erik Eleby has for many years now been a pillar of strength in the bass department of the Royal Opera but I doubt I have heard him in better shape than here. Don Pasquale suits his flexible bass-baritone like a glove and he revels in the comic opportunities with reptile-like movements. Ola Eliasson adds another finely wrought reading to his by now long lists of characters. Malatesta's part veers between the true bel canto of Bella siccome un angelo and the breakneck patter-singing in the duet with Don Pasquale. Mats Carlsson in his Royal Opera debut sang securely and with admirable legato in Ernesto's high-lying part. A certain thinness of tone can certainly be ascribed to the high tessitura. No such problems for another near-debutant in the house. Susanna Stern has been singing Amor in Orphée a couple of times but here as Norina she came more naturally in the limelight and besides splendid acting she took the audience by storm through her effortless and glittering singing.

Johannes Gustavsson has invariably been hailed for his insightful conducting since winning the Swedish Conducting Prize in 2003. He led a sprightly performance of Donizetti's scintillating score, once or twice drowning some of the singing but in general it was a well balanced reading.

The production will run until 2 June and there is a second team of singers alternating with the one I saw and heard. For foreign visitors it might be a problem that the opera this time is sung in Swedish and that the surtitles also are in Swedish only.
Göran Forsling