Other Links
Editorial Board
UK

Editor

s

- Roger Jones and John Quinn

Editors for The Americas - Bruce Hodges and Jonathan Spencer Jones

European Editors - Bettina Mara and Jens F Laurson

Consulting Editor - Bill Kenny

Assistant Webmaster -Stan Metzger

Founder - Len Mullenger
Google Site Search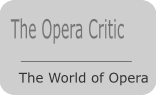 SEEN AND HEARD INTERNATIONAL CONCERT REVIEW


Beethoven, Sibelius, Nielsen: Karita Mattila (soprano), Alan Gilbert (conductor), New York Philharmonic, Avery Fisher Hall, New York City, 29.1.2011 (BH)

Beethoven: Symphony No. 8 in F major, Op. 93 (1811-1812)
Beethoven: Ah! Perfido, Recitative and Aria, Op. 65 (1796)
Sibelius: Höstkväll ("Autumn Evening"), Op. 38, No. 1 (1903, orch. 1904)
Sibelius: Arioso, Op. 3 (1911)
Sibelius: Våren flyktar hastigt ("Spring is Flying"), Op. 13, No. 4 (1891, orch. 1913)
Nielsen: Symphony No. 2, De fire temperamenter ("The Four Temperaments"), Op. 16 (1901-02)
In the middle of his second season as conductor of the New York Philharmonic, there are some who apparently still doubt Alan Gilbert's authority in standard repertory—icons of the symphonic literature that should be heard now and then, but perhaps not so often that they displace works that receive significantly less attention, if any. As if to illustrate, this intelligently planned program placed two well-known Beethoven scores on the first half, followed by Scandinavian masterworks rarely seen at Avery Fisher Hall.
Gilbert's take on Beethoven's Eighth Symphony began as sturdy as a redwood, yet with effervescent spring. The second movement, allegretto scherzando, had a light, quizzical pulse—almost funny, but not quite—that nevertheless prompted the friend with me to remark, "Beethoven can be so silly sometimes!" But the jocular final bars did highlight the orchestra's subtle, alert wind section. The third movement menuetto was similarly well-considered, and the final allegro vivace caught fire quickly, with Gilbert drawing a refreshing finale.
For Ah! perfido ("Barbarous traitor!"), soprano Karita Mattila—resplendent in a red dress and diamonds—filled the room from the very first phrase. Mattila has a well-deserved reputation for her acting abilities, and moved easily from anger to resignation. But good as this was, it seemed only a warm-up for the extravagantly orchestrated Sibelius songs that came after intermission (along with a dress change, to black). Of the three songs, only one, Våren flyktar hastigt, had been performed before by the Philharmonic, by Phyllis Curtin with Leonard Bernstein conducting in 1965—45 years ago. After spending a few minutes trying to grasp why this might be so—a lot of Sibelius outside the Second Symphony and the Violin Concerto is off the radar for many conductors—I surrendered to Mattila's sonority, backed by the dark orchestral accompaniment of Höstkväll. The second song, Arioso, revels in Elgarian richness, a plump pillow for its slightly sad message, noting the passage of time. (All three songs might be viewed as comments on aging, at least, in Mattila's intelligent takes.) The final Våren flyktar hastigt ends abruptly, with "Today let us kiss," and Mattila turned to Gilbert, leaned over, and closed her eyes, waiting, as the orchestra finished, combined with laughter from the audience.
Gilbert intends to do all the Nielsen symphonies in coming concerts, saying that it wouldn't surprise him to see these becoming even more popular than those of Sibelius—high praise. Not taking anything away from the Finn, the Danish composer's works are curiously absent from concert halls here. But perhaps fiery interpretations like the one Gilbert produced with the Symphony No. 2 ("The Four Temperaments") will persuade nonbelievers. The four movements sprout from an initial, expansive Allegro collerico, leading to a second-movement waltz with a hesitant undertow, followed by a broadly rugged lament (that produced a brief flurry of applause), before the rollicking finale kicks in, leading to a triumphant march. This is fascinating music, and again (at the risk over overusing the program notes), had not been performed here since 1973—again with Leonard Bernstein.
Bruce Hodges