Other Links
Editorial Board
UK

Editor

s

- Roger Jones and John Quinn

Editors for The Americas - Bruce Hodges and Jonathan Spencer Jones

European Editors - Bettina Mara and Jens F Laurson

Consulting Editor - Bill Kenny

Assistant Webmaster -Stan Metzger

Founder - Len Mullenger
Google Site Search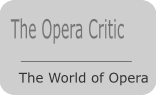 SEEN AND HEARD UK OPERA RELAY REVIEW


Met Opera Live - Donizetti, Lucia di Lammermoor: Metropolitan Opera's HD transmission live to the Barbican Cinema, London. 19.3.2011 (JPr)
Sadly, I left this live broadcast from the Met wishing I could reclaim the almost four hours I had spent in the cinema. I usually enjoy these events so what was the problem? Was it the fault of Donizetti's opera which I have somehow managed to avoid seeing after a memorable evening at Covent Garden with Bergonzi and Sutherland in 1985? Not really, because the excellent Met Orchestra under journeyman conductor Patrick Summers had a seamless early-Verdi approach that gave us a lucid, fresh and energetic account of Donizetti's neuroses-filled score. Was it the singing? No, because for the most part this was of the highest standards – as to be expected at The Met. Mostly I believe it was due to this being the end of the run of performances in this latest revival of the Mary Zimmerman production that opened the 2007/8 season when first put on: Natalie Dessay as Lucia mentioned a 'dry throat' and that – as well as probable tiredness – could have been one reason for her subdued performance. Nor can it have helped her having to do an inconsequential backstage interview minutes before her challenging 'Mad Scene'.

Indeed the intervals seemed exceptionally drawn out, both because of the complexity of the Daniel Ostling's sets and the fact that because this was the last performance they were being removed from the theatre as this matinee proceeded. One day, the Met might challenge their standard labour-intensive union practices and cut down their costs: having such unwieldy sets that need, it seems, some 90 people on stage to handle them is rather excessive in the twenty-first century.

In Barbara Willis Sweete's TV direction the stage pictures have a monochrome bleakness that is rarely atmospheric. The production - that seems prematurely aged - has clearly been updated to Victorian times and there is no tartan or kilts to be seen anywhere. There is an Act I hunting scene in the woods that seemed straight out of a James Whale 1930's horror film. Act II takes place in a large baronial hall that dwarfs the singers, particularly Ms Dessay. During the famous Sextet, a fussy photographer assembles a marriage celebration and the guests poise for a picture, while Edgardo stands detached from them a bit like a party-crasher … 'flash, bang, wallop what a picture, what a photograph!' Act III features a gallery and sweeping staircase and then clears for the hint of a graveyard with a single tree and huge full moon backcloth.

Right from the start Lucia is clearly deserted – or believes she is deserted - by everyone she believed she could trust and is on the verge of being married against her will to save her family's finances. Mary Zimmerman gives her a lot of neurotic 'baggage' right from the beginning and makes it very clear that she can see the spectral figure in white that roams the woods during Lucia's first aria. This is mirrored in the final scene, as the Lucia's ghost appears to Edgardo, uniting with him to provide the fatal stab wound for his suicide. Ms Dessay seems to take the daze she is in a bit too far and her apparent detachment from the travails her character is suffering leaves an emotional void at the centre of the opera. It is true that she gives us a nuanced, tensely eerie, blood-spattered 'Mad Scene' but by then she has elicited too little sympathy for her plight.

Perversely it is the men who seem the more sympathetic characters doing what they have to do for the family despite Lucia's collateral damage, Mary Zimmerman described this as the 'spirit of masculine revenge and pride'. The manipulative Enrico, Lucia's brother, was sung and acted in a laid-back, laconic Machiavellian style by Ludovic Tézier, who made his heartless demands seems entirely reasonable. Kwangchul Youn displayed typical gravitas, calm and reason, as well as, burnished rich tones as the chaplain Raimondo who seems to mean well. Even Arturo, the husband Lucia is forced to marry and then murders on their wedding day, was quite charmingly sung by Matthew Plenk. Only Philip Webb as the huntsman Normanno didn't seem to have a voice entirely fit for purpose.

Clearly deserving the standing ovation he got from the audience he had sung to at The Met was Joseph Calleja. His Edgardo showed that the opera's final tomb scene doesn't have to be an anticlimax after Lucia's mental unravelling. He had been the ardent young suitor and suitably passionate and despairing about his lost love. In fact because of the continuing imbalance of the characterisation between the two leading roles, the tragedy seemed to be all Edgardo's and he deserved the final words of his two-part aria. His still-maturing tenor voice is already a remarkable instrument and a throwback to a golden age of vocalism.

Renée Fleming was our host again backstage and did not have one of her best days. I think there was a lot more 'padding' required because of the extended intervals and this could not have helped her. There were some classic moments as she interviewed the handlers of the two Irish Wolf Hounds and revealed how she responded to treats like they did and after a long nerdish account of backstage activities by The Met's technical director, John Sellars, her dramatic abilities were cast into doubt as she barely feigned her real disinterest with her 'Thanks John, that's really fascinating' that got a huge laugh from the Barbican Cinema audience. Elsewhere, Mary Jo Heath interviewed a dresser who summed up her role concisely as 'I take care of the offstage as long as they chirp pretty onstage'. No more need be said.

Jim Pritchard

The Barbican Met Opera Live series continues on 9 April with Rossini's Le Comte Ory: for further details visit www.barbican.org.uk/film. It is sold out there but you can check the listings of your local cinemas.