Other Links
Editorial Board
UK

Editor

s

- Roger Jones and John Quinn

Editors for The Americas - Bruce Hodges and Jonathan Spencer Jones

European Editors - Bettina Mara and Jens F Laurson

Consulting Editor - Bill Kenny

Assistant Webmaster -Stan Metzger

Founder - Len Mullenger
Google Site Search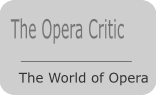 SEEN AND HEARD SEASON PREVIEW

Longborough Festival Opera 2011: A preview from Roger Jones (RJ)


Is Wagner going to return to earth for his bicentenary in 2013? Probably not. But an equally unlikely event may well come to pass: a performance of the complete Ring cycle at a privately run opera house in the middle of the English countryside. Longborough Festival Opera has come a long way since its modest beginnings twenty years ago.

In most of Europe Wagner performances are normally only possible thanks to generous government funding – which is a luxury which has so far eluded Longborough. Nevertheless, Longborough Opera's founders, Martin and Lizzie Graham, are convinced they can bring off the feat, and in a sense they are halfway there. They have already staged Das Rheingold and Die Walküre in their five hundred seat theatre; this summer sees a new production of Siegfried. The experienced team of Anthony Negus (conductor) and Alan Privett (director) are again in charge, and there seems no reason why Siegfried should not attract the same critical acclaim as the first two operas of the cycle. The cast from previous years remains more or less intact with Jason Howard returning as Wotan, Alwyn Mellor as Brünnhilde and Julian Close as Fafner. American tenor Daniel Brenna will be making his debut in the title role.

Mozart remains a firm favourite at Longborough, and the company is currently working through his collaborations with Lorenzo da Ponte. La Nozze di Figaro was performed here in 2009 and Don Giovanni in 2010, so this year it is the turn of Cosi fan tutte with Jenny Miller again in the director's chair and Gianluca Marciano in the orchestra pit. Having enjoyed Jenny's imaginative staging of Don Giovanni last year and been impressed by Gianluca's masterly conducting, I feel that opera lovers are in for another treat. There is a strong cast with Elizabeth Donovan (last year's Dona Anna) and Australian Martene Grimson. Martene appears to be experiencing difficulty in climbing the operatic social ladder; having played Susanna and Zerlina in past Longborough productions, here she is as Despina - another maid! Saso Cano, last year's Commendatore, plays the pivotal role of Don Alfonso.


Good things always come in threes, and the third of the season's operas is Verdi's swansong, Falstaff. Two other Longborough stalwarts, Jonathan Lyness (conductor) and Richard Studer (director and designer) will be in charge of this new production, and since the action takes place in England it seems quite logical that the opera should be sung in English. Simon Thorpe sings the title role and should be ably supported (if that is the right word) by Linda Richardson as Alice Ford and Gaynor Keeble as Mistress Quickly.

One of the charms of Longborough is the opportunity to picnic during the interval and gaze at the lush scenery of the Cotswolds – idyllic if the weather is balmy, challenging if it is blustery and wet. Yet this opera festival in north Gloucestershire has built up a loyal following over the years and goes from strength to strength.

PROGRAMME DETAILS

Cosi fan tutte
(sung in Italian with English surtitles)
June 16 ,18, 24, 25 at 6.30 pm; Sun 19 at 3 pm
Conductor : Gianluca Marciano
Director: Jenny Miller

Fiordiligi – Elizabeth Donovan
Dorabella - Louise Callinan
Ferrando – Nicholas Watts
Guglielmo – Rodney Clarke
Despina – Martene Grimson
Don Alfonso – Sasa Cano

Falstaff
(sung in English)
July 5, 6, 8, 9 at 6.30 pm
Conductor: Jonathan Lyness
Director/Designer: Richard Studer
Lighting Designer: Wayne Dowdeswell

Falstaff – Simon Thorpe
Ford - Craig Smith
Alice Ford – Linda Richardson
Meg Page – Stephanie Lewis
Mistress Quickly – Gaynor Keeble
Fenton – Christopher Diffey
Bardolph – Peter Wilman
Pistol – Mark Saberton

Siegfried
(sung in German with English surtitles)
July 25, 28, 30 at 3.30 pm
Conductor: Anthony Negus
Director: Alan Privett
Designer: Kjell Torriset
Lighting Designer: Guy Hoare

Siegfried – Daniel Brenna
Mime – Colin Judson
Wotan – Jason Howard
Fafner – Julian Close
Erda – Evelyn Krahe
Brünnhilde – Alwyn Mellor

For further information go to the Longborough website: www.lfo.org.uk.

Roger Jones