Other Links
Editorial Board
UK

Editor

s

- Roger Jones and John Quinn

Editors for The Americas - Bruce Hodges and Jonathan Spencer Jones

European Editors - Bettina Mara and Jens F Laurson

Consulting Editor - Bill Kenny

Assistant Webmaster -Stan Metzger

Founder - Len Mullenger
Google Site Search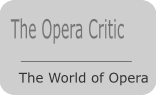 SEEN AND HEARD INTERNATIONAL OPERA REVIEW


Verdi, I Lombardi:
Soloists, Sarasota Opera Orchestra and Chorus, Victor DeRenzi (Conductor), Sarasota, F
lorida
, 6.3.2011 (LS)
Stage Director: Martha Collins
Scenic Designer: Jeffery W. Dean
Costume Designer: Howard Tsvi Kaplan
Lighting Designer: Ken Yunker
Wigs and Make-Up Designer: Georgianna Eberhard
Chorus Master: Roger L. Bingaman
Assistant Conductors: Gary Casity, Jamison Livsey
Surtitle Supplier : Words for Music
Surtitle Translator: Victor DeRenzi

Cast
Arvino : Mathew Edwardsen
Pagano: Kevin Short
Viclinda: Lindsay Ohse
Giselda: Abla Lynn Hamza
Oronte : Rafael Dávila
Pirro: Benjamin Gelfand
Acciano: Jeffrey Beruan
Sofia: Sarah Larsen
The Prior of Milan: Heath Huber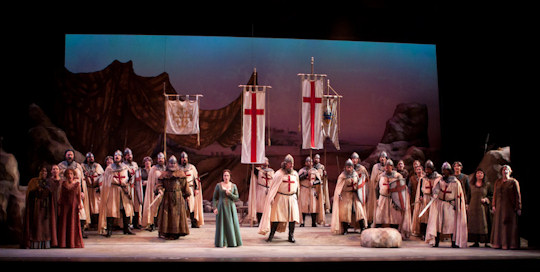 The Act II Finale - Picture © Rod Millington


I Lombardi, Verdi's fourth opera, was first performed at La Scala in 1843. It was quite well received, and became the first of his operas performed in the United States (1846). Why was it so popular? Just look at some of its features:

- Not one but two prayers for the prima donna
- A thundering cabaletta for the prima donna
- An incredibly beautiful tenor aria sung from heaven
- A blockbuster tenor aria " La mia lètizia infondere"
- A spectacular trio which ends Act III
- A patricide accompanied by a sinister chorus
- A conversion of the tenor from Islam to Christianity by the holy man (a hermit) who had committed the patricide
- A Muslim king surrounded by his singing and dancing harem
- Wonderful choruses culminating in a praise to the Lord that brings down the final curtain
- Stunning sets including a Moorish palace, the hermit's cave, and a splendid view of Jerusalem.

Yet, I Lombardi is very rarely staged these days. Why?

First and foremost, it is a very difficult opera to produce. The cast is huge. Not one but two excellent tenors are required. Inasmuch as most tenors want to be numero uno, it is not easy to cast Arvino, the second tenor. Giselda, the prima donna, must possess both lyricism for her prayers and love duets, then shift into a highly dramatic prophetic cabaletta. Two additional sopranos-Viclinda and Sofia- have important arias. Three basses must be cast. Pagano, murderer, would be adulterer, hermit , and ultimately holy man, is written for a bass who must not only have a wide vocal range, but the ability to act. The other two bass roles, Pirro, confidant and turncoat, and Acciano, king of Antioch, are also interesting and demanding.

On top of all this, oth large and small choruses must be deployed and the multiple sets test the skills of scenic ,costume and lighting designers.

The second reason for I Lomabardi's rarity is the strangeness of its plot. Temistocle Solera concocted the four act tragedy from an epic poem by Thomasso Grossi (the only time Verdi used an Italian text as the basis for his operas). Act I begins on a happy note. Arvino is chosen to lead the First Crusade and his brother Pagano has returned supposedly to reconcile with Arvino. (Pagano had been banished, because he tried to take Arvino's wife Viclinda for himself.) But Pagano has his own ideas for the future. He plans to kill his brother and abduct his wife. Unfortunately within the plot's darkened chambers he manages to kill his father instead. Both Viclinda and her daughter Giselda plead for Pagano's life and he is banished again.

As Act II opens, the audience is presented with Acciano the tyrant of Antioch raving against the Christians and their crusades. His son Oronte has eyes on a new captive, none other than Giselda. Sofia, Oronte's mother and a secret Christian, encourages her son to convert to Christianity and woo Giselda. Oronte is more than happy to do so.

The scene then shifts to a cave where Pagano is engaged in penitence. Incredible as it may seem, his former squire Pirro, and his brother Arvino do not recognize him. Pirro has renounced the Crusaders and joined the Muslims but Pagano convinces him to double cross the Muslims and open the gates of Antioch to Arvino and his followers. Pirro does this and the Crusaders storm Antioch. ....

..... Meanwhile in the harem, Giselda sings her second prayer asking her dead mother for consolation. Arvino and the Crusaders rush in but Sofia cries out that Arvino has slain both Acciano and Oronte. Giselda is aghast and berates Arvino saying that the Lord doesn't want blood. Arvino is prepared to kill his daughter for blasphemy, but is restrained.

Act III is set outside Jerusalem. Giselda wanders around aimlessly and stumbles into Oronte. Inasmuch as she thought he was dead, she readily agrees to join him in love, and he says he will convert. Arvino learns that Pagano is near the Crusader camp and vows to kill him once and for all. How he might do this is not clear, because he has already failed to recognize Pagano in Act II. The battles between the Crusaders and Muslims continue. Oronte is eventually fatally wounded buy still has enough strength to participate in a magnificent trio with Pagano and Giselda. Pagano somehow has acquired the authority to perform conversions. He baptizes the dying Oronte who says he will await Giselda in heaven.

By Act IV, he Crusaders have run out of water, and all seems lost. But Giselda has a vision. In an achingly beautiful aria, Oronte tells her from heaven that fresh water will be found. The Crusaders drink from the pool of Siloam and gain strength to attack the walls of Jerusalem. Arvino and Giselda lead the charge, but Pagano is fatally wounded. He seeks forgiveness from his brother, and, surprise, surprise his brother embraces him. Pagano asks to see Jerusalem and the flap of Arvino's great tent is opened so that he can have his wish. The pilgrims sing the majestic "Te lo diamo, gran Dio di vittoria" as Pagano dies and the curtain falls.

I am happy to report that for the most part Sarasota's I Lombardi was very satisfying. The star of the production was Kevin Short as Pagano. His "Sciagurata! Hai tu creduto" saved what seemed to be a lackluster Act I, he was excellent in the Act III trio "qual volutta trascorrere" and superb in the Act IV finale. His acting made the multifaceted (if unbelievable) character of Pagano come alive and the audience rewarded him with tremendous applause. Short 's career includes performances at the Metropolitan Opera and seven appearances at Sarasota.

Rafael Dávila sang the lead tenor role of Oronte. He attacked the famous " La mia lètizia infondere" with great vigor although there was a bit of a strain in the higher notes. His duet with Giselda, "Oh belle, a questa misera" was beautifully sung. One of my favorite moments in the opera was his wonderful Act IV "In cielo benedetto" where clothed in a blue haze he assured Giselda that the Crusaders would find water and conquer Jerusalem. Dávila is a favorite at Sarasota who was also enthusiastically applauded.

Abla Lynn Hamza sang the difficult role of Giselda. In 2008, 2009, and 2010 she was a Studio Artist at Sarasota Opera, thus I Lombardi represented a major step upwards in her career. She handled both the lyric and dramatic requirements of the part well enough, although I felt she could have demonstrated more emotion in her two prayer arias. She had no trouble singing above the choruses in her blood and thunder arias and cabalettas and also received a warm round of applause.

Mathew Edwardsen sang the secondary tenor role of Arvino quite nicely but I believe he could have brought more emotion to the music and his acting. The others in the large cast were all fine. I was particularly impressed with Sarah Larsen as Sofia, by Benjamin Gelfand's Pirro, and by Jeffrey Beruan as the King of Antioch. Beruan's spirited rendition of Acciano's only aria got Act II off to an excellent start. Sarasota Opera is known for its excellent choruses and there were no disappointments in I Lombardi.

Ken Yunker's lighting was incredible, especially during Oronte's aria from heaven. Howard Tsvi Kaplan's costumes were a pleasure as usual, and I wondered if he had seen the Moorish attire in the Bergamo production of Donizetti's Sancia di Castiglia. Jeffrey Dean's scene designs were appropriately spectacular with plenty of banners and other Crusader paraphernalia. I particularly liked Arvino's monster tent in Act IV which opened to the view of Jerusalem. The choruses moved well, but at times I thought the principals were a bit wooden.

I am often concerned that the orchestra plays too loudly in opera and often drowns out the principals but this was not the case with I Lombardi. Indeed, I would have preferred a bit more volume from the brass and percussion at appropriate intervals. Act III features a unique mini violin concerto as a prelude to Oronte's death scene, and Concertmaster Liang-Ping How dazzled the audience with his technique.

All in all this was a wonderful event. Even though Act I was somewhat disappointing, Acts II, III, and IV were on the mark. The odds of my seeing I Lombardi staged again remain poor but fortunately I'll be able to remember Sarasota's excellent production.

Lew Schneider