Other Links
Editorial Board
UK

Editor

s

- Roger Jones and John Quinn

Editors for The Americas - Bruce Hodges and Jonathan Spencer Jones

European Editors - Bettina Mara and Jens F Laurson

Consulting Editor - Bill Kenny

Assistant Webmaster -Stan Metzger

Founder - Len Mullenger
Google Site Search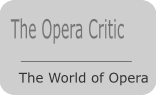 SEEN AND HEARD INTERNATIONAL OPERA REVIEW
Rossini, L'Italiana in Algeri: Soloists, Orquesta Sinfónica de Euskadi, Coro de Ópera de Bilbao. Conductor: Michele Mariotti. Palacio Euskalduna de Bilbao. 22.1.2011 (JMI)

New Production ABAO (Asociación Bilbaína de Amigos de la Ópera, ABAO) in Coproduction with Opera de Santiago de Chile, Opera de Lausanne and Ópera de Oviedo

Direction: Emilio Sagi
Sets: Enrique Bordolini
Costumes: Renata Schussheim
Lighting: Eduardo Bravo

Cast:
Isabella: Daniela Barcellona
Mustafá: Michele Pertusi
Lindoro: Antonino Siragusa
Taddeo: Paolo Bordogna
Haly: Carlos Daza
Elvira: Carmen Romeu
Zulma: Marifé Nogales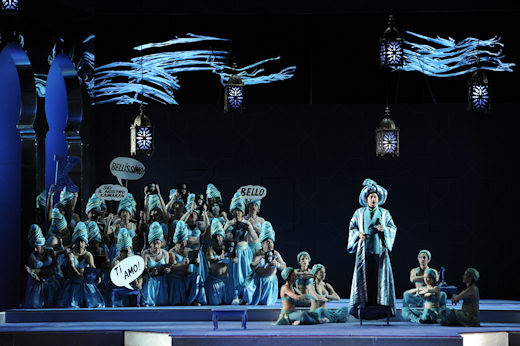 Production Picture © E Moreno Esquibel


Bilbao's opera currently shows Rossini's L'Italiana in Algeri, an opera last seen on that stage in March of 1999. What looked good on paper—cast, direction, music—turned out to be something rather less than anticipated.

Emilio Sagi's production at the ABAO was premiered in Santiago de Chile in October 2009 and had been shown in Lausanne last November. The sets are simple and attractive, although an awful lot of people are necessary to change the sets which can be quite bothersome in certain moments. Costumes are very appealing, with Isabella as a 1950s movie star at the centre. Colours are the core of this production, changing from white at the beginning to the colours of the Italian in the end, passing through red and blue in Mustafa's palace. Good lighting can be expected in Sagi's works, although I've seen better in other Sagi productions.

The production works better from an aesthetic point of view than in terms of pure stage direction which is so important in an opera that Stendahl referred to as "organized madness". There are some funny elements in the production, such as the idea to present the eunuchs with brassieres, but it is short of natural comic play from the singers. It is a pity that this attractive work has thus been denied the expected success.

Young maestro Michele Mariotti is one of most promising young Italian opera conductors today, especially—you would think—in this kind of repertoire. I had the opportunity to see him succeeding conducting Verdi and my musical expectations were very high. My disappointment was therefore all the more pronounced, since I couldn't have couldn't expect a reading so devoid of life and spark. Mariotti had an excellent control of pit and stage and he navigated the more complicated moment, particularly the end of the first act, astutely. But to make this opera a success a conductor must have a great time on the podium and convey the fun and joy to the orchestra and the public. None of that happened her. Presumably this was not a problem of the chosen tempos, which seemed well suited for the most part. But the fact is that the whole performance never recovered from the most routine reading of the Overture. Things might have been salvaged if the brass had been half as accurate as the chorus.

The undisputed protagonist of this opera is Isabella, the Italian girl who gives the opera its name. Great Isabellas have always been scarce, perhaps more than ever. To my taste, Daniela Barcellona is the best possible Isabella today in vocal terms, since she is a true mezzo soprano with a powerful middle range and a sonorous bottom and a voice perfectly suited for Rossini coloratura. Her dramatic ability is remarkable and she was one of the few singers on stage who got into the spirit of the work. Her only handicap—to those who lack suspension of disbelief—is that he doesn't exactly look like the kind of Isabella who makes three more or less shallow men fall in love with her. This discrepancy was sadly aided by the costumes.

Michele Pertusi was Mustafa in the ABAO twelve years ago, and this bass baritone remains an elegant singer, with his refined line and excellent agility so suited to Rossini. Unfortunately his voice is too small for this theatre and he is still better suited for the Rossini serio. In a big house and forced, as in this production, to sing from the back of the stage, he is difficult to hear even under the otherwise best of conditions. It was a good and professional performance of his, but Mustafa needs a bit more oomph than this.

Antonino Siragusa gave his debut in ABAO and displayed his well known strengths and weaknesses. The voice is not really beautiful, but it is very well projected and it can be heard from any corner in the house. He is perfectly suited to Rossini and he owns a bright and very easy top register. Obviously he is no Juan Diego Flórez, but he was a remarkable interpreter of Lindoro, being at his best both in "Languir per una bella" and "Concedi amor pietoso".

Paolo Bordogna was not too convincing as Taddeo. Firstly his relationship with Isabella was none too credible. Something should have been done to make him appear older on stage. Nor is his voice is not particularly attractive either. On top of that, this was not even one of his best performances. Catalan baritone Carlos Daza was correct as Haly, but rather short of comic feeling. Soprano Carmen Romeu's easy high notes were a delight in the ensembles... to the point where it was difficult to understand why Mustafa would have preferred Isabella to Elvira.
ABAO also offered a second cast with young singers in the main roles. The American mezzo soprano Eve Gigliotti showed a pleasant voice and good musicality as Isabella, even though her voice is not very well suited for the role, lacking in the lower register and with a rather underdeveloped middle range. Michele Angelini was Lindoro. He produced a pleasant but small tenor, not especially well projected in the high notes and his skills as an actor also need improving. The Chilean bass baritone Ricardo Seguel was the best in the cast as Mustafá, and was actually better than Michele Pertusi in the first cast. His Mustafá was very natural and funny, always the focus of attention on stage. His voice is not too especially big but he handles Rossini coloratura very well. This wad a very promising debut. Paolo Bordogna was Taddeo once again and he was much better than at the premiere. He and Ricardo Seguel were an excellent pair of Rossini buffo characters.


José M Irurzun