Other Links
Editorial Board
UK

Editor

s

- Roger Jones and John Quinn

Editors for The Americas - Bruce Hodges and Jonathan Spencer Jones

European Editors - Bettina Mara and Jens F Laurson

Consulting Editor - Bill Kenny

Assistant Webmaster -Stan Metzger

Founder - Len Mullenger
Google Site Search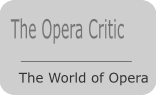 SEEN AND HEARD INTERNATIONAL OPERA REVIEW
Gluck, Iphigenie en Tauride :
Soloists, Orquesta Sinfónica de Madrid, Coro Intermezzo. Conductor: Thomas Hengelbrock. Teatro Real de Madrid 13 and 14. 1.2011. (JMI)


Coproduction Lyric Opera Chicago, London Covent Garden and San Francisco Opera.

Direction: Robert Carsen.
Sets and Costumes: Tobias Hoheisel.
Lighting: Robert Carsen and Peter Van Praet.
Choreography: Philippe Giraudeau.

Casts:

Iphigenie: Susan Graham/Maria Riccarda Wesseling.
Oreste: Plácido Domingo/Lucas Meachem.
Pylade: Paul Groves/Yann Beuron.
Thoas: Frank Ferrari.
Diana: Maite Alberola.
First Priestess: Susana Cordón.
Second Priestess: Anna Alàs i Jovè.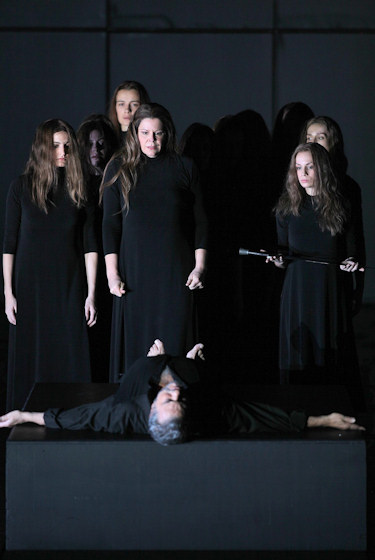 Production Picture © Javier del Real
It is well known that any opera performance consists of three main parts, on whose relative importance opinions differ significantly. I refer, obviously enough, to the staging, the music and the singing: and the times are few that the opera goer leaves a performance fully satisfied with each of them. Sometimes it does happen however and that was precisely the case with these performances of Gluck's Iphigenie in Madrid. The production is the first clear and indisputable success in the Mortier era, because so far things have been rather erratic. In my opinion though, the success belongs more to the Teatro Real than to Mr. Mortier, since the decisions to program this title, together with the choice of stage production and the three main protagonists of the first cast were obviously taken by the theatre's previous artistic directorate.

The stage production bears the signature of Robert Carsen and was premiered in Chicago in October 2006, travelling later to London's Covent Garden. Carsen offers us a true minimalist work, focused on the tragedy and suffering of the protagonists, particularly Iphigenia and Orestes. Tobias Hoheisel's sets offer an oppressive, bare and enclosed space, a kind of cube, with a big knife, or rather a sword, as the only stage prop. The costumes are essentially timeless and always in black. Inside this dark and oppressive atmosphere, the lighting gets unusual prominence, actually becoming the real protagonist of the stage production. It goes without saying that in this respect the lighting work is splendid. The dark environment only changes at the end of the opera, when the goddess Diana forgives Orestes and his sister, and the enclosing walls are lifted. In this kind of productions, the stage direction has exceptional importance and I must say that Robert Carsen is a real genius in this field. There is simply splendid work with the soloists, but also with extras - priestesses and guards - contributing to maintain constant interest and emotion. The most debatable point of the production is the fact of placing the chorus in the orchestra pit, which I finally found s a successful idea, since other extras covered the stage action very well and the sound coming from the pit was very impressive. In short, this is another great work by Robert Carsen.

The musical direction – Mr. Mortier's personal decision – was in the hands of Thomas Hengelbrock, who offered an excellent reading, wholly elegant and perfectly suited to Gluck's music. Mr Hengelbrock's Teatro Real debut turned out to be truly successful: he did a great job with the orchestra, which in fact has improved a lot during the last two years and I should add that Mr Mortier' s decision not to have a permanent musical director is proving very positive. There was also an outstanding performance from the chorus, particularly in the female section: the choice of Andrés Máspero as chief chorus director is also proving very positive.

American mezzo soprano Susan Graham is surely the greatest Iphigenia around just now and she is in large part responsible for the return of this masterpiece to the repertoire of the major opera houses. Ms Graham has always been the protagonist of this opera in Robert Carsen's production and it is difficult to conceive of it without her presence on stage. Susan Graham's identification with Iphigenia in this production is total and her interpretation has huge doses of intensity and emotion. Vocally, she is one of the most important voices in her fach and is perfectly suited to meet the demands of the character; only her very top notes lose some of the exceptional quality of her other registers. Her vocal performance was faultless, although she had a little trouble in the difficult aria that opens Act IV. In the second cast we had Maria Riccarda Wesseling, who was also good interpreter, although a little light for the part for my taste. In the above mentioned aria she occasionally resorted to some rather shouty high notes.

Plácido Domingo was again Orestes and he sang and acted with his usual intensity as he has done in the past, both at the Metropolitan and Valencia. His stage skills are a miracle for someone who will be 70 in a few days. His vocal freshness in the middle register is a second miracle. American baritone Lucas Meachem was an excellent Orestes also. He lacks the charisma of Superman, but his performance did not fall below his colleague's at all.

Paul Groves is a real specialist in the character of Pylades, having been - like Susan Graham - a fixed asset always in this Robert Carsen production. His performance must be considered as remarkable from all points of view, much better than in his last outing in Spain as Alwa in Barcelona's Liceu. He was an excellent Pylades, even if his high notes are a bit colourless. In the second cast French Yann Beuron was too light for the part. He was quite good in the first half, easy at the top and very musical, but in the most dramatic second part he was overparted. Frank Ferrari was the weakest member of the cast as Thoas. This French baritone is not at his best anymore.

The secondary characters were very well covered. Among them I should mention Maite Alberola as Diana, who sang from the upper part of the theatre. Her brief intervention was wonderful. She is ready for a major leap in her career.

Teatro Real was sold out at the premiere and almost so the following evening. There was a triumphant reception for Susan Graham, but also for Plácido Domingo and Paul Groves. Thomas Hengelbrock, orchestra and choir were deservedly cheered by the audience. The creative team, headed by Robert Carsen, obtained the unanimous approval of the public. In the second cast Wesseling and Meachem were the winners.

The premiere started 5 minutes late, because there was an announcement by Gerard Mortier that Superman had a cold (which proves that he is a normal human being after all) but would sing anyway.

José M Irurzun