Other Links
Editorial Board
UK

Editor

s

- Roger Jones and John Quinn

Editors for The Americas - Bruce Hodges and Jonathan Spencer Jones

European Editors - Bettina Mara and Jens F Laurson

Consulting Editor - Bill Kenny

Assistant Webmaster -Stan Metzger

Founder - Len Mullenger
Google Site Search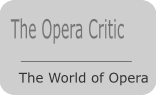 The Henschel String Quartet: UK Tour January 2011 (MC)

The Munich based Henschel Quartet are superb chamber musicians. They are one of an elite group of string quartets on the international stage today and should not be missed.

In 1994 the three Henschel siblings: Christoph and Markus (violinists) and Monika (violist) had the good fortune to find their ideal cello partner in Mathias Beyer-Karlshøj. Their intensive years of instruction was of the highest international standards studying with the eminent Sergiu Celibidache, Felix Andrievsky, Thorleif Thedeen, Franz Beyer, the Amadeus Quartet and later with members of the Alban Berg and La Salle Quartets.

In 1995 the Henschel Quartet were prize-winners of no less than five prizes at International String Quartet competitions in Evian, Banff and Salzburg for the best interpretation of works ranging from Mozart to contemporary composers. In 1996 they won the first prize and gold medal at the coveted Osaka International String Competition. Highly acclaimed concerts in many of Europe's prestigious concert halls helped to firmly establish the Henschel as one of today's leading internationally renowned string quartets. In 2008 with Kazuki Sawa (viola) they gave was thought to be the concert première of Max Bruch's recently rediscovered String Quintet in E flat (1918) at the Wigmore Hall, London. A year later the augmented Henschel made the world premiere recording of the Bruch score.

In 2010 the Henschel Quartet played for His Holiness Pope Benedict XVI on his name day at the Vatican's Sala Clementina a version for string quartet and mezzo soprano of Haydn's "The Last Seven Words of Christ on the Cross." The Henschel appeared with mezzo soprano Susanne Kelling. Additionally in 2010 the Henschel gave a performance at the Royal Spanish Court in Madrid for a performance of Mozart and Schubert on the court's precious Stradivarius string collection.
Latest News: For this tour violinist Peter Clemente (of the Clemente Trio) from Munich is substituting for Markus Henschel.
People wishing to attend any of the tour recitals are advised to check with the website of each hosting organisation for further details. Dates and programmes are as follows:

Friday 21st Jan 2011: Hoylake Chamber Music Society (http://www.chamberconcert.co.uk)
Westbourne Hall - Community Centre,
Westbourne Road
West Kirby
Wirral
CH48 4DQ at 19.30
Mozart Quartet in Bb, K.458 Schulhoff: Quartet, Op.25 Schubert: Quartet in d minor, D.810

Saturday 22nd Jan 2011 : Ipswich Chamber Music Society (http://www.ipswichchambermusic.org.uk/2010_season_4.htm) 
Great School,
Henley Road,
Ipswich
IP1 3SG at 19.30

Haydn Quartet E flat-Major Op.33/2 "The Joke", Schulhoff Quartet No.1, Mendelssohn Quartet Op.44/2


Sunday 23rd Jan 2011:
Stour Valley Arts and Music

(

http://www.svam.org.uk/henshel.php)
St Mary's Church,
East Bergholt
Nr. Colchester, Suffolk
CO7 6TE at 16.00

Mozart Quartet B flat Major KV 458 "The Hunt", Webern Six Bagatelles Op.9, Schubert "Death and the Maiden".

Monday 24th Jan 2011: Luton Music Club
(http://www.lutonmusic.org.uk/Current_Season/current_season.html)
Library Theatre, Central Library,
St. George's Square,
Luton
LU1 2NG at 19.45
Haydn Quartet E flat-Major Op.33/2 "The Joke", Schulhoff Quartet Nr.1, Mozart Quartet B flat Major KV 458 "The Hunt".

Friday 28th Jan 2011:
Leamington Music - International String Quartet Concerts
(http://www.leamingtonmusic.org/20102011/28_Jan_Henschel.html)
Royal Pump Rooms
The Parade
Royal Leamington Spa
CV32 4AA at 19.30

Haydn Quartet E flat-Major Op.33/2 "The Joke", Schulhoff Quartet Nr.1, Schubert Quartet d-minor "Death and the Maiden"


Saturday 29th Jan 2011:
Norfolk and Norwich Music Club
John Innes Centre
Norwich Research Park
Colney
Norwich
NR4 7UH at 19.30 (18.30 Pre-concert discussion with Monika Henschel and Jens Elvekjaer)

Mahler Piano Quartet in G minor, Schumann Piano Quartet in E flat major Op.47, Brahms String Sextet No.2 in G major Op.36 with Trio con Brio, Copenhagen

Sunday 30th Jan 2011: Norfolk & Norwich Music Club
(http://www.norwichchambermusic.co.uk/

)

John Innes Centre,
Norwich Research Park,
Colney,
Norwich
NR4 7UH First recital at 11.30 (This concert is being recorded by BBC Radio 3)


Dvorak String Sextet in A major Op.48, Brahms Piano Quintet in F minor Op.34, with Trio con Brio, Copenhagen

Second recital at 15.00


Strauss String Sextet, Prelude to Capriccio, Franck Piano Quintet in F minor
Tchaikovsky Souvenir de Florence Op.7 with Trio con Brio, Copenhagen


Michael Cookson