Other Links
Editorial Board
UK

Editor

s

- Roger Jones and John Quinn

Editors for The Americas - Bruce Hodges and Jonathan Spencer Jones

European Editors - Bettina Mara and Jens F Laurson

Consulting Editor - Bill Kenny

Assistant Webmaster -Stan Metzger

Founder - Len Mullenger
Google Site Search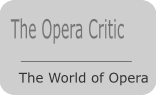 SEEN AND HEARD UK OPERA REVIEW


Unexpected Meetings - The operas of Haydn: Sophie Bevan, Ana James (sopranos); Thomas Hobbs (tenor); Classical Opera Company/Ian Page. Wigmore Hall, 12. 01. 2011 (CC)
The Classical Opera Company presented a memorable Artaxerxes (Arne) at the Linbury Studio at the Royal Opera House (their recording of this piece is about to be released). The concert under review here, an evening at the Wigmore Hall of Haydn opera arias, was hardly less impressive, especially when one takes in the last-minute cancellation of Rebecca Bottone, who was replaced by New Zealand soprano Ana James.

Haydn is not known for his operas. Antal Dorati made an effort to bring them to greater prominence with his Philips recordings (with all-star casts), yet opera companies did not take the bait. Mozart, of course, casts a long shadow in opera house schedules. If there was one thing Ian Page's evening succeeded in, though, it was to leave one itching to hear the complete pieces. Haydn's imagination seems endless, his scoring ever expert. Perhaps most notable was the gorgeous string texture against plaintive oboe of the Philemon e Baucis excerpt, "Wenn am weiten Firmamente". This aria, a few minutes of the purest, most serene joy, was beautifully sung by Thomas Hobbs. Comparisons between the operas of Haydn and Mozart might, for example, bring comments like hearing "Wie wallet mein Herze" from Der Feiersbrunst as a pre-echo of the wafting winds of Così fan tutte, but safest and best, perhaps, to examine the Haydn items on their own merit.

The concert provided one aria from each of Haydn's 16 operas. There were no duets or trios, just expertly choreographed sequences. The decision to present the longest excerpt of the evening first was probably a sane one. "La beltà che m'innamora" from Acide (Haydn's first opera) featured the wonderfully secure tenor of Thomas Hobbs - strong of voice yet lyrical and very secure at speed. He excelled again at the other end of the first half in an aria from L'incontro improvviso ("Indarno m'affanno … Deh! Se in ciel'"), a Turkish-tinged piece which, alas, showed some of the insecurities of using natural horns. His wit was to the fore in the catalogue aria "Ho viaggiato in Francia" (Orlando Paladino), where a "patter" element worked wonderfully.

The soprano Sophie Bevan possesses a gorgeous voice, rounded, full and very in tune. She is capable of expert wide leaps, and gives full emotive weight to suspensions. Her slurs in the slow aria, "Navicella da venro agitata" (La marchesa nespola) were memorable. Bevan excelled again later in her witty reading of "Salamelica, Semprugna cara" (Lo speziale, another piece with Turkish influences evident). Also, the way Bevan used very little vibrato and presented the line of "E la pompa un grand' imbroglio" (L'infedeltà delusa) seemed perfectly suited to the music (which portrays a rejection of wealth in favour of her lover). Her dramatic grasp, too, in the unaccompanied portions of "Misera, chi m'aiuta … Dove fuggo" from La vera costanza (in terms of orchestration, one of the most arresting of the evening's arias) and in "Vedi se t'amo … Odio, furor, dispetto, dolor" (Armida) commanded the attention in no uncertain terms.

All credit to Ana James for bringing her best and being absolutely her colleagues' equal. Her first aria was "Non v'è chi mi aiuta" (La canterina), a busy, dramatic, Sturm und Drang piece. The opera is the first of Haydn's operas with an almost complete score. James' vocal flourishes were most exciting, as they were in "Già si vede I vezzi e vanti" (Le pescatrici). Her agility in "Ragion nell'alma siede" (Il mondo della luna) was remarkable. It was a fine decision to end the evening with a slow, affecting aria ("Dov'è l'amato bene? … Del mio core" from L'anima del filosofo). Ana James' intelligent phrasing of the long lines was highly effective.

A stimulating and most enjoyable evening. The Classical Opera Company continues its fine work in no uncertain manner.
Colin Clarke