Other Links
Editorial Board
UK

Editor

s

- Roger Jones and John Quinn

Editors for The Americas - Bruce Hodges and Jonathan Spencer Jones

European Editors - Bettina Mara and Jens F Laurson

Consulting Editor - Bill Kenny

Assistant Webmaster -Stan Metzger

Founder - Len Mullenger
Google Site Search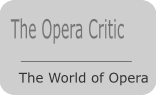 SEEN AND HEARD INTERNATIONAL CONCERT REVIEW


Kreisler, Beethoven, Ives, Bach, Antheil: Hilary Hahn (violin), Valentina Lisitsa (piano), presented by San Francisco Performances, Herbst Hall, San Francisco. 19.2.2011 (HS)
You can't accuse Hilary Hahn and her frequent recital partner, Valentina Lisitsa, of timidity when it comes to repertoire choices. Their program Saturday night in San Francisco ranged from the pristine purity of Bach to the raw-edged grindings of the self-acclaimed "bad boy of music" (of 1920s Paris), George Antheil. That the results, from two artists in their early 30s, were uneven is not surprising. That the highlights were thrilling, totally expected.
After all, the American violinist, a onetime child prodigy, brings clarity, a big sound and impeccable technique to bear on everything she plays. The Ukrainian-born pianist, who has collaborated regularly with Hahn since 2007, supplies hot-blooded passion when the music requires it. They blend together musically, making an impressive pair, prepared to tackle every style of music you might want to name. For this concert, it was quite the smorgasbord.
For an appetizer, they offered a Fritz Kreisler bonbon, titled in the program Variations on a Theme of Corelli (in the style of Tartini). In a pre-concert interview, Hahn recalled playing it when she was 10 or 12. With the mastery she now shows, it had a winning grace.
There was much to like in Beethoven's Sonata No. 5 ("Spring"), which followed, especially the delicacy and refinement of the balances and the conversational style of the playing. What was missing, however, was any kind of impelling rhythm. It just bounced along nimbly—pleasant, but only a fraction of what this music can deliver.
Much better was Ives' Sonata No. 4, "Children's Day at the Camp Meeting." One of his most ingratiating scores, its 10-minute running time plays the composer's usual fascination with hymn music against moments of puckishness and occasional dissonances. In this case, Hahn's seriousness with the hymns, and her almost wistful take on them, made a perfect match with Lisitsa's impetuousness.
All that was but a prelude to a considerably more rewarding second half. Hahn opened with a dazzlingly overt, tautly controlled and dynamically expressive Bach Partita No. 1 for Unaccompanied Violin in B minor. One could quibble over her sometimes extravagant use of vibrato, but she completely immersed us in Bach's architecture, language and power with a naturalness that was totally winning. The fascinating form, which doubles each movement with a second, different version using the same shape and chord patterns, opened up endless possibilities for her.
The contrast between the graceful Allemande that opens the piece and the faster double that follows made them seem like mirror images. The slow Sarabande, with its multiple stops that produced thrillingly accurate harmonies, segued smoothly into the double so easily it felt like a natural continuation. And the famous Bourée, so often overshadowed by the less familiar double, actually gained momentum right through to the finish.
The Antheil Violin Sonata No. 1 concluded the program with chugging ostinatos, brash dissonances and the sort of intensity by repetition favored these days by rock musicians. It both fascinated and repelled the ear. Still, it felt so fresh and distinctive that it even made Ives seem a tad old-fashioned. For their part, Hahn and Lisitsa dived in with both feet and never let up. As with the entire program, Hahn played from memory, which lent the music freedom and, especially, insouciance. She and Lisitsa were unerringly together on Antheil's shifting dynamics, tricky time changes and the occasional ritard. Finishing in a rush, it brought the program to a high point.
For encores, they started with another Kreisler bonbon, Liebesfreud, a piece that can easily come off as cheesy, but here played with a smile and utter sincerity. Hahn followed with the Preludio from Bach's Partita No. 3 in E major, brilliant in its expansiveness and clarity and rhythmic bite. Lisitsa finished us off with an utterly gorgeous, beautifully crafted Chopin Nocturne in E flat, which moved along with a gentle sense of urgency and never became indulgent. Made me want to hear her play a whole concert of Chopin, it did.
Harvey Steiman