Other Links
Editorial Board
UK

Editor

s

- Roger Jones and John Quinn

Editors for The Americas - Bruce Hodges and Jonathan Spencer Jones

European Editors - Bettina Mara and Jens F Laurson

Consulting Editor - Bill Kenny

Assistant Webmaster -Stan Metzger

Founder - Len Mullenger
Google Site Search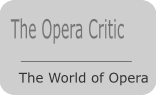 SEEN AND HEARD INTERNATIONAL CONCERT REVIEW


Beethoven, Brahms
: Hélène Grimaud (piano) Munich Philharmonic, Christians Thielemann (conductor) Philharmonie @ Gasteig, Munich, 12.3.2011 (
JFL
)

Brahms
: Haydn Variations op.56a
Beethoven : Piano Concerto No.5, Symphony No.7

The Haydn Variations of the Munich Philharmonic under Christian Thielemann started with a vivid whimper before turning sluggish-woken only for the oddly charming pronounced rhythms of the Sixth Variation (Vivace) that had elements of an Elephant tripping over his outsized sneakers.

Hélène Grimaud's best quality is perhaps the absence of pretentiousness. Last heard in London, she's never really excited me in her painfully limited concerto repertoire, but she's certainly never disappointed me. I find her playing a bit too clunky and too one-dimensional to compare her with the understated no-nonsense greats à la Wilhelm Backhaus or Clifford Curzon-but I'd rather hear a Beethoven "Emperor" Concerto played straight than with too much perfume and bells and whistles and ego super-glued to every second bar. [Not that I don't make exceptions…] And in Mme. Grimaud there is something-although I can't quite put my finger on what it is-that stands between her monochromatic renditions and the tediousness that a lesser, if similar straight-forward, bland pianist would evoke.

Or so I thought.

For most of the first movement I thought that "tediousness" would be too unkind a description for the performance… but that "boring" would serve nicely as the adjective of choice. Nothing at all happened-except for one and the same continuous, predictable sound mass to emerge from the mechanical soloist and the dull orchestra. Sometimes it was loud, sometimes louder. I would like to say that the slow tempi of the Adagio un poco molto were justified by a particular intense lyricism… alas: No. Not really. Not at all, actually. At this point I toyed of damning with faint praise, call the affair "nice", and blot it out of memory as soon as I left my seat for intermission. But no, in the transition between the second and third movement, Grimaud threw the last strand of unpretentiousness over board with a mannerism of epic proportions as she went for a horrifyingly gratuitous ritardando-that-was-none, ground everything to a halt, and then jumped into and through the finale as if she had forgotten an appointment, missing notes en route. The reception was thunderous all the same-after all we're dealing with the combination of three big ticket items (Beethoven, Thielemann, and especially Grimaud)-but it's impossible to think that Mme. Grimaud herself wasn't aware that this was not her finest hour.

Would Beethoven's Seventh spell redemption? Whoooom. Thielemann attacked the first chord with such vigor that I imagined him saying: "Sorry about that just now… Tablua Rasa, OK?! Let's enjoy ourselves!" And sure enough: this heavy working, variously light and delicate, then rambunctious and hard edged Seventh was the epitome of an interpretation with personality and musical sensibility stamped all over it. It could of course still be perfectly possible to dislike CT's Beethoven. But it is impossible not to find it intriguing and interesting. He has a point, he makes it well, and most of the players go all out in giving him what he asks for. Thielemann's interpretations are, by and large, not narcissistic or sloppy or both, but deeply considered and carefully executed. And here was Beethoven operatic in its drama, extraordinarily flexible in its tempos, rich in color, brawny and nimble, and with dynamics that went well beyond "louder here /less loud there". It was the quickening restorative-and more-that Mme. Grimaud had made so necessary. Even Thielemann was happy-the third time he came on stage, called back by the 'bravos' that instantly drowned a few errant, possibly political 'boos', he hopped onto the rostrum with all the delight of a gleeful, candy shop-bound young boy.
Jens F. Laurson

Jens F. Laurson is the Critic-at-Large for Classical WETA 90.9, Washington DC