Other Links
Editorial Board
UK

Editor

s

- Roger Jones and John Quinn

Editors for The Americas - Bruce Hodges and Jonathan Spencer Jones

European Editors - Bettina Mara and Jens F Laurson

Consulting Editor - Bill Kenny

Assistant Webmaster -Stan Metzger

Founder - Len Mullenger
Google Site Search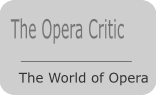 SEEN AND HEARD NEWS ARTICLE

Twenty Two Years of Garsington Opera: Richard Osborne's celebratory book published by Unicorn Press (BK)
Garsington Opera – a celebration, by Richard Osborne has been published by Unicorn Press. With its lively and informative text and lavish illustrations, this handsome hardback volume chronicles the first twenty-two years of Garsington Opera, from its modest beginnings on the terrace at Garsington Manor to the major festival that draws opera-lovers from far and wide today.

The story of the development of Garsington Opera, the vision of the late Leonard Ingrams, impresario and host on a grand scale, is colourful and fascinating. Author Richard Osborne sheds light on the growth of the opera under Leonard Ingrams' enthusiastic leadership, taken on by Anthony Whitworth-Jones after his untimely death, through an extraordinarily rich and ambitious programme of productions over two decades.
The author Richard Osborne is one of Britain's best known writers and broadcasters on music and a leading authority on the music of Rossini. A new edition of his Master Musicians Rossini was published by Oxford University Press in 2007. As well as contributing articles on Italian opera to The New Grove Dictionary of Opera, he has devised and written programmes about Rossini's life and times for the City of London and Edinburgh festivals and for BBC Radio 3. His other books include Conversations with Karajan, Herbert von Karajan: A Life in Music, and Till I End my Song: English Music and Musicians, 1440 – 1940: A Perspective from Eton. He is one of Gramophone magazine's longest-serving reviewers and has been music columnist of The Oldie since its foundation in 1992. A regular visit to Garsington, he has seen and written about every production at the festival since 1992.
Garsington Opera a celebration ISBN 978 1 907509 13 2 is available at £30.

Bill Kenny
* * * * * *
The curtain will rise on Garsington Opera's new home on the Getty family's magnificent Wormsley Estate in Buckinghamshire, on 2nd June 2011 with a new production of Mozart's The Magic Flute. This will be followed with Rossini's comic opera, Il Turco in Italia and finally the British premiere of Vivaldi's inspired but virtually unknown work La verità in cimento. More details are available from: