Other Links
Editorial Board
UK

Editor

s

- Roger Jones and John Quinn

Editors for The Americas - Bruce Hodges and Jonathan Spencer Jones

European Editors - Bettina Mara and Jens F Laurson

Consulting Editor - Bill Kenny

Assistant Webmaster -Stan Metzger

Founder - Len Mullenger
Google Site Search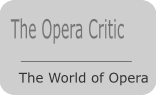 SEEN AND HEARD UK BALLET REVIEW


English National Ballet
-
Black & White
:
D
ancers and orchestra of English National Ballet. Conductor: Gavin Sutherland. London Coliseum, London, 16.3.
20
11
(JPr)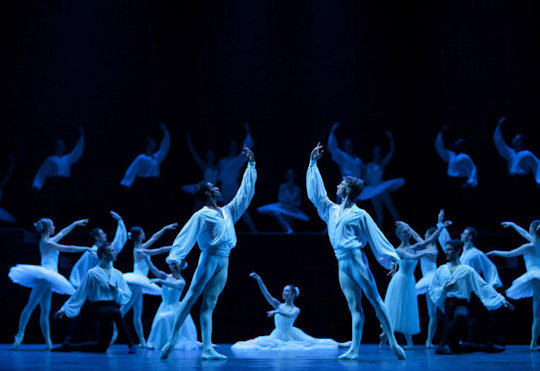 Suite en Blanc


Throughout my life if I have occasionally have been asked if I could be granted a 'gift' for one day what would I choose; unhesitatingly I have always replied that I would want to be a ballet dancer: of course this year although the hugely successful Black Swan film and the BBC4 programme Agony & Ecstasy: A Year with English National Ballet has stripped bare - in more ways than one - the world of ballet and revealed the real agony and hard-work behind the glamour. Truth be told I always knew what it was really like but many stage-struck mothers with ambitious young children may not have realised what they were getting themselves into until now. The film we can dismiss as fiction but on BBC4 we are getting a truer insight into the workings of a ballet company - albeit a heavily edited version - so in the first two programmes we have seen the petulant antics of the bullying stereotypical choreographer pushing dancers into performing steps he could never manage in his prime and then a company pulling together to put on a show despite shortage of personnel and finances. Of course it makes good TV to see the dancers enjoying their alcohol and then bemoaning when they are easily injured or fatigued. This puts me in mind of Premier League footballers - though a privileged few of them earn more in one day than the lowest ranked dancer earns in a year.

The best way to determine the 'health' of a ballet company is not all the tantrums and travails backstage but what happens on stage. The opening night of this short Black & White run showed they are in excellent shape with a number of talented dancers, if perhaps too few genuine 'stars'. I first encountered ENB - or London Festival Ballet - some thirty-five years ago when Nureyev staged Sleeping Beauty for them - it remains perhaps the most beautiful and atmospheric production of this ballet I have ever seen. Nureyev revolutionised the role of the male dancer who previously was just basically there to hold the ballerina securely aloft or count correctly during supported pirouettes. The men of the ENB were very important throughout all the choreography on display during this mixed Black & White programme and Nureyev would have been delighted.

In the first of two pieces created for the company by director Wayne Eagling, Resolution is set to Mahler's Rückert-Lieder (refinedly - if a little prosaically - sung by Elizabeth Sikora) and takes it inspiration from Eagling's work with a muscular dystrophy charity Duchenne. Resolution is moody, melancholic and introspective that - too a point - fits Mahler's music well. There is quite a bit here that is reminiscent of Béjart's 'Songs of a Wayfarer' or Macmillan's 'Song of the Earth'. The choreography is imbued with feeling and compassion - at one - with the music but not the meaning of the songs. Liebst du um Schönheit is a love song crying out for a poignant duet but does not get it. However - taking into account his inspiration - the closing 'Ich bin der Welt abhanden gekommen' (I have become lost to the world) is a triumph as there is a male trio, with one (Van le Ngoc who had a busy evening as dancer and choreographer) apparently ailing and weak, being nurtured and carried by the other two in seeming despair. In its entirety is clearly a heart-felt piece and everyone gives it their all. My only quibble was that the smoke, fairly dark clothing and dull blue lighting (that became familiar during the evening) was often not to the advantage of the dancers.

I guess thoughts of Black & White came before the success of the recent ballet film and so the Black Swan pas de deux was shoe-horned into the programme. ENB's principals Erina Takahashi and Dmitri Gruzdyev lifted the sombre mood the opening Resolution engendered with a few bravura minutes of technical brilliance. Gruzdyev - who was a wonderful Romeo for the company when I saw him in January - is still an excellent danseur noble and perfect partner: his tours en l'air with secure soft landings and her basically steady swift fouettés was - I repeat - a technical ballet feast. However all sense of character was missing.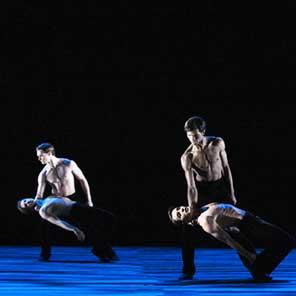 Men Y Men


Next was Wayne Eagling's Men Y Men that originated from the need to give the male dancers something to do while the company recently toured Giselle. It allows nine bare-chested men in black trousers to show us what they are made of. Again there is a bare stage and no plot: to Rachmaninov's piano preludes it has men partnering and lifting one another in physical feats that often has more to do with the acrobatics of Cirque du Soleil than ballet. Some of Eagling's signature moves are seen here again such as a cascade of movement through all the dancers that was particularly memorable in their final series of fast virtuoso spins. The second Agony & Ecstasy programme featured Max Westwell learning the role of Romeo and his subsequent triumphant debut performance. It came as a surprise to see he had not been promoted and was still a soloist. It became clear why this was when he is seen dancing next to Vadim Muntagirov, the young first soloist who featured in the first TV programme. Still barely in his twenties, for Muntagirov each dance move was transmitted from his feet upwards through his flexible body to the tips of his fingers; for Westwell - good dancer as he is - not much happens above the waist.

After seeing ENB dancer Van Le Ngoc's new work Vue de l'autre I overheard a - I assume - fellow critic say he would rather have pins put into his eyes than sit through it again and how despairing love duets were old hat. Truthfully it was a rather trite, tinkly, score by Ludovico Einaudi but perhaps I was more open than some to it quaint, romantic - albeit abstract - mood. Everyone was in leotards and Daria Klimentová - clearly ENB's most musical ballerina - and Vadim Muntagirov excelled in their opening pas de deux with a rose (that was an unnecessary addition) as did Elena Glurdjidze and Arionel Vargas with their chiffon scarf. It involves ten dancers and there is a silent opening, exits, entrances, solos, off-centre balances, as well as, some rather inelegant upside-down splayed lifts for the women. Everything is resolved when Klimentová and Muntagirov return at the end for a spot-lit happy ending.

The ballets of Serge Lifar are rarely performed in Britain despite the significant part he played in twentieth-century dance. So an undoubted highlight of the evening was Suite en Blanc, choreographed by Serge Lifar in 1943 to music for the lost Lucien Petipa ballet Namouna by the nineteenth-century composer Edouard Lalo. It has not been danced by the company for 35 years and from the spectacular opening image of the whole ensemble I knew we were in for a treat. It includes (in order) a pas de trois, pas de cinq and pas de deux and four major solos, as well as, making incredible technical demands on all the dancers, including those in the corps de ballet. It is undoubtedly strictly classical (with the emphasis on beats and turns) but stylistically it represents Lifar's development of classical choreography, famously with the pleasingly natural use of arms and his 'sixth position' (tight parallel feet, rather than turned out).

It is a tribute to ENB's strength in depth - and Maina Gielgud's restaging - that it was performed with such appropriate technique and also captured that distinctive style of Serge Lifar so well. There is a long and rather unnecessary prelude - albeit quite well played by the always competent ENB Orchestra under Gavin Sutherland - before the curtain goes up and it was danced throughout with panache and incredible élan. It was good to see some of the junior dancers outshining their more established colleagues, most notably the exuberant Lauretta Summerscales and Junor Souza in the Pas de Trois and the stylish Shiori Kase in the Serenade. Kase reminds me of a young Miyako Yoshida - from me there can be no higher praise. For the senior principals Elena Glurdjidze let the side down a bit with a rather hesitant 'Cigarette' solo but Dmitri Gruzdyev danced a rumbustious Mazurka. One word for this performance of Suite en Blanc: Incandescent.

Jim Pritchard

Pictures courtesy of English National Ballet