Other Links
Editorial Board
UK

Editor

s

- Roger Jones and John Quinn

Editors for The Americas - Bruce Hodges and Jonathan Spencer Jones

European Editors - Bettina Mara and Jens F Laurson

Consulting Editor - Bill Kenny

Assistant Webmaster -Stan Metzger

Founder - Len Mullenger
Google Site Search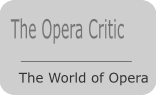 SEEN AND HEARD UK MUSIC FESTIVAL PREVIEW


Edinburgh International Festival 2011:
Simon Thompson looks forward to an exciting and eclectic summer (SRT)
This year Festival Director Jonathan Mills has chosen to celebrate the cultures of Asia and "to build a bridge between Europe and Asia" in August. In his
interview
with me last year he told me that one of his aims was "to shift the centre of gravity away from an automatic assumption that the festival will be exclusively or predominantly European". Last year's focus on the New World moved us somewhat in that direction: this year's focus on Asia takes us still further.
Mills has lined up some outstanding Asian companies to bring their work to Edinburgh this summer. Just look at the dance programme alone: the National Ballet of China bring the European premiere of their large scale production of
The Peony Pavilion
, the Korean Eun-Me Anh Company bring
Princess Bari
, there is a French Vietnamese production of
Drought and Rain
and the Indian Nrityagram Dance Ensemble present
Śriyah
. There is also Asian inspiration for Shen Wei Dance Arts'
Re-Triptych
, choreographed by the artist behind the opening ceremony of the Beijing Olympics. The theatre programme contains two Asian interpretations of Shakespeare - a Korean
Tempest
and a one-man Chinese
King Lear -
and a staging of the Japanese novel
The Wind-Up Bird Chronicle
, as well as a new Arabic take on
One Thousand and One Nights
. The Shanghai Peking Opera Troupe also bring
The Revenge of Prince Zi Dan
, a Chinese operatic adaptation of
Hamlet
. Visiting orchestras include the Seoul Philharmonic with Myung-Whun Chung, and the Queen's Hall series features Xuefei Yang on guitar and Yundi on piano. The legendary Ravi Shankar performs a sequence of evening ragas on the sitar while Amjad Ali Khan present morning ragas on the Sarod, and ensembles from Rajasthan and Java play music from their own traditions.
As well as bringing Asian companies the programme also features western takes on Asia. Schumann's
Das Paradies und die Peri
is the opening concert, the Peri being the offspring of a fallen angel in Persian mythology, and Scottish Ballet perform Kenneth MacMillan's
Song of the Earth
as the RSNO peform Mahler's Chinese-inspired music. Ancient Babylon makes an appearance in a rare performance of Rossini's
Semiramide
from Vlaamse Opera and Gergiev's Mariinsky Opera present Strauss's
Die Frau Ohne Schatten
, which draws so heavily on the perfume of the east. Massenet's
Thaïs
with the RSNO and Haydn's
Orlando Paladino
featuring René Jacobs' EIF debut, appear in concert. The Montreal Symphony Orchestra with Kent Nagano play music by Takemitsu and Tan Dun, the Philharmonia and Salonen play Ravel's
Scheherezade
with Kelley O'Connor, and this year's EIF commission for the Scottish Chamber Orchestra comes from Japanese composer Toshio Hosokawa.
There are plenty of other western treats on offer too. The Philadelphia Orchestra play for two nights with Charles Dutoit and the Bamberg Orchestra play for three, including a late night performance of Mahler's fourth symphony in the chamber arrangement by Stein. Old favourites like Martha Argerich return, as do other familiar singers like Magdalena Kožená and Simon Keenlyside. The Tonhalle Zurich make welcome return with David Zinman and, after last year's phenomenal Mahler 8, Donald Runnicles and the BBC Scottish will perform the
Resurrection
symphony with Meagan Miller and Karen Cargill.
There are
also
more orchestral riches in the Usher Hall and I've barely mentioned the exceptional roster of talent on display at the Queen's Hall morning concerts, the visual arts from Asia, or the Festival debut of Philip Glass. All this will be enough to tell you that Edinburgh in August will be a phenomenally exciting place to be, so start planning your summer now!
Full details of the Edinburgh International Festival's 2011 programme can be found at
www.eif.co.uk
. Booking for Friends is currently open. Public booking opens on Saturday 2
nd
April.

Simon Thompson