Other Links
Editorial Board
UK

Editor

s

- Roger Jones and John Quinn

Editors for The Americas - Bruce Hodges and Jonathan Spencer Jones

European Editors - Bettina Mara and Jens F Laurson

Consulting Editor - Bill Kenny

Assistant Webmaster -Stan Metzger

Founder - Len Mullenger
Google Site Search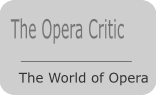 SEEN AND HEARD UK BALLET FESTIVAL PREVIEW


Diaghilev Festival
-
Russian Seasons of the XXI Century
:
Tuesday 12 - Sunday 17 April 2011
,
London Coliseum, St Martin
's Lane, London
WC2N 4ES
(JPr)


Russian Ballet stars Nikolai Tsiskaridze, Ilze Liepa, Maria Alexandrova, Mikhail Lobukhin, Irma
Nioradze, Ilya Kuznetsov, and the Kremlin Ballet Theatre are performing at the
London Coliseum
from
Tuesday 12 until Sunday 17 April 2011,
in celebration of the legendary impresario
Sergei Diaghilev,
with several of the ballets he commissioned that have since gone onto become a major part of the dance repertoire.
"Les Saisons Russes du XX ième is initiated by the '
People's Artist of Russia'
Andris Liepa
, a world ballet star and son of one of Diaghilev's choreographers Maris Liepa, with his father's non-commercial organisation, The Maris Liepa Foundation. Graduate of the Moscow Academy of Choreography, Andris was a longstanding star of the Bolshoi ballet, and in 1988 he became the first Russian dancer who was officially allowed to work in a foreign company, joining the New York City Ballet as guest star. He was a permanent guest soloist with the Kirov Company, during which time he danced in La Scala, Grand Opera, Rome and Swedish Opera. Liepa has worked all over the world, with many prominent choreographers. The Diaghilev Festival presents a series of revivals/re-stagings of the original versions of
The Blue God, The Firebird, Thamar, Bolero, Scherezade, L'Apres-Midi D'Un Faune and Le Pavillion D'Armide
.
Andris Liepa has been able authentically to
re-create and re-stage these historic works thanks to the in-depth knowledge passed down to him from his father and other great dancers, alongside meticulous research of original photographs and documents, passing on the choreography "leg to leg", as they say in Russia.
Sergei Diaghilev (1872-1929), founder of the Ballets Russes company, was an extraordinarily gifted impresario, curator and director, pushing the boundaries of all the art forms he worked within. His company, which survived a twenty-year rollercoaster of phenomenal successes and crippling financial problems, revolutionised not only ballet but also opera, through innovative music, design and choreography.
A consummate producer, he worked with avant-garde composers and artists, putting composers like Ravel, Debussy and Stravinsky together with designers such as Bakst and Goncharova or the emerging artists like Picasso and Matisse. Diaghilev made a major contribution to the introduction of Modernism and though his initiatives were succeeded by new trends and styles, no one single person has changed the course of art so radically since his time.
The Diaghilev Festival comes at a time of great interest in the life and work of this great impresario and the Ballet Russes: The Victoria & Albert Museum held a major autumn exhibition - "Diaghilev and the Golden Age of the Ballets Russes, 1909 - 1929" - which opened in September2010, which examined the origins, development and long-term influence of the revolutionary Ballets Russes. The BFI recently presented the second part of its series on Ballets Russes: films and television programmes drawing on the heritage and legacy of the company.
In the world of contemporary fashion there was an exclusive commission with Roja Dove for a Diaghilev perfume; and the landmark department store Liberty joined them in celebrating the splendor of Diaghilev by offering up a selection of products inspired by the Ballet Russes. These all follow the 2010 film, 'Coco and Igor', which explores the electric relationship between the French fashion icon Coco Chanel, and the radical Russian-born composer, following their introduction by Diaghilev. The DVD was released in January 2011.
The Blue God
The Blue God was created for the legendary dancer Vaslav Nijinsky and originally choreographed by Michel Fokine, designed by Leon Bakst and composed by Alexander Scriabin. A new version by Wayne Eagling, with designs restored by Anna and Anatoly Nezhny, makes its UK debut as part of the Festival.
The Firebird
The Firebird was Igor Stravinsky's breakthrough work of 1910, based on the Russian folk tale of the Firebird, originally choreographed by Michel Fokine.
Thamar
Thamar, which premiered in 1912, inspired by one of Russian poet Mikhail Lermontov's most famous works, is set to a symphonic score of the same name by composer Mily Balakirev and choreographed by Jurius Smoriginas
Bolero
Maurice Ravel's Bolero (like Igor Stravinsky's The Rite of Spring), caused a sensation by pushing the musical boundaries of its time. It was originally choreographed by Bronislava Nijinska, the first lady ballet-master and Nijinsky's sister.
Scheherezade
Nicolas Rimsky-Korsakov's Scheherezade was inspired by 'The Arabian Nights' fairy tales; choreography by Michel Fokine with designs by Anna and Anatoly Nezhny (based on those by Leon Bakst).
L'après - midi d'un faune
A faun encounters a group of nymphs in the dreamlike and sensual L'après - midi d'un faune; choreographed by Vaslav Nijinksy; set to one of Claude Debussy's most famous works and, considered a turning point in the history of music, the ballet caused a great shock and scandal when it was first performed by Nijinsky.
Le Pavillon d'Armide
Le Pavillion d'Armide was originally choreographed by Fokine and designed by Benois, to music by Nikolai Tcherepnin, based on a story by Gautier. It premiered in 1907 at the Maryinsky Theatre in St Petersburg, with Pavlova, Gerdt, and Nijinsky. Diaghilev presented it on his first night at the Théâtre du Châtelet in Paris on 19 May 1909. The new version is choreographed by Jurijus Smorigninas .

Performance Schedule
Tuesday 12 - Sunday 17 April 2011
London Coliseum, St Martin's Lane, London WC2N 4ES
Box Office: 0871 472 0600
Website: www.eno.org
Tickets range from £10 - £65 (Premium seats £70)

Programme 1 - The Blue God, The Firebird
Tues 12 April @ 7.30pm, Wed 13 April @ 2.30pm, Weds 13 April @ 7.30pm
Programme 2 - Thamar, Scheherazade
Thurs 14 April @ 7.30pm, Fri 15 April @ 7.30pm
Programme 3 - Le Pavillion d'Armide, Bolero, L-Apres-midi d-un Faune
Sat 16 April @ 7.30pm, Sun 17 April @ 3.00pm

Jim Pritchard