Other Links
Editorial Board
UK

Editor

s

- Roger Jones and John Quinn

Editors for The Americas - Bruce Hodges and Jonathan Spencer Jones

European Editors - Bettina Mara and Jens F Laurson

Consulting Editor - Bill Kenny

Assistant Webmaster -Stan Metzger

Founder - Len Mullenger
Google Site Search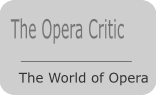 SEEN AND HEARD INTERNATIONAL CONCERT REVIEW


Ligeti, Bach: Jeremy Denk (piano), Zankel Hall at Carnegie Hall, New York City, 16.2.2011 (SSM)
Ligeti: Études (1985-1994)
Bach: Goldberg Variations

Jeremy Denk's piano recital at Zankel Hall would have been memorable had he performed only half of the program. It is one thing to take on the task of playing forty-five minutes of some of the most difficult piano music ever written, György Ligeti's Études, which a generation ago would have been called unplayable. It brings to mind John Kirkpatrick's landmark premier recording of Charles Ives' "Concord Sonata" (not to be repeated again for fourteen years), Geoffrey Douglas Madge's first complete performances of Sorbaji's Opus Clavicembalisticum or Marc-André Hamelin's recording of Alkan' s "Grande Sonata Op. 33." Then think of the less virtuosic, but still technically, intellectually and emotionally demanding Goldberg Variations of Bach. Put these two together in one program and perform them brilliantly as Mr. Denk did, and you end up with one appreciative audience and one very tired pianist.

Ligeti wrote his Études with the hope that one day they would allow him to join the Panthéon of other great étude composers such as Chopin, Liszt, Debussy and Scriabin. Does he accomplish this? I would say so. Like those of his predecessors, these have a pedagogical purpose, to present the pianist with exercises: chromatic runs up and down the keyboard, tremolos, criss-crossing hands, hand-over-hand and finger stretching chords. These pieces are tremendously demanding both harmonically and rhythmically; several of them require phenomenal technique and strength. There are no beginner's exercises here. It's as if Chopin had written all his Études at the level of difficulty comparable to that of his Opus 10, No. 12, "Revolutionary."

I will discuss here only a few of the thirteen chosen by Mr. Denk. For more detailed comments, see my colleague Bruce Hodges' excellent musical explication de texte in his review of Christopher Taylor's 2005 performance of the Études.

The more emotionally powerful études are those that rely on mammoth crescendi which start at subito ppp and end up, in the thirteenth étude for example, at crescendo estremo ffffffff. As Mr. Denk queries in his blog, "How would 8 be different from 7?" One way he suggests is to "hurl my whole body at the piano as violently as possible and hope for the best." He doesn't quite do this, but he succeeds in producing some amazing sounds from his Steinway. The framing etudes, No. 1, "Désordre," and what is becoming a standard repertory virtuoso encore piece, No. 13, "L'escalier du Diable," are the most dramatic, the ones that demand the most technical strength. No. 1 requires the right hand to play the white piano keys while the left plays the black keys. No. 3, a piece aptly titled "Touches Bloquées," is a lesson in how not to play cross-hand. Here one hand literally blocks another hand, creating an unusual sense of hesitancy and frustration. The impressionistic No. 5, "Arc-en-ciel," goes through several crescendi before ending in a whimper. No. 8, "Fém," sounds like a speeded up version of Debussy's "Golliwog's Cakewalk." No. 9, "Vertigo," is the downward opposite of the rising chromatic scales of No. 13. No. 11, "En suspens," is another Debussy-influenced étude. No. 12, "Entrelacs," is played here fast enough for one to notice an opening motif with a strong resemblance to the opening of another work of extraordinary technical complexity, Beethoven's quartet movement known as the Grosse Fugue.

This was a monumental performance. Mr. Denk clearly set a benchmark for the Ligeti and added another step on the escalier to this being considered one of the great étude sets of Western music.

After performing Ligeti's massive work, Mr. Denk played an imaginative, individual and very personal Goldberg Variations. I think that when next attending a performance I will bring a baseball scorecard to keep track of which sections of which variations are repeated and which are not. My slightly rough scoring shows the following totals for how each variation was treated in respect to repeats: AB (14), AAB (7), ABB (1), AABB (8). Toward the end of the Variations there were one or two instances where it was clear that Mr. Denk himself had lost track of whether he would or would not play the repeat. Of course, there is no law requiring him to play every repeat and sometimes dropping the repeats of some variations makes sense. The 25th Variation, which can be thought of as the work's crux, after which the remaining variations are performed with minimal pausing between them, can throw the entire work off-balance if dragged on too long. Glenn Gould's 1955 recording becomes lopsided with the 25th variation taking over 15% of the entire performance time. Mr. Denk made the right decision here by avoiding the repeats for this variation. But by not playing repeats, particularly those that have different end bars for the first and second time, the pianist is in fact not playing notes actually written by Bach to be performed.

It may be an off-handed compliment to note that Mr. Denk flubbed a few notes towards the end of the Goldberg Variations. For a performance this extraordinary, requiring such a tremendous effort, a random error or two just adds to this performer's exceptional humanity.
Stan Metzger