Other Links
Editorial Board
UK

Editor

s

- Roger Jones and John Quinn

Editors for The Americas - Bruce Hodges and Jonathan Spencer Jones

European Editors - Bettina Mara and Jens F Laurson

Consulting Editor - Bill Kenny

Assistant Webmaster -Stan Metzger

Founder - Len Mullenger
Google Site Search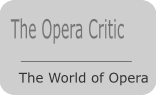 SEEN AND HEARD INTERNATIONAL OPERA REVIEW

R. Strauss, Die Liebe der Danae: Soloists, Orchestra and Chorus of Deutsche Oper Berlin. Conductor, Andrew Litton. Deutsche Oper Berlin. 5.2.2011. (JMI)
New Production.
Direction: Kirsten Harms
Sets: Bernd Damovsky
Costumes: Dorothea Katzer
Lighting: Manfred Voss
Cast:
Danae: Manuela Uhl
Jupiter: Mark Delavan
Midas: Matthias Klink
Pollux: Burkhard Ulrich
Xanthe: Hulkar Sabirova
Mercure: Thomas Blodelle
Semele: Hila Fahima
Europa:Martina Welschenbach
Alkmene: Julia Benzinger
Leda: Katarina Bradic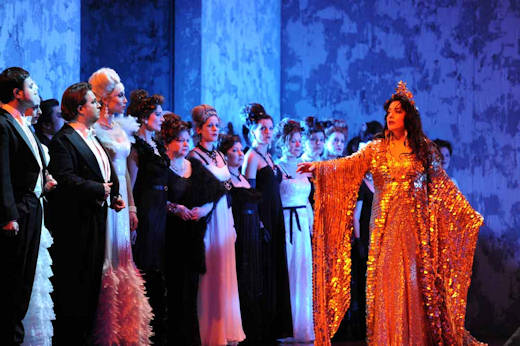 Production Picture © Barbara Aumüller
Die Liebe der Danae is Richard Strauss's the penultimate opera and the last one to be premiered. Its composition took place in 1940 and was scheduled for its premiere at the Salzburg Festival in 1944, but the frustrated Hitler assassination attempt on July 20 brought about the closure of all theatres in the Reich. The was a private performance or rather a dress rehearsal od the opera in Salzburg with Richard Strauss himself present in August 1944. The public premiere took place after the war, also at the Salzburg Festival in 1952 with the same production and direction (Rudolf Hartmann and Clemens Krauss). The composer missed it: he had died in 1949. The opera has been rarely performed since then, which is really quite surprising, considering that its musical quality is everything you might expect of Richard Strauss, particularly in the last act.
Deutsche Oper has revived the opera in a new production by the company's artistic director Kirsten Harms, who provides an attractive and interesting idea of it, although not perhaps completely realised as yet. The original mythological action is brought to modern times, which seems entirely appropriate since it is well known that the gods never die. In the first act we see a spacious lounge with solid walls hung with works of art, which are later taken away by Pollux's creditors. After this only a piano is left, hanging upside down from the ceiling but remaining there for the whole performance. In the final act the walls of the room have collapsed, leaving a ruined landscape, highly appropriate for the new life of poverty awaiting Midas and Danae. The costumes are very appealing, all in black and white in the first act and Manfred Voss's lighting is a guarantee of quality, as usual. Kirsten Harms' stage direction is also on form particularly in crowd scenes, but maybe lacks some comedy, as was also the case with the production by Günter Kramer that I saw in Dresden a few years ago. In general though, Kirsten doesgood work with the four goddesses.
Leading the musical direction we had American conductor Andrew Litton, whose performance was not entirely convincing. This score requires an exceptional baton to succeed and while Mr. Litton's was always better than merely correct, the reading felt rather short on inspiration and the score's sheer fantasy, especially in the outstanding last act, where Strauss wrote with exceptional quality. The Orchestra gave a good performance, but below what we had the day before in the concert conducted by Donald Runnicles. The chorus was at its usual exceptional level.
Danae, the daughter of King Pollux and object of desire/love by Jupiter and Midas, was performed by soprano Manuela Uhl, who was a most convincing protagonist. Her voice is not particularly compelling, but it is well suited to the demands of Danae, which calls for a soprano somewhat in line with Chrysothemis. There is a shortage of colours in Ms Uhl's soprano I'd day, resulting in a somewhat unvarying sound, but no-one could deny that she always sang with great conviction.
American baritone Mark Delavan was a rather disappointing Jupiter. Whose biggest problem was vocal projection, especially in the higher range, where his voice hardly left the stage and so almost lost some of its impact. This was a real pity , because his voice has a beautiful timbre and is easily wide enough for the role.
The German tenor Matthias Klink brought King Midas to life with a a pleasant voice and some good qualities as a singer. He is however a light-lyric tenor and singing Midas is more demanding than that. It does not require a true dramatic tenor, but needs more vocal weight than Mr. Klink has.
The rest of the characters are rather inconsequential so far as the plot goes. Among them we had Burkhard Ulrich, who was a discrete Pollux in vocal terms, mezzo Hulkar Sabirova, who offered an interesting voice in the part of Xanthe, and tenor Thomas Blondelle, who made an appropriate and funny Merkur - a kind of Loge, but less demanding. The four queens or goddesses, old lovers of Jupiter, were all excellent.
The theatre had some empty seats and there were a few desertions after the break. The final reception was warm for all the artists, with the biggest applause going to Manuela Uhl and Matthias Klink.


José Mª Irurzun