Other Links
Editorial Board
UK

Editor

s

- Roger Jones and John Quinn

Editors for The Americas - Bruce Hodges and Jonathan Spencer Jones

European Editors - Bettina Mara and Jens F Laurson

Consulting Editor - Bill Kenny

Assistant Webmaster -Stan Metzger

Founder - Len Mullenger
Google Site Search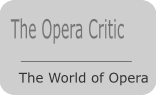 SEEN AND HEARD INTERNATIONAL CONCERT REVIEW


Hindemith, Higdon, Shostakovich: Hilary Hahn (violin), Juanjo Mena (conductor), The Curtis Symphony Orchestra, Carnegie Hall, New York City, 15.2.2011 (BH)

Hindemith: Konzertmusik for Strings and Brass, Op. 50
Higdon: Violin Concerto (New York premiere)
Shostakovich: Symphony No. 5 in D minor, Op. 47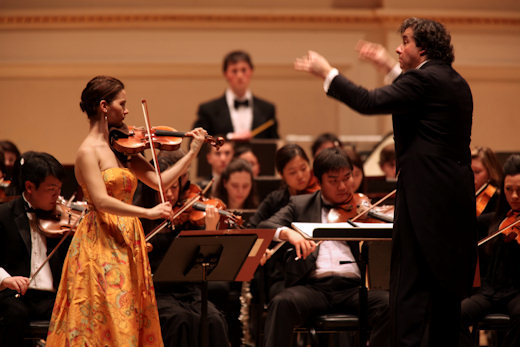 Hilary Hahn, Juanjo Mena and the Curtis Symphony Orchestra at Carnegie Hall
Photo © Steve J. Sherman
As a sort of joyful homecoming, violinist Hilary Hahn, an alumna of Philadelphia's prestigious Curtis Institute of Music, was the headliner for the Curtis Symphony Orchestra's impressive concert at Carnegie Hall, led by Juanjo Mena, chief conductor designate of the BBC Philharmonic in Manchester. Her star vehicle was Jennifer Higdon's Pulitzer Prize-winning Violin Concerto, which Hahn recorded and released last fall. It's a handsome piece. Higdon has an ear attuned to exotic percussion, and the opening movement (titled "1726" in a nod to the school's street address), placing the violinist in eerie camaraderie with a quietly glittering array, was mesmerizing—but the concerto soon picked up steam with agitated, malevolent rhythmic drive. A massive orchestral outburst later left a dazzling cadenza in its wake, and at this point, I hope any Hahn doubters quietly left to reconsider their opinions.
The second movement, "Chaconni," opens with pastoral winds and cellos, as the soloist floats above the orchestra with a melody that might have made Samuel Barber happy. Hahn seemed to be having a fine time, glancing back at the musicians during some particularly challenging passages, and the final pages return to the opening quietude. The third movement, "Fly Forward," opens with rapid figures for the solo violin, brass and bells, tunneling through with heavily accented percussion (including, if I recall correctly, use of the delightfully quirky Flexatone). As Ms. Hahn dispatched passage after passage with cool aplomb, I wondered, is there anything she can't play?
The concert opened with a beefy reading of Hindemith's Konzertmusik for Strings and Brass, showcasing the outstanding Curtis musicians on those particular instruments, with Mr. Mena leading a vigorous angst-tinged performance. But as welcome as this was—especially considering that this particular Hindemith contrapuntal essay seems rare in concert halls these days—it was the searing Shostakovich's Fifth Symphony after intermission that showed the ensemble at its most dramatic.
Although the opening had some minor coordination disagreements (the image that came to mind was of a pack of wild horses, straining the ropes, wanting to dash off madly), most of the score displayed the kind of polish and sheer enthusiasm that could serve as a model for the musicians' professional counterparts. In the second movement, with unanimity regained, the conductor let the grotesqueries speak for themselves, leading to the spacious opening of the Largo. Here, Mena and the ensemble found, it seemed, the aching soul of the entire symphony—the strings pouring out ardor. In the final allegro non troppo Mr. Mena drew some electrifying work, with some well-etched chill in the middle. The broad final pages would press anyone to the limit, yet the students—wait, did I say students?—seemed to find even more adrenaline, especially the orchestra's brass and percussion, all the way through to the blazing end.
Bruce Hodges